What your Xtend Life Lipi Rite looks like
If you're like me and you have high cholesterol, and are looking for natural health supplements to help lower and manage your high cholesterol, then I would recommend that you consider adding Xtend-Life's Lipi-Rite to your health supplement routine.
If you're buying Lipi-Rite for the first time and you're not too sure what to expect or what it looks like, this video seeks to address that. This video is of me unboxing the Xtend-Life Lipi-Rite anti-cholesterol supplement, and you will see:
what the box looks like
what the label looks like

what the cover looks like
what the seal looks like
what the capsules look like inside the bottle
what the capsules look like outside the box (in my hand)

What your Xtend Life Lipi Rite looks like
Footnotes:
I'm a tad disappointed that I've high cholesterol, and I've connected with Warren about this and he assured me that most long-living people have high cholesterol too, and to continue the supplements (will share more of this in XtendHealthAsia.com)
Lipi-Rite is one of the Xtend-Life products I personally use to manage my cholesterols (find out more in What Nigel Takes)

Products mentioned in this article:

Lipi-Rite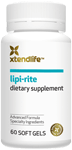 Support and helps to balance healthy cholesterol levels
I hope this video helps you to make up your mind about Lipi-Rite if you've come across it and is researching or thinking about it. If you need anything, just drop me a note ya - to your best health!

Return to XtendHealthAsia.com Videos page from What your Xtend Life Lipi Rite looks like
Return to XtendHealthAsia.com Home Page

Back to Top