Xtend-Life Women's Refining and Renewing Exfoliating Scrub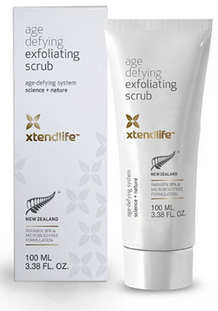 Exfoliate, Refine and Renew
Removes dead cells for glowing skin

Refines pores and evens skin tone
No Microbeads
Your skin will feel fresh and revitalized
Lightly – and naturally - scented with the crisp aroma of freshly harvested apples, our luxurious exfoliator will be a rejuvenating experience that will gently 'buff and polish' your skin, revealing a youthful, vibrant glow, as dead old skin cells are removed and the circulation beneath the skin is improved.

NO MICROBEADS
Xtend-Life never uses microbeads or any other ingredients that harm our waterways. Microbeads have long been used in face and body cleansers as exfoliants; designed to make skin cleaner and softer. In reality, these microbeads can actually tear your skin - causing more harm than good. These polyethylene beads are then washed down the drain and released into the water supply.
Plastic microbeads can persist in the environment for more than 100 years, and have been found to contaminate our waterways and oceans and the life that inhabits them. Microbeads also impact the marine food-chain.
Benefits
The benefits you may experience by using the Exfoliating Scrub:
Refines skin texture while helping support healthy circulation beneath the skin.


Cleans clogged pores and removes dead skin cells to reveal vibrant skin with a natural glow, while helping prevent the formation of blackheads.


Deep cleansing with skin-friendly volcano stone pumice, coarse and fine grounds, as well as apple peel all working together to help reveal fresh new cells.


Moisturizes below the surface of your skin with a mixture of moisturizers including exotic Shea Butter and Jojoba Oil that penetrate into your skin, moisturizing both the new cells revealed by exfoliating and also those beneath to keep the surface of your skin soft and smooth.


Helps achieve a healthy glow with the skin-friendly nutrients derived from Kiwifruit extract and pectin from apple peel. Lowering your skins' pH level helps improve skin health and its ability to resist bacteria.


Kiwifruit helps to restore and maintain the skin's protective barrier, while it boosts the skin's own defense system.
Powerful active ingredients
The unique ingredients in Xtend-Life Exfoliating Cream offer non-abrasive exfoliation. Through exfoliation, dulling skin cells are effectively removed and newer cells are revealed for a brighter, fresher, healthier appearance.
Rhyolite lava rock and apple peel to exfoliate

Xtend-Life uses Rhyolite; a natural volcano stone pumice, in both coarse and fine grinds to give you the best possible results as well as apple peel to scrub away dead, dull skin and polish your skin for a more fine-tuned exfoliation.

By massaging into your skin it helps support healthy circulation beneath the skin and encourages the growth of new skin cells. In addition to its fine exfoliating properties, the natural powdered apple peel provides a gentle dose of acidity to help loosen accumulated dirt and excess oil.
Natural Fruit Enzymes to remove damaged skin

These enzymes improve and smooth the texture of your facial skin by removing its damaged outer layer with controlled and even shedding of damaged cells.
Shea butter and jojoba to moisturize and soothe

While most exfoliators require you to clean your skin first and moisturize after; Xtend-Life's exfoliating scrub cleans and moisturizes with rich emollients including shea butter and jojoba leaving a layer of nourishing moisture following the treatment.
Return to XtendHealthAsia.com Home Page from Xtend-Life Men's Refining and Renewing Exfoliating Scrub

Back to Top