Xtend-Life Multi-Xtra 48 Bio-Available Multi-Nutrients For Best Cellular Health Review
Many of us consume calorie-rich but nutrient / mineral / vitamin-poor foods, and this leads us to be nutrient poor / insufficency. Even a "healthy" diet can lack essential nutrients, because no matter how and what we eat, it may not suffice.
Why?

You see, our world today is significantly different from the ones our forefathers and ancestors live in. Our soils, due to over-use, over-planting, toxic pollution, and insufficient rest has depleted the active and rich nutrients and minerals in the land. This means that the plants and animals that we eat are not are nutrient or mineral dense as they used to be.
Factor in the fact that all these produce are harvested WAY before they're ripe to account for travel/transport time, decreasing their nutrient and mineral content, plus extended traveling also causes mineral and nutrient oxidation...so what really goes into your mouth and body are considered calorie-rich but mineral-poor.

People who juice regularly understands and values the importance of juicing to get those rich, rich nutrient and mineral-dense juice that are abundant in vitamins, minerals and nutrients....but the problem with that is plants don't supply enough quantity of every nutrient and minerals we need, so in the end, we have mineral and nutrient deficiency.
Which is where Xtend-Life Multi-Xtra is able to help.
Benefits of Xtend-Life Multi Xtra
The list of benefits from using Xtend-Life Multi Xtra is virtually endless. This product was actually created as an alternative to Xtend-Life Total Balance products but have some additional benefits. The Multi Xtra supplement basically offers you what the Total Balance products do, but there's a bit less in this one. If you decide to use Multi Xtra instead of a Total Balance supplement, you still get great results as it's a very effective product.
The Multi Xtra supplement is in fact a multi vitamin supplement so it's already obvious what it's used for and what the main benefits are. You use this product in order to make up for missed nutrients in your diet. This will ultimately keep your body functioning properly and can assist you whenever you are attempting to lose weight or build muscle.
See the full range of benefits of the Multi Xtra here

what i like about it and what's in it?

One of the core reasons why I like Xtend-Life's health supplements and skincare products is because they're all natural, and their manufacturing processes are highly regulated and recognised by
Good Manufacturing Practices
United States Food & Drug Administration
New Zealand Ministry Of Health
British Pharmacopeia
...and this ensures that its manufacturing quality is of the highest quality in the world, being pharmaceutical quality. Plus being GMP-compliant means that Xtend-Life facilities are 100% free from the presence of any toxins or banned substances AND that their product label is true to its print (most product labels are full of lies)
The Multi-Xtra contains lots of not only higher quality raw ingredients, but each and every of the product ingredients are sent to independent third party labs such as Alkemists Labs in US for independent testing and certifications, and those that pass the required standards are allowed into the health supplements (I LOVE this obsessiveness to details and quality).
Interestingly, even though Xtend-Life's product quality are much higher and certified, and are more expensive than the cheaper ones found in competitor products, Xtend-Life has kept the price of their Multi-Xtra very, very competitive at $18.95 United States Dollar (USD)

Xtendlife have guaranteed that on top of the essential vitamins and minerals, they also added co-factors that improves the effectiveness of those nutrients. 
And it doesn't contain any presence or trace of gluten, dairy, peanut or shellfish so should be safe for people who suffer from allergies for those.
just 2 tablets of multi-xtra

In 2 tablets of Multi-Xtra, you get the following nutrients, minerals and vitamins (percentages in brackets after the vitamin represents the % daily recommended does:
vitamin A (100%)
vitamin C (262%)
vitamin D3 (125%)
vitamin E (333%)
vitamin K2 (225%)
thiamin (667%)
riboflavin (588%)
niacin (135%)
vitamin B6 (400%)
folic acid (75%)
vitamin B12 (417%)
biotin (133%)
pantothenic acid (400%).
Multi-Xtra also contains the following minerals:
calcium (6%)
iodine (100%)
magnesium (16%)
zinc (60%)
selenium (143%)
copper (5%)
manganese (100%)
chromium (88%)
molybdenum (85%)

potassium (1%)
Find out more about the ingredients in Multi Xtra here
Two tablets also contain:
Methyl Sulfonyl Methane (MSM)

A naturally occurring substance used for pain relief and anti-inflammation.  It increases cell membrane more permeability for better transport across the cell. 

Deficiency of MSM lead to a lot of health issues.


Choline bitartrate

Decreases and prevents the process of fat-accumulation in the liver.  Required for good health of nerves, kidneys and liver.


Inositol

For brain neurotransmitters and deficiency can lead to depression and poor mental health


PABA (para-aminobenzoic acid)

For healthy skin and intestinal health by stimulating our gut bacteria to produce folic acid; and helpful in red-blood-cells (RBC) creation process 


Soy lecithin

Contains a phospholipid that is a major component of lecithin which is possibly beneficial for liver health, and is also a required compound to produce acetyl choline (major neurotransmitter - for our nervous system).


Alfalfa extract

A diuretic but also helps to boost and improve kidney, bladder, prostate health.


Amylase & Bromelain

Digestive enzymes and helps our digestive system to work smoothly, effectively and efficiently.


Lycopene

A carotenoid (red pigment that gives tomatoes their color) that helps to prevent cardiovascular disease and cancer. Also used as intervention in asthma and prostate cancer
Plus:
Rutin, Piperine, Tocotrienol/tocopherol complex (a form of vitamin E which improves the potency of the normal vitamin E), Boron, Lutein and Zeaxanthin, Horsetail extract, mineral sea salts (providing some trace elements), Green tea extract & Betain HCL.
Each bottle of Multi-Xtra contains 60 enteric-coated tablets which according to Xtend-Life, you are recommended to take 2 tablets a day (one go or split into 2 doses) which will mean 1 bottle will last you for about 30 days.
Total Balance Products
Xtend-Life Multi Xtra is slightly similar to Xtend-Life Total Balance Series, but they are not the same.
You see, the Total Balance Series are much more complex than the Multi Xtra as they are not just a "simple" multi-vitamin and multi-mineral supplement.

Related Articles:
What Makes Multi Xtra Better Than The Competition?
There are many supporting factors why Xtend-Life Multi-Xtra stands out positively and is more widely popular compared to its competitors.
#1 Reason
The main reason is because Xtend-Life doesn't skimp on quality nor do they cut corners - everything they do, they do it at the highest level of quality, from the quality and purity of the raw ingredients; to the highest level of manufacturing compliance, to putting customer's needs first.
There is just no match for quality when it comes to Xtend-Life's products

#2: High quality raw ingredients
As mentioned above, Xtend-Life only allows raw ingredients that of the highest purity, quality and potency. Every raw ingredient needs to be at least 90% purity and above, and are tested in independent, third-party GMP-compliant testing labs such as Alkemists Labs in US for their quality. All that pass the standards required are given Certificates Of Analysis (COA) for every batch, and only those that are certified are allowed to be used as ingredient.
All ingredients are natural and aren't extracted from petrochemicals - you're truly investing in a health supplement that is fully natural and provides you with the maximum results possible.
what actual customers and users are saying

Hello, I'm just sending you this email to let you know you have a great selection of products and your company is amazing. I am very pleased with the multivitamins I've been taking, and will continue to purchase them.
James S, USA
Thank you so much. I now have my husband and two adult daughters (18/23) taking Multi-Xtra and the omega 3 fish oils and my husband also takes the anti-cholesterol supplement.
We are nearly finished our 1st month and are seeing some results. I am hopeful I may be able to upgrade to Total Balance soon but for now these are excellent.
Susan M, USA
Read more reviews and testimonials of Multi Xtra here

Are There Any Side Effects From Using Multi Xtra?
In fact, you may or may not notice any effects or differences when you first start using Multi-Xtra, and even if you don't notice any immediate effects, that doesn't mean it's not working.
If your body is already in nutrient deficit, the Multi-Xtra will take time to slowly replenish all the deficits of nutrients, vitamins and minerals. In some cases if you're very sensitive and aware of bodily changes, you may feel a little more energetic, a little more "aware" of your surroundings (increased arousal level), able to read faster, move faster etc.

If you're taking western medicine, especially prescriptive ones, there may be a risk of interaction between Xtend-Life Multi-Xtra, but it's a very, very rare chance, as the Multi-Xtra is 100% natural. If in doubt, speak to your doctor/health professional first, just in case. Multi-Xtra is completely natural, and thus safe to take.
Is There a product Guarantee?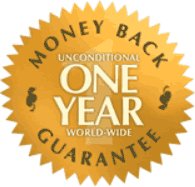 Yes, there is.
I am very excited to share that Xtend-Life provides a full 365-days money back guarantee or full product replacement, if you're not fully satisfied with the product.
I say that I'm excited to have this one year money back guarantee not only because it shows Xtend-Life's confidence in their product, but also because as a consumer, I have option to return plus the word "guarantee" doesn't exist in medical and healthcare at all - no medical professionals can offer guarantees.
Xtend-Life says that their return rates are very low, as customers are usually pretty happy with the health benefits outcome from their products.
What Sets Multi-Xtra Apart From the Rest
Xtend-Life Multi-Xtra multivitamin and mineral supplement does not contain any synthetic ingredients, colorings, or other artificial additives. Multi-Xtra is made out of the finest natural ingredients. No petrochemicals are used.
Multi-Xtra contains 48 bio-available ingredients formulated together in specific ratios for optimum health benefits whether your goal is to lose weight, build muscle or simply maintain a healthy body and delay the aging process.
It contains more than just a vitamin/mineral mix you get from scores of of the products out there. This is necessary, because, to maximize the efficacy of vitamins and minerals they must:
Be combined with other co-factors…such as Piperine to improve bio-availability (helps absorb other nutrients).
Contain digestive enzymes.
Include trace minerals such as Strontium.
Include a methylating agent such as Tri-Methyl Glycine.
Include anti-oxidants.
For something that comes in a pill, Multi-Xtra packs perhaps the most "good stuff" in a multivitamin and minerals supplement. Natural ingredients don't come cheap, which is why most manufacturers don't use them. Naturally, you can expect Multi-Xtra to cost slightly more than other multivitamins out there that use cheap additives.
where can i buy Xtend-Life Multi-Xtra 48 Bio-Available Multi-Nutrients For Best Cellular Health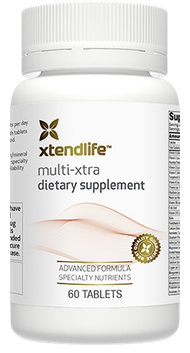 You can't buy Xtend-Life products in health food stores, pharmacies, health centers, or grocery-food stores. The company sells all their health supplements and skincare products directly online to the consumer, usually by affiliates like myself, and this decision is made by the founder and owner of Xtend-Life because it

decreases costs to consumers as there is no rental/staffing/etc

prices will be controlled (wont be manipulated)

AND you get the freshest stock delivered directly to you, wherever you are in the world (US, UK, Europe, Asia - wherever you are), right from Xtend-Life's headquarters facility in Christchurch, New Zealand
Buy Multi Xtra direct from Xtend-Life here
I hope this review has been useful and helpful for your health decisions.

Return to Xtend-Life Product Reviews from Xtend-Life Multi-Xtra 48 Bio-Available Multi-Nutrients For Best Cellular Health Review

Back to Top