Xtend-Life Shipping and Delivery

delivery and Shipping Information
Xtend-Life's business and delivery model has made it such that their products aren't found in the usual health supplements shops, and
you can only buy their Health Supplements and Skincare products online
.
This approach of buying online through the link above has a few benefits:
I'm a registered affiliate directly with Xtend-Life and am regulated directly by Xtend-Life, so I've to be compliant with standard that they set (if not I'll lose the affiliation)

Buying online is the fastest way for you to get the freshest products directly from their manufacturing facility in New Zealand
Also, it makes their products much more affordable, as there are no physical shops and/or middlemen that has to increase the retail price of products to pay for staff/rent/etc

After you place your order, your order will be handled and shipped to you from their manufacturing facility in New Zealand. To anywhere and anyone in the world.
All their products are in USD. If your order is $60 or more, your delivery is free (yay!); if your order is less than $60, then delivery is a flat fee of $6.50.

Xtend-Life is able to deliver their natural health supplements and skincare products to anywhere anyplace in the world, but you need to note that different countries have different import laws as well as VAT or GST fees (more on that below)
Order confirmation emails
Once you have browsed through and made your order and paid, you will almost immediately receive an automated confirmation email like the one above - this will enable you to check the order to ensure the order is accurate and is being sent to the correct address.
Now if you do don't see this email or didn't receive it in your inbox after placing your order, check your junk mail (sometimes it gets filtered there). If you still don't see it, then check if you had entered an incorrect email address or if the Xtend-Life email has been blocked by your email service provider.

You can contact Xtend-Life directly (there is a chat section) if you have any concerns or queries about your order, or if you didn't receive any confirmation email. Of course you can also contact us here in XtendHealthAsia with your order, and we will help facilitate it for you.
All Xtend-Life orders are dispatched within 1 business day once the order has been processed (if you ordered on weekend/public holiday, it'd be processed during the business day/after the public holiday).
Once your order has been shipped, you will also get a confirmation email to inform you that the delivery has been sent out (see image below)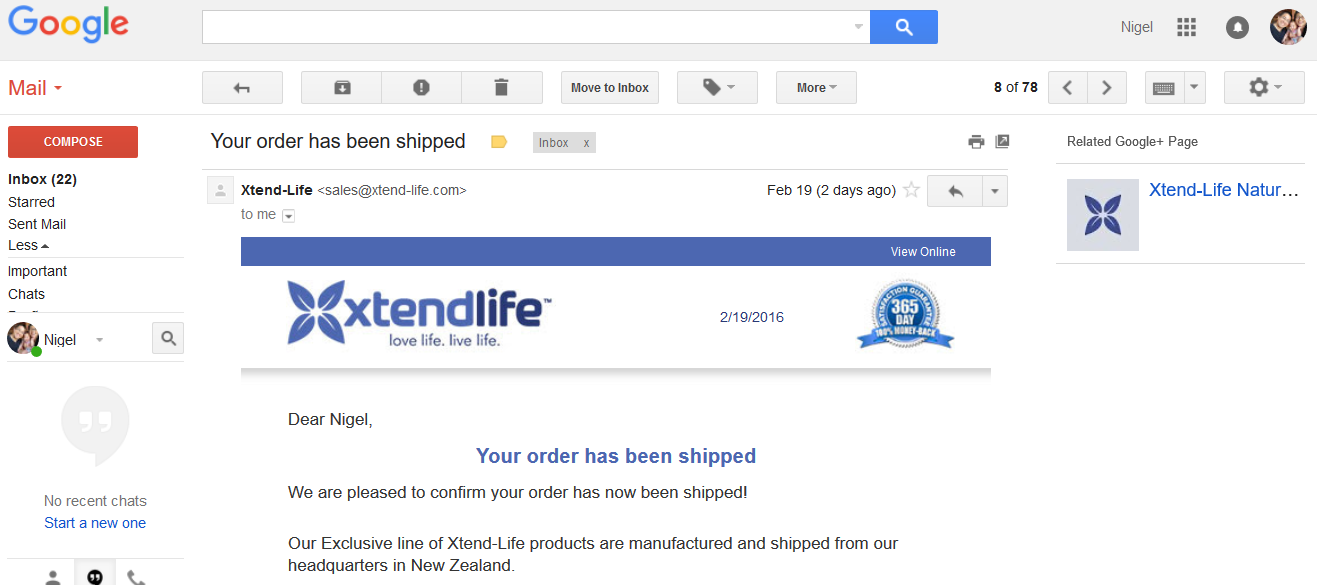 How is MY order sent?
Your order is sent out/delivered using New Zealand Post priority airmail.
When will my order arrive?
Usually from New Zealand to reach the country of destination, around 2 working days.
Then we have to factor in local delivery time that may take another 4 to 8 business/working days, with the following average time:

In the United States of America (USA) it is between 5 - 10 business days.
In Canada delivery usually take between 10 – 20 business days due to Customs checks and delays.
The United Kingdom (UK) can be as fast as 3 - 10 business days.
The rest of the world can vary between 5 - 15 business days.
Also, take note that other events may delay delivery or shipment, such as major celebrations (think CyberMonday, Valentine's Day, Christmas etc) as well as downtimes that congests the postal system internationally.
Declaration of Value and Contents
Xtend-Life will declare the full value of all customer orders on the shipping declaration labels and documents, as well as label the contents as "dietary supplements" and/or "cosmetics".
Import Duties
There is a possibility that you may have to pay import taxes, customs duties, VAT/GST fees or quarantine fees when you receive your ordered products - these charges are separate from the Xtend-Life shipping charge.

Of course, you will be billed directly for any such charges (if any) by your local customs office, do refer to your local customs office for more details on any additional charges or import taxes that you may get.
Xtend Health Asia and Xtend-Life have no control or influence on these charges and their application.  The payment of any such charges will be the responsibility of the customer/recipient receiving the order (take note if you're giving it as a gift to someone overseas or far away from you)
Please note the following countries do not have import duties:
Import Restrictions
Every country has its own regulations about buying stuff from other countries - you're responsible to check and ensure that buying nutritional supplements and cosmetics from New Zealand is allowed in your country of residence (or in your loved one's country of residence - in the event of gifting to someone in another country)
The Xtend-Life skin care range usually has no problems with world-wide delivery though.

If the customs office in your country returns your/customer orders back to Xtend-Life in New Zealand, either because you didn't have permission to import such supplements or because such supplements are banned in that country, then Xtend-Life will refund your credit card as per their refund policy.
United states Military Address'
Xtend-Life is able to ship products to U.S. Military APO/FPO/DPO addresses.
When completing your Shipping Address during checkout, please make ensure the following:
The City must be entered as either "APO" "DPO" or "FPO"
The State must be selected as either "AA" "AE" or "AP"
You must enter your Zip code
Always remember to enter your full name, grade, and PSC or unit number
Enter your country as "United States of America"
Please note, orders shipped to an APO/FPO address may take longer to be delivered. Please allow up to 3 weeks for your package to arrive.
erm...What if my order goes missing?
Good news - Xtend-Life takes on that risk entirely. If your order hasn't arrived within 15 business days after you've received the order and delivery confirmation, please get in touch with Xtend-Life (or us) and they will replace any lost order free of charge.
Often the replacement can be shipped after 15 days but in some countries or during holiday periods, they may need another week or two for delivery of the original order (often times the delay happens at the local postal level of the country the recipient is in)
Can I request for shipping using Courier?
For this, you have to contact Xtend-Life (or us) directly for details if you want to use this option.
In some countries or regions, courier is THE recommended or only option, which includes countries such as United Arab Emirates , India, Africa etc. In fact Canadian customers often choose this option due to long Customs delays with postal orders.
The cost is $34.00 for orders less than $60 and $27.50 for orders over $60.
Countries that xtend-life ships to

We know that our business and website name indicates XtendHealthAsia.com, and we aim to improve the health of individuals living in Asia by introducing
Xtend-Life's Natural and Organic Health Supplements and Skincare Products from New Zealand
, but Xtend-Life does ship to their customers anywhere and everywhere in the world, since 2000.
By Asian countries we include countries such as:
Afghanistan
Armenia
Azerbaijan
Bahrain
Bangladesh
Bhutan
Brunei
Cambodia
China
Cyprus
Georgia
India
Indonesia
Iran
Iraq
Israel
Japan
Jordan
Kazakhstan
Kuwait
Kyrgyzstan
Laos
Lebanon
Malaysia
Maldives

Mongolia
Myanmar (Burma)
Nepal
North Korea
Oman
Pakistan
Palestine
Philippines
Qatar
Russia
Saudi Arabia
Singapore
South Korea
Sri Lanka
Syria
Taiwan
Tajikistan
Thailand
Timor-Leste
Turkey
Turkmenistan
United Arab Emirates
Uzbekistan
Vietnam
Yemen
If you're living in one of the countries listed above, Xtend-Life delivers to you =)
If you're living in a country that's not listed on this list, do not fret! Xtend-Life also delivers to you - Xtend-Life delivers world-wide =)

Return to XtendHealthAsia.com Home Page from Xtend-Life Shipping and Delivery

Back to Top