Xtend-Life One Year Risk-Free Guarantee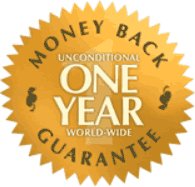 Xtend-Life provides a full one year, 365 days money back guarantee or product replacement if you're not happy with your purchase. This is provided by Xtend-Life as they prefer that you either be very satisfied with their products, and if you're not, they prefer that to fully refund or replace the product.
Quality Ingredients
Xtend-Life guarantees that you will always get the purest and highest potency ingredients in whatever product you purchase from Xtend-Life. This applies equally in all categories of products whether it be a supplement, superfood or a skin care product.
True to Label
Xtend-Life guarantees that all their products are true to label and that there are no contaminants present. Unlike most other brands, they control the sourcing of all the ingredients and the manufacturing processes to ensure that there are no shortcuts.
Outsourcing is great for cutting corners and reducing production costs.
Xtend-Life don't do it, because their goal is to make the finest nutritional support products available anywhere, using the best ingredients attainable from nature, manufactured in the way they believe they should be.
Special Product Guarantee
Xtend-Life understands that buying a new product online for the first time is a risky thing to do as you may not like it and have not had the opportunity to try it first.
So…with that in mind if you make your first purchase of Xtend-Life skin care products online and you don't like them for any reason, they are happy refund 100% of the purchase price. Please follow the process in the returns policy.
Secure Online Shopping
Shop with confidence. Combining the assurance of EV-SSL encryption and constant monitoring of our dedicated servers, Xtend-Life aim to provide the most secure online shopping experience possible
Return to XtendHealthAsia.com Home Page from Xtend-Life One Year Risk-Free Guarantee

Back to Top