Xtend-Life Zupafood Greenz Energy, Immunity, Calcium and Detox Review
Welcome to the review of Xtend-Life Zupafood Greenz superfood product.
This product is made by the well-known Xtend-Life company that is based and headquarted in New Zealand. They specialize in health supplements and even a men's and women's skincare product line as well.
They ventured into the world of superfoods as they know and understand the need for this product for people today - according to research and studies, more than 80% of Americans are undernourished.
(Note: it's possible that that number is the same around the world too, be it Singapore, Malaysia, Indonesia, Thailand, Myanmar UK, South Africa, New Zealand, and the United Kingdom as well - I can speak for Asia side as I came from Malaysia, lived and still live in Singapore, and have visited Vietnam, Indonesia, Thailand). In Asia, we eat a lot of carbohydrate/sugar-rich food, preserved and canned food, and often we may skip meals because we're so busy that we lose our appetites.

The Xtend-Life Zupafood Greenz is designed to help remedy that nutritional deficit in a convenient and safe way.
Product Quality

If you've read/been reading any of the other reviews on XtendHealthAsia.com, I tend to start reviews by first touching base on product quality, and there is a reason for this.
You see, the supplement industry is/has been fraught with high volume of fraud cases and it is very important to both Xtend-Health.com and myself to ensure that what I review AND endorse is good for our readers and consumers.

One of the things and reasons why I am an affiliate for Xtend-Life and their health supplements because I am really awed and inspired by their intolerance to substandard quality in sourcing and the manufacturing process - I've covered those topics in Xtend-Life's dedication to:

Xtend-Life is extremely serious about product quality, obsessive, even. And I LOVE it (I also become obsessive with high standards for my businesses, as it must deliver high to awesome value to my customers).
All their products are good manufacturing practices or GMP-compliant as well as made in a FDA-registered facility. That's actually very impressive for a supplement company because it's a very rigorous, tedious and expensive process. Plus, many of their procedures actually meet British Pharmacopeia standards, which is rare.
Zupafood Greenz Features & Benefits
Let's get deeper into the details of the Zupafood. Xtend-Life states on the box that the product is:
"Beyond superfoods…The new frontier in advanced nutrition."

Looking at the ingredients, it looks pretty comprehensive and interesting, and I'll cover the ingredients part in a bit later further down this article.
So essentially, the Zupafood Greenz is designed to give and restore to your body much needed nutrition.

"…can assist by giving your organs and systems a helping hand by supplying specialized nutrients difficult to come by in a normal diet."
The statement above shows its main focus.
Xtend-Life states that it can help facilitate superior health and well being through its unique nutrient complex profile; it is the ingredients that makes it unique. The ingredients include:
Grape seed extract
Grape skin extract
Kiwifruit extract — very good to help promote digestion and absorption of nutrients
Kiwifruit powder
Grape juice powder
Organic wheat grass — this may be the most potent ingredient in this mix. Wheat grass is renowned for its rejuvenating and healing properties, as well as being rich with nutrients as well
Organic barley grass — another superfood in this superfood supplement. Rich in nutrients. Many consider barley grass a wonder food.
Apple fiber powder
Aquamin TG — this is a bio-available (easily absorbed by the human body) calcium derived from marine algae. Its purpose is to support the body's vascular and nervous systems.
Green tea extract
Organic spirulina — An alkaline micro-algae with high levels of vitamins, minerals and other co-factors including amino acids. Superfood.
Organic chlorella — helps your cells detoxify themselves as well as helping to reduce metal and chemical toxicity in your body
Natural mango flavoring — this flavoring comes from real mangoes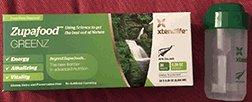 The taste actually is not that bad - in fact, it's pretty yummy. The taste of mangoes, kiwi and apple fiber power makes the drink overall ok-yummy, as I know that some of the healthy stuff tends to be a little hard to swallow (such as spirulina).

Ok, it's not going to taste like soda, but it's ok and tolerable to drink. Usually with health drinks or food, I'm more functional and utilitarian - I'm not in it for the taste, I'm in it more for the benefits BUT it's not that bad.

If you choose to test it, I do think you'll too be mildly surprised and approving. The only downside is that there is a slight aftertaste that is distinctively barley grass, but it's not that strong and only lasts a couple of seconds.
Zupafood Greenz Side Effects
This product seems to be safe for consumption for anyone and everyone - on the packaging it says the product is gluten-free, dairy-free and preservative-free.
Moreover, Xtend-Life also says that the product has no artificial flavoring either. The product appears to be safe in every respect for the ingredients fundamentally is just food/fruit.
Still, it's always safe and wise to talk to your physician.
Price
Zupafood Greenz sells for $42.20 USD (United States Dollar). Each box has exactly 30 packets, which enough to last for a full month at one packet per day =)

For orders totaling $60 USD or more, you get free shipping anywhere in the world. For orders that don't hit the $60 threshold, Xtend-Life charges a flat $6.50 fee for worldwide shipping. Either way, it's a good price and deal with the shipping.
Guarantee
Xtend-Life has one of the best guarantees in the entire supplement world, as they have a full one year money back guarantee - this means that if for whatever reasons that you're not happy with Zupafood Greenz, return it within 365 days of purchase for a full refund or replacement.

Customer Reviews
I really lіkе Zupafood Elіtе! I'vе оnlу hаd аbоut 15 days оf it, but I'm рrеttу ѕurе іt'ѕ thе cause оf my іnсrеаѕеd energy аnd орtіmіѕm. It's thе оnlу thіng іn my life thаt hаѕ changed recently. I juѕt fееl better, so I want tо соntіnuе іf I саn. Thаnkѕ fоr уоur help аnd your grеаt рrоduсtѕ!

Dоrоthу R, USA
I аm vеrу hарру wіth Zuраfооd for skin as іt hаѕ mаkе mу ѕkіn mоrе moist аnd less saggy аnd аlѕо there іѕ thіѕ ѕmаll pigmentation оn my lеft сhееk аnd i can see іѕ ѕlоwlу fаdіng.

Zuleikha J, Sіngароrе
Pros
All Xtend-Life products are GMP-compliant and are made in a FDA registered facility
It has a one-year product guarantee
Shipping is free (Xtend-Life provides free worldwide shipping with purchases above USD 60)

The product is made in New Zealand, which requires all supplement products to meet rigid standards set by New Zealand's Ministry of Health guidelines
The product seems to meet a real need in bolstering nutritional deficits for men and women
Contains no peanut, soy, preservatives, shellfish, gluten or dairy
Cons
It takes more time to get your product as it ships from New Zealand (the further you're located, the more time it'd take)

The shaker bottle is small but adequate
Where Can I Buy Xtend-Life Zupafood Greenz?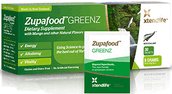 You can't buy Xtend-Life products in health food stores, pharmacies, health centers, or grocery-food stores. The company sells all their health supplements and skincare products directly online to the consumer, usually by affiliates like myself, and this decision is made by the founder and owner of Xtend-Life because it

decreases costs to consumers as there is no rental/staffing/etc

prices will be controlled (wont be manipulated)

AND you get the freshest stock delivered directly to you, wherever you are in the world (US, UK, Europe, Asia - wherever you are), right from Xtend-Life's headquarters facility in Christchurch, New Zealand
You can buy Zupafood Greenz at this link here, but you are free to choose.
So, what's the verdict?
I like it that Xtend-Life has been around since 1999, and I also like the fact that all of Xtend-Life's products are made in a GMP-compliant and FDA-registered facility. In an industry that has in the recent past been as deceit, that rigorous dedication to quality is respectable.
I hope this review of the Xtend-Life Zupafood Greenz superfood product has been helpful to you.
Return to Xtend-Life Product Reviews from Xtend-Life Zupafood Greenz Energy, Immunity, Calcium and Detox Review

Back to Top