Xtend Life Omega 3/QH Ultra Fish Oil For Cardiovascular Health And Energy Review
Welcome to the review of the Xtend Life Omega 3/QH Ultra Fish Oil For Cardiovascular Health And Energy.

You know, omega-3 supplements are so popular and well-received right now - they may even be the most popular in the world today - they're relatively affordable/inexpensive and have quite a lot of health benefits.
There are many clinical research and testings that has been done around the world that demonstrates that high-quality fish oil supplements, when properly handled and prepared, can hold their own when compared to superfoods such as ginseng, goji berries (wolfberries), coconut oil etc.
The good thing about omega 3 fish oil supplement is that when compared with many other superfoods, there is a lot of research that has been done on omega 3 - probably the most in the world today.


Omega 3 fish oil supplements are also pretty affordable, and the least expensive supplements around. Now if you're still thinking if it's good to add to your nutrition or not, don't have to think so much - it's good for health and is very affordable.
What are the health benefits of xtend-life omega 3 fish oil supplements?
There has been many clinical trials, research and case studies on fish oil and found that they help:

prevent cellular-level cancer, including prostate cancer for males.

In United States, 33.3% of people get cancer (that's a whopping 1 out of every 3 persons)


Help improve cardiovascular well-being.

Just this benefit alone is enough to warrant buying and supplementing on omega 3 fish oil. You see, fish oil supplements when carefully made,  can help prevent excessive clotting as well as reduce any irregularities in the heard heart such as tachycardia (abnormally fast heart rate). Omega 3 fish oil can also help to lower your blood triglycerides, normalize blood pressure, and improve overall cardiovascular health


Help to delay onset of diabetes and diabetes-related issues


Help provide female-specific health benefits such as easing menstrual pains/cramps, prevent colorectal cancer, lowers risk of breast cancer, protects against osteoporosis as well as helps to fend off depression (keeping you literally happier - I like this)

Reference: http://www.healthxchange.com.sg/healthyliving/DietandNutrition/Pages/5-Reasons-Why-Women-Need-Omega-3.aspx


Help minimize irritable bowel syndrome (IBS)


Improve and maintain immunity and immune system to operate more effectively and efficiently


slows down aging by virtue of increased powerful antioxidant activity and the strengthening the immune system
what about the quality of Xtend-Life Omega 3 Supplements?
Below is a table that demonstrates the difference between Xtend-Life's omega 3 fish oil supplement standards versus the standards by other health organizations.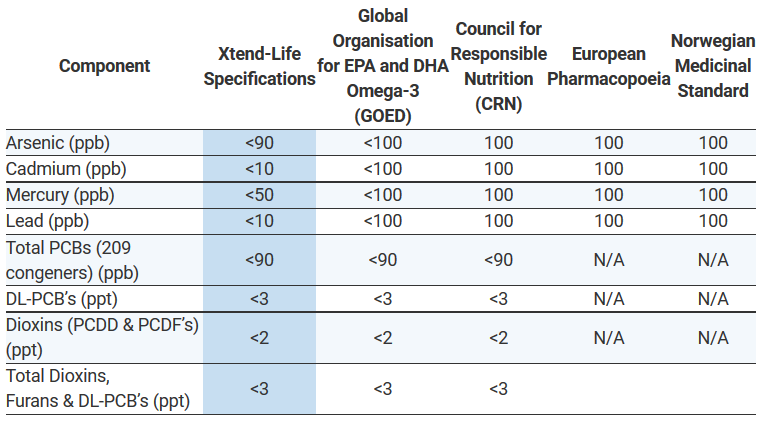 From the table you can see that the levels of toxins are much more better compared to all the other standards. Xtend-Life says that every bottle and batch of fish oil supplements is assessed and given a Certificate Of Analysis if it passes their quality standards, and this indicates quality, purity and potency of each and every batch.
Ingredients that are added to Xtend-Life omega 3 fish oil supplements includes:

lycopene (very good for prostate health for men)
astaxanthin (very good for its anti-aging capabilities) and

ubiquinol

They are all independently verified and certified by GMP compliant third-party laboratories for their quality and purity.
There isn't such a thing as pharmaceutical-grade omega 3 fish oil supplements, BUT Xtend-Life's facilities are GMP, FDA, British Pharmacopeia and New Zealand Ministry of Health compliant, which creates pharmaceutical-grade health supplements - so on a technical basis, Xtend-Life's omega 3 fish oil supplements are pharmaceutical grade/quality.
The products and raw ingredients are tested in independent third party GMP-registered companies too.
Ok, one thing to note is that all of Xtend-Life's omega 3 fish oil supplements undergo molecular distillation, which is a process that purifies the fish oil and removes any impurities, contaminants or toxins.
Xtend-Life says that this process is becoming more and more demanded and requested by regulators, and Xtend-Life says that they adopted this approach from day 1. There are many fish oil supplement companies that still don't do this, so please take note that you don't ever want to buy or consume fish oil supplement that hasn't gone through the molecular distillation process.
Then the fish oil and other added ingredients are formulated into soft gels like the ones you see on this page, then bottled and prepared to be shipped out.
What Are the
Ingredients in Xtend-Life Omega 3 fish oil supplement?
Xtend-Life omega 3 fish oil supplements are made from fish that are taken from the pure and pristine waters of New Zealand (have I mentioned earlier that I visited New Zealand with my wife in 2014, and loved it? Ok, more on that later.)
The fishes that Xtend-Life uses are:
Usually people know tuna, so let's talk about the hoki. The hoki fish is found only in the waters of New Zealand, and if you study the environment of New Zealand - they're very, very, very pristine. South of New Zealand south island is south pole (yeah, that south pole) which has literally zero industrialization. Above them is north island of New Zealand, and hours above them is Australia, so you can see how the waters, air, winds and lands of New Zealand are very untainted and pristine.

The ingredients that are in their omega 3 fish oil supplement include:
Astaxanthin
Fish oil from tuna and New Zealand hoki fish
Ubiquinol (Kaneka QH™)
Omega 3, 6 & 9 fatty acids
DHA (Docosahexaenoic Acid)
EPA (Eicosapentaenoic Acid)
DPA (Docosapentaenoic acid)
The ubiquinol, astaxanthin and lycopene are what that separates Xtend-Life's basic Omega 3/DHA Fish Oil and Omega 3 DHA Fish Oil Premium fish oil supplement.
Lycopene has many health benefits including helping prevent atherosclerosis, prostate cancer for males, and even respiratory issues like asthma. The nutrient astaxanthin is a dynamic antioxidant that battles free radicals that cause cancer and accelerated aging.


Ubiqunol holds its own weight too. There is significant relevant research evidence showing it to be very effective in improving and building one's energy levels.

Ubiqunol also improves one's cardiovascular system and strength, as well as actively assists with reversing/fighting degenerative diseases that occur due to decreased levels of ubiquinol.
Some of the known age-related diseases that it's been known to help with are cardiovascular disease, cancer, chronic fatigue syndrome, neuro-degenerative disease as well as diabetes.
what actual Customers say
Xtend-Life's omega 3 fish oil health supplements are one of the most popular health products (note: likely because their omega 3 range is not just high quality but also very affordable/low priced)

It's not just popular just because it's affordable, but it has many praises and testimonials too, see below:
Thank you very much. I appreciate your understanding and kind service. I can inform you that my wife and I have more energy and feel much better now after only 19 days of taking Total Balance Premium and Omega 3/QH ULTRA.
Also your skin care products that we bought seems to make a difference on our skin where treated. It already feels and look smoother. Thank you very much.

Sten A. L, Sweden, November 3rd, 2010
Thank you so much again for these good quality products! I love them all! So far, I've tried your TB women / children, Multi-Xtra, DHA Fish oil / Premium / Ultra; Day Facial Cream & Night facial cream and Eye Contour cream.
And they're all excellent…more than I expected! I thank the LORD for your products and services!

Kathy S., Taiwan, November 1st, 2010
Although must tell you the Omega 3/QH Ultra are very good for me, even my wife take them now, replaced her high blood pressure tablets what made her always sick, and she feels great.

Horst K, Australia, November 1st, 2010
Very happy with this product.
It's inexpensive and does what it says it does. I can feel a great difference in my health from an energy perspective. Count me in as a life-long customer.

Phil R., Montana, USA
Read more testimonials, reviews and product ingredients here
how much does it cost?

Xtend-Life has 4 omega 3 fish oil supplements, which are as followed
Each bottle contains 60 soft gels (except for the mini, that comes with 120 soft gels).
Is There a Product Guarantee?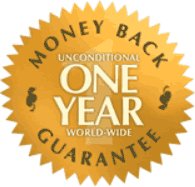 Yes, Xtend-Life provides a full 365-days money back guarantee or full product replacement (you choice) for all their natural health supplements and skincare products.
Xtend-Life has very low returns rate because their products are made with very high compliance with GMP, United States Food & Drugs Administration, the British Pharmacopeia and New Zealand own governmental Ministry of Health (MOH) regulations on health supplements manufacturing (equivalent to US FDA).
Any negatives or Customer Complaints?
On the internet, news travel very fast. Bad news, 10x as fast.
Xtend-Life's omega 3 fish oil supplement is very popular, and I think it likely outsells their flagship product Total Balance because it's so affordable/inexpensive. Pricewise, zero complaints.
Problem #1
There used to be complaints of the dreaded "fish oil burp" - where those who just start taking the omega 3 fish oil supplement will have periodic burps that smells like oily fish, as the body/stomach adjusts to it. But Xtend-Life listened to feedback, and updated the formula which seems to have removed that problem.
Problem #2
The Omega 3/QH Ultra Fish Oil Supplement contains trace (low) amounts of highly refined soy tocopherols. Trace amounts are usually so low in quantity that it should be safe, according to Xtend-Life, but if you're allergic to soy, please check with your doctor - just in case.
What about those with shellfish allergies? Xtend-Life says that as long as you can eat fish, you'll be ok. If you are allergic to fish, then please check with your doctor.

Xtend-Life's omega 3 fish oil supplements does not contain any peanut, dairy, gluten,  or shellfish byproducts in them.

Where Can I Buy It?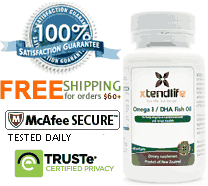 You can't buy Xtend-Life products in health food stores, pharmacies, health centers, or grocery-food stores. The company sells all their health supplements and skincare products directly online to the consumer, usually by affiliates like myself, and this decision is made by the founder and owner of Xtend-Life because it

decreases costs to consumers as there is no rental/staffing/etc

prices will be controlled (wont be manipulated)

AND you get the freshest stock delivered directly to you, wherever you are in the world (US, UK, Europe, Asia - wherever you are), right from Xtend-Life's headquarters facility in Christchurch, New Zealand
If you're interested in reading more or buying omega 3 fish oil, click here
I hope that the review on Xtend-Life Omega 3/QH Ultra Fish Oil supplement has been helpful and useful for you.
Return to Xtend-Life Product Reviews from Xtend Life Omega 3/QH Ultra Fish Oil For Cardiovascular Health And Energy Review

Back to Top