Xtend-Life Female Rejuvenator Women's Menopause Sex Vitamin Supplements Review
Welcome to the review of Xtend-Life Female Rejuvenator.
Sex vitamins and supplements are one of the most popular health and wellness supplements in the world, and are well received by both men and women.
This review aims to help you make a decision to decide if Xtend-Life Female Rejuvenator is good for you (or your partner/wife/girlfriend).

The Female Rejuvenator by Xtend-Life is a women-specific supplement which I've never used before (I'm a male heh =D ) - men can use the male-specific version that's called Xtend-Life Male Rejuvenator.
female rejuvenator sex vitamin supplement
The Female Rejuvenator is an all-natural vitamin supplement that is designed and formulated only for women. It is made with independently tested and certified pure and potent natural raw ingredient and manufactured at a pharmaceutical quality grade that are proven to produce results.
The raw ingredients and nutrients are tested not once, but twice - once inhouse, and once more in a GMP-compliant independent lab like Alkemists Laboratories in Costa Mesa, California, USA.
Carefully created and combined with enteric coating leads to a highly assimilated and absorbable supplement, with lab tests confirming more than 80% absorption.

Xtend-Life says that the Female Rejuvenator is created to prevent or mitigate PMS (pre-menstrual syndrome) symptoms and at the same time, works to restore hormonal balance to women.

It core capabilities includes helping women to:

feel increased well-being

better able to emotionally cope with menopausal and hormonal changes
helps to significantly decrease the intensity and frequency of hormone-related mood swings (common to women going through the menopause change)

Xtend-Life says that the Female Rejuvenator doesn't only help women that are older/more advanced in age, but can also significantly help younger women too - it helps to amplify natural sexual desire in women, as well as their sexual sensitivity and intensity, which is something many women desire and want too.
There have been many reports by female customers that the Female Rejuvenator has helped to increase fertility as well as increasing the possibility of conception.
is this female sex vitamin supplement high quality?
The Female Rejuvenator is a very popular and well-received product with women (and their men who buys it for them), because of the same reason that Xtend-Life often quotes:
It's got to do with how their supplements are researched, clinically tested, and built from scratch using top-notch pure and potent ingredients that are double-tested, and very sound and compliant manufacturing practices.

Many health supplement companies slap on their NSF GMP Compliance labels, and if you think that's good, hear this: Xtend-Life takes it many, many notches higher, by being:
registered and compliant with Good Manufacturing Practices (GMP)
registered and compliant with United States Food & Drugs Administration
registered and compliant with New Zealand Government Ministry Of Health supplement

herbal extraction processes that are compliant with British Pharmacopeia
double tested raw ingredients for purity and potency

100% owned manufacturing facility

All the above leads to one place: pharmaceutical grade supplements that are tested and certified by independent labs. Also, Xtend-Life doesn't outsource any of their manufacturing (many supplement companies outsource their supplement manufacturing processes, and just slap on a label and think "that's all to it", but that's really the lowest level of quality, because they have no access or quality control at all) -
Xtend-Life 100% owns their own manufacturing facilities that are registered and compliant with GMP, FDA, New Zealand Government and the British Pharmacopeia.
Also, Xtend-Life uses the pharmaceutical blending approach rather than the traditional paddle/ribbon approach, and pharmaceutical blending ensures that every tablet in every batch processed has the same nutrient and ingredient as the other tablets in its batch. The paddle/ribbon approach doesn't ensure that.
What this means is that if you buy two identical packet of fruits and find that one packet has 10 pieces and the other has 3. Pharmaceutical blending ensures that every packet has the exact same contents as the others, and ensures consistency for your supplements.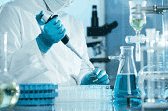 Xtend-Life says that their Female Rejuvenator meets British Pharmacopeia drug standard for their process of herbal extraction, and this is noteworthy because this is a very high mark of distinction, and exceeds the United States Food & Drug Administration (FDA) quality.
I write all that because it's truly important, as it highlights and ensures that clients get high quality, highly assimilable/absorbable sex vitamin supplements that helps female-specific health issues without all the nasty side effects that comes with pharmaceutical medical drugs.
Customer Reviews About the Xtend-Life Female Rejuvenator
Xtend-Life Female Rejuvenator is well-received and popular. Here are some testimonials from real and actual women users:
I wanted to post a message on the amazing qualities of your Total Balance Women's Premium along with Female Rejuvenator
My husband and I have been taking these supplements for a good year now and when I ran out of my Womens Total Balance about a month ago I thought until my new order arrived I would use the Men's Premium in which I did but my husbands was also very low and we ran out of both.
Well I need to let you know that for three weeks I had such severe hot flashes both day and night. This "hot flash" thing was new to me cuz I had never experienced them before even though at 49 years of age my cycle is now starting to become erratic.
I'd say I am now very pre-menapausal! I told my husband that the hot flashes began when I ran out of the Women's Total Balance, he said we'll see once our order arrived and I was back to taking them again. I need to say that these supplements are amazing because within four days I have only one or two flashes a day.
I am amazed and so is my husband because I wasn't sleeping due to sweating and throwing off the blanket in which kept my husband awake also, now I am back to sleeping very well and feeling rested when I wake. I sure hope this product works for other women like it has for me!! I thank you for the great relief!!!

Verda, USA
I started taking Female Rejuvenator about 2 weeks ago. I have had very painful menstruations for 26 years. The last one was, for the first time ever, pain free, PAIN FREE!!! I never thought that would be possible for me. I thought you might like to know this and you are more than welcome to put it on the website!

Anne, New Zealand
Thank you so much for your courteous and knowledgeable response. I always know that I can count on you to take any questions seriously. I have been so pleased with Female Rejuvenator and apparently others have notices something.
Several people at the gym I attend have asked if I was taking anything. I told them "Yes, I am taking Female Rejuvenator." I told them the website and suggested that they go there and read and study the product and decide for themselves whether it would be good for them.
They did and 4 or 5 people have also ordered the product. Thanks again for making a product which works and is a natural alternative to pharmaceutical hormone replacement.

Ms Dormuth, UK
Read more testimonials and product information on
Female Rejuvenator here

how much does it cost?
Xtend-Life Female Rejuvenator sells for $29.95 USD (United States Dollar) and each bottle contains 90 enteric-coated tablets.
According to Xtend-Life, 90 tablets will last you for 30 days, at 3 tablets per day.
Does it Have a Product Guarantee?
Yes, it does.
Xtend-Life provides a full 365 days money back or product replacement (your choice) if you're not entirely satisfied with any of their health supplement or skincare products.

Their guarantee is one of the better (if not the best around) for a supplement company.
what about Shipping and delivery? Can i receive it from Anywhere in The World?
Xtend-Life is able to deliver their health supplements and skincare products to anyone, anywhere in the world.
For orders above $60 USD, shipping is free; for orders below $60 USD, there is a flat shipping and handling fee of $6.50  - either numbers are good =)
Any negatives or Customer Complaints About Xtend-Life Female Rejuvenator?
If you're like me, I don't trust any reviews that doesn't cover negatives or customer complaints.
The Female Rejuvenator doesn't have a product-specific complaint, most of the women users are happy with the results and outcomes - most of the complaints seem to revolve around the product price (frankly, being in the medical and health industry, I note that Xtend-Life pricing is very affordable, perhaps medicine and medical care in Singapore is more expensive).
Xtend-Life explains that their products are priced at their current level because of their pharmaceutical-grade quality, multiple independent and inhouse testings, clinical testings and manufactured in GMP, FDA, British Pharmacopeia and New Zealand Ministry Of Helath compliant facilities, with high certified quality raw ingredients.
Where Can I Buy xtend-life female rejuvenator?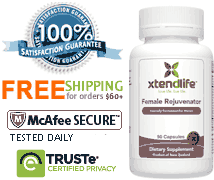 You can't buy Xtend-Life products in health food stores, pharmacies, health centers, or grocery-food stores. The company sells all their health supplements and skincare products directly online to the consumer, usually by affiliates like myself, and this decision is made by the founder and owner of Xtend-Life because it

decreases costs to consumers as there is no rental/staffing/etc

prices will be controlled (wont be manipulated)

AND you get the freshest stock delivered directly to you, wherever you are in the world (US, UK, Europe, Asia - wherever you are), right from Xtend-Life's headquarters facility in Christchurch, New Zealand
You can buy
Female Rejuvenator directly from xtend-Life here
Return to Xtend-Life Product Reviews from Xtend-Life Female Rejuvenator Women's Menopause Sex Vitamin Supplements Review

Back to Top