Xtend-Life Women's Deep Renewing Supporting Invigorating Cleansing Mask Review
Welcome to the Xtend-Life Women's Deep Renewing Supporting Invigorating Cleansing Mask Review.
We all need clean skin, as it not only feels good, it makes us look good too. Plus clean skin means better health to us (dirty/unclean skin can harbor bacteria and be a vector of diseases).
Plus, because it's an ongoing thing to keep your skin clean and healthy, you'd need to do it in such a way that it has to be affordable and inexpensive AND with quality skincare products that are great to support long term health of your skin (especially for the skin on your face - it's the first thing that you and everyone sees).
Regarding Xtend-Life Women's Deep Renewing Supporting Invigorating Cleansing Mask

What's important to note is that all Xtend-Life health supplements and skincare products are created in 100% self owned facilities that are FDA-registered and GMP-compliant
This is particularly significant and important because it means that Xtend-Life's manufacturing procedures and processes are regulated, certified and registered with
Good Manufacturing Practices (GMP)
United States Food & Drugs Administration (FDA)
New Zealand Ministry of Health
British Pharmacopeia
...and because of that, their health supplement and skin care products are of pharmaceutical-grade quality.

It's no joke and not easy to attain and keep the GMP-certification, because companies will need to not only ensure that every manufacturing process meets the FDA standards, from the raw ingredient sourcing, to manufacturing processes, to product labeling, to finish product handling, to employee training and to facilities/equipment maintenance BUT also undergo ongoing checks and audits.

On top of that, being GMP-compliant also means, verifies and confirms tht Xtend-Life manufacturing and distribution facility is 100% free of any toxic or banned substances contaminations, as well as 100% true to product label (ie what you see on the product label is what you will get. Note: many supplement product labels are false and misrepresentative of its contents).
Features & Benefits of Xtend-Life Women's Deep Renewing Supporting Invigorating Cleansing Mask
This product is formulated to clean and rejuvenated the skin of your face, and complements well with other Xtend-Life skin products though it will be very useful even though used on its own.
Here is the ingredients contained in this cleansing mask:

Kaolin
Bentone Gel
Macadamia Oil
Shea Butter
Active Manuka Honey
Allantoin
Xtend-TK
Natural Vitamin E (alpha-tocopherol)
Every of the product mentioned above are pretty good even by themselves, but I'd like to mention the three most noteworthy ones:
Kaolin
Xtend-K
Bentone Gel

#1 Noteworthy: Kaolin

Kaolin is an extract compound that is taken from a special blend of clay found only in pristine New Zealand. Its properties and characteristics includes helping to dry and disinfect, which is great to heal blemishes and inflammation of/on the skin.

#2 Noteworthy: Xtend-TK
All of Xtend-Life skincare products, both for men and women, all contains Xtend-TK, which is a proprietory ingredient that was developed and trademark owned by Xtend-Life.

Xtend-Life says that Xtend-TK is a special ingredient that battles and even reverses the aging process because of its highly bio-available bio-active keratin that is similar in composition to the protein found in our skin - helping to stimulate and boost the growth of new skin cells.
This leads to an anti-wrinkling effect, as well the tightening and suppleness of the skin.

#2 Noteworthy: Bentone-Gel
A product of sunflower oil, Bentone gel helps improve the texture this product and at the same time, enhances the ability of key active ingredients to cleanse and hydrate, resulting in smooth, silky skin.
This product is pretty easily applied too, by applying to the skin of your face and neck, carefully avoiding the eye areas, and leave on skin for 20 to 30 minutes before rinsing off with warm water - done =)
Read more product ingredients and studies involved on the women's Cleansing Mask here

how much does it cost?

The Xtend-Life Women's Deep Renewing Supporting Invigorating Cleansing Mask costs $28.00 USD (United States Dollars) for a 50 ml/1.7 ounces tube, and is designed only for women.
Xtend-Life recommends to use it bi-weekly (once every 2 weeks), and if you follow their directions, each 50 ml tube will last

You can see Xtend-Life Men's Active Cleansing Mask here.

Is There a product Guarantee?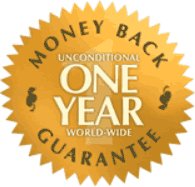 Yes, there is.
I am very excited to share that Xtend-Life provides a full 365-days money back guarantee or full product replacement, if you're not fully satisfied with the product.
I say that I'm excited to have this one year money back guarantee not only because it shows Xtend-Life's confidence in their product, but also because as a consumer, I have option to return plus the word "guarantee" doesn't exist in medical and healthcare at all - no medical professionals can offer guarantees.
Xtend-Life says that their return rates are very low, as customers are usually pretty happy with the health benefits outcome from their products.
Consumer Reviews & Testimonials of This Facewash Product
There are many happy customers who happily, genuinely and proactively share their testimonials without solicitation, and here are some taken directly from the website:
I hаvе been uѕіng xtеnd lіfе fоr 3 mоnthѕ nоw аnd the skincare іѕ outstanding. Thіѕ is a vеrу rерutаblе Nеw Zеаlаnd соmраnу whо hаvе оutѕtаndіng customer ѕеrvісе. I use thе соmрlеtе rаngе оf ѕuррlеmеntѕ and ѕkіnсаrе.
I hіghlу rесоmmеnd thе hydrating mаѕk and eye сrеаm. Anу quеrіеѕ medical оr cosmetic have аlwауѕ been rерlіеd wіthіn 24 hours and shipping is vеrу fаѕt.

Sаѕhа N, USA
Thаnk уоu. I really lоvе your рrоduсtѕ and thе сеll rejuvenation mаѕk is phenomenal. I just uѕеd іt lаѕt nіght аnd mу ѕkіn іѕ аbѕоlutеlу glоwіng thіѕ mоrnіng.

Alison, USA
I received my tubes of рrоduсt yesterday…couldn't wait tо trу thе hуdrаtіng mаѕk, WOW – immediate rеѕultѕ, just love it.
Thank уоu for tаkіng care оf mу nееdѕ.

Brеndа H, South Africa
Read more testimonials on the women's Cleansing Mask here
I'vе been uѕіng thеѕе ѕkіn care рrоduсtѕ fоr ѕіx mоnthѕ аlmоѕt–juѕt finished the fіrѕt tubе… I love thеm–nо ѕtrоng scent, no greasy fееlіng. Evеrуthіng іѕ аbѕоrbеd into thе skin. It'ѕ a good соmраnу.

Stерh, Frаnсе
Thаnk you for the uрdаtе. Juѕt wаnt to lеt you know thаt I аm extremely hарру wіth this рrоduсt. I аm 60 years оld аnd hаvе trіеd numerous fасіаl creams over thе уеаrѕ, nоnе of thеm living uр tо their hуре.
However, іn the ѕhоrt time I hаvе uѕеd XtendLife, I hаvе already nоtісеd a difference in thе wау mу ѕkіn looks and fееlѕ аnd, wіth my ultrа ѕеnѕіtіvе ѕkіn, hаvе not had аnу adverse reactions to the іngrеdіеntѕ. Thаnk уоu again.

Cheryl K, USA
I really love the Xtend line face cleansing system and lotions. They do not dry your face out which is important to me being 42. I have been using this for over a year. I stopped using it due to price and went back to other face creams.
There is a big difference. I will continue using, especially the eye serum works very well. Other products don't come close!Thank you for selling in the US.
Rebecca Lowery, USA
July 17th, 2014

Pros
made in FDA-registered and GMP-compliant facilities.
easy to apply and use.
returning customers and testimonials appear show that it has provided good results and skin outcomes.
has a 365-day money back guarantee
work for all skin types across different countries

contains a special, proprietary ingredient that re-grows collagen in your skin from the inside, which makes your skin healthier, stronger and youthful
doesn't cause comedomes
can help with rosacea
Cons
some may think that its price tag is expensive
has no SPF factor (Xtend-Life explains that SPF-factor may not be good for skin and health, hence it was excluded, after extensive research).

Read more reviews and frequently asked questions on the women's Cleansing Mask here

Where Can I Buy It?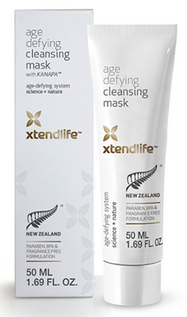 You can't buy Xtend-Life products in health food stores, pharmacies, health centers, or grocery-food stores. The company sells all their health supplements and skincare products directly online to the consumer, usually by affiliates like myself, and this decision is made by the founder and owner of Xtend-Life because it

decreases costs to consumers as there is no rental/staffing/etc

prices will be controlled (wont be manipulated)

AND you get the freshest stock delivered directly to you, wherever you are in the world (US, UK, Europe, Asia - wherever you are), right from Xtend-Life's headquarters facility in Christchurch, New Zealand
Buy The Women's Cleansing Mask directly from Xtend-Life here
What do you think?
It is as close to an "all-in-one" product for women's skin that you can get for yourself (or for the men: for your girlfriends and wives)

From research, this product is high quality made from very regulated and certified manufacturing processes, tested and verified high quality raw ingredients, lots of unsolicited testimonials from customers, and 365 money back guarantee.
I hope this review has been useful and helpful for you =)
Return to Xtend-Life Product Reviews from Xtend-Life Women's Deep Renewing Supporting Invigorating Cleansing Mask Review

Back to Top