Xtend-Life Total Balance Unisex Premium Cellular Multivitamin and Nutrients Review
Xtend-Life's anchor flagship product is the Total Balance series, which means that this range of products are its best and most well known for.
The Total Balance multi-vitamin and multi-nutrient product is not only 100% natural, but it is also made to be pharmaceutical-quality (the highest standards for any supplements in the world today).
According to Warren, the founder and chairman of the New Zealand headquartered company, Xtend-Life commits to being 100% clinical research and testing, as well as only using raw ingredients of the highest quality (every raw ingredient is tested in independent labs in US such as the Alkemists Laboratories in California, and can be used as product ingredient ONLY if they pass the quality and purity standards).
Xtend-Life started humbly in 2000 and has slowly built its way to being one of the best and top online natural health supplements and natural skincare products in the world. They didn't buy their way in - they truly earned it by committing to very high standards to raw ingredient quality and purity, as well as commitment to GMP, FDA, New Zealand Ministry of Health and British Pharmacopeia supplement standards.

They own 100% of their manufacturing facilities, so they have 100% control over the quality and purity of ingredients that goes in, 100% control over the quality of the manufacturing processes including handling.
Xtend-Life says that their Total Balance multi-vitamin and multi-nutrient line, be it the men's or women's versions, helps to:
decelerate and slow down the aging process
provide more energy
close the vitamin/mineral deficit and build nutritional sufficiency for effective physiological system

leading to general and global systemic health

Xtend-Life Total Balance unisex premium Health Benefits
Xtend-Life says that regularly taking their Total Balance Unisex Premium will bring the following benefits:

Presence of active powerful antioxidants that fight against free radicals in our bodies, and this fights against cellular death (aging) and even fights/lowers risk of cancer.

This is the fundamental key to the Total Balance series.


 Slows down the destruction of collagen and elastin in our skin, and this helps to keep our skin healthy, strong and supple. Skin can look tighter, glowing, more tensile strength decreases breakage too.


Multi-vitamins and multi-nutrients allows and enhances our entire physiological system to work effectively and efficiently, including building and maintaining health of our joints, organs, skin, waste management etc.


To add to presence of antioxidants that stave off cancer (antioxidants also destroys/fights cancer cells), having nutritional sufficiency also helps to prevent illnesses, diseases, cancer and other nutrition-deficit conditions.


Provides your body, brain and system with the vitamins, minerals, enzymes, and nutritional co-factors your body physically and physiologically needs to operate properly, effectively and efficiently

Xtend-Life says that their multi-vitamins are not made by "outsourcing" the manufacturing process to some OEM factories with some generic recipe and by slapping on a label, oh no, that's not how Xtend-Life works (if they're like that, I'd run far, far away).
Xtend-Life built every one of their health supplements from scratch (including the Xtend-Life Total Balance Unisex Premium Cellular Multivitamin and Nutrients).
They did their own clinical studies and research.


They sourced the highest quality raw ingredients (every raw ingredients are tested by independent labs such as Alkemists Labs in US, and certified before they can even be used).


They took on the best practices and technologies, inclduing the latest "pharmaceutical blending" to ensure every tablet/capsule of the batch has the same and equal nutrient as every other tablets (other supplement companies use the ribbon approach, which causes inconsistencies in nutrients)


They added the expensive enteric coating to ensure that the nutrients are not destroyed in the harsh acids of the stomach, and absorbed in upper intestines. Independent separate tests confirms that at least 80% of Xtend-Life tablets/supplements are absorbed by the body (some claims up to 95% absorption)


They  provide a full 365 days money back guarantee (in the world of health and healthcare, the word "guarantee" doesn't exist - so this is a very nice plus point, and for a full year)
Find out more details on Total Balance Unisex Premium Here
Let's talk about sourcing of the raw ingredients. Xtend-Life says that they only buy the highest quality raw ingredients and raw nutrients in-line with their commitment and dedication to quality and purity, which is one of the foundation pillars of their business.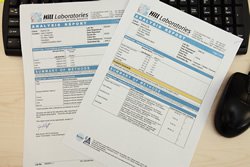 Every raw ingredient and raw nutrient, before they can be even used as ingredients in any supplements, are first sent to third-party, independent labs where pharmaceutical-grade ingredients are tested in cGMP-compliant lab facilities such as Alkemists Labs or Cawthorn (2 labs that Xtend-Life actually engages to test their ingredients and products)

Raw ingredients that have been tested and verified once they pass the required quality and purity standards, and then those that pass are given a Certificate Of Analysis (COA). THEN and only then they are allowed to move on to be used as ingredients for health supplements (the COA certifies and confirms the potency of each batch of raw nutrients and ingredients).
The raw ingredients and nutrients are then made into health supplements and skincare products (according to the needs) in Xtend-Life's own GMP-, FDA, British Pharmacopeia and New Zealand Ministry Of Health-compliant facilities. Xtend-Life uses pharmaceutical blending approach, which ensures that every tablet/capsule per batch gets the same amount of ingredients and nutrients in them, so that your health supplement regime will be consistent (most supplement companies take the easier route of ribbon/paddle approach that causes inconsistent nutrient dispersement).
the expensive enteric coating that increases absorption to at least 80% per dose

Xtend-Life doesn't cut corners and skimp on what's important. They finish the supplement with an expensive process called enteric coating which serves to protect the Total Balance nutrients from the harsh stomach acids, to allow safe passage to upper intestines where the nutrients are rapidly absorbed into the blood stream to work their magic.

All these dedication to details, quality, purity and compliant leads to one path: a high quality multi-vitamin that works.

difference between the premium and regular versions of the total balance unisex

The main difference between the Total Balance Unisex Premium version and the regular version is this:
The premium version has 20 more ingredients than the regular ones - it has additional seven (7) amino acids and more herbal extracts. The premium one also has the guggul gum extract, grape seed extract and herbal ginger extract too (there are more, but these are the most vital to mention).
The regular/basic Total Balance Unisex has 88,680 miligrammes of bio-actives per month whereas the premium version has 132,660 (more by +49.50%). Xtend-Life recommends 4 daily tablets for the basic version whereas for the premium version, 6 daily tablets is recommended.

I raise this up because that'd increase the costings involved. The Total Balance Unisex Premium costs USD$ 45 for 90 tablets (6 tablets per day = 15 days per bottle) and the regular version is USD$ 52 for 120 tablets (4 tablets per day = 30 days per bottle). So if you follow Xtend-Life's recommendations, the regular version will be 2x cheaper, of course the nutrition and vitamins differ.

Xtend-Life Total Balance Unisex Premium actual Consumer Reviews & Testimonials

Xtend-Life is a privately-owned company and because of that, their financials will never be in the public domain like other public-listed company (Warren asserts that he opted for this because he wants to be able to focus purely on ensuring high quality health supplements and skincare products, rather than having to deal with shareholders who then will be looking at profits rather than people).

But by observing Xtend-Life, I think that their top selling and most well-received products will be their Total Balance series as well as their omega 3 fish oil supplements, because their Total Balance is a high quality multi-vitamin and multi-nutrient that is certified pure.

I have been through many websites and Total Balance is often ranked as top of the line of multi-vitamins for its quality, purity and potency.
There is in fact a lot of testimonials, and below are some of them:
I had cancelled my loyalty order last year around this time and I have to say it was the worst decision I made. My Wife had started on them and she noticed a big difference quickly (who doesn't) and that was on half the recommended amount. I also have missed the noticeable benefits.
I have taken vitamins my entire life. Everything from local store brands up to the top of the line commercially available products. No line of product has affected me as dramatically and as quickly as Xtend-life Supplements. Thank you for a great product.

Trevor, USA
The product has been a tremendous help. Thank you, it's everything you said it would it be and in today's world TRUTH is a rare find.

Mike S., USA
I want to thank all you there for suggesting Total Balance and Omega DHA I'm sure you don't remember but I emailed you telling you that I have a bad case of irritable bowel syndrome, Barrets and all that goes with it.
Since I have been taking your vitamins I feel like a different person and with God's healing powers,Thank you again.

Cindy P., UK
Dietary supplements are kind of my thing. So are diet supplements and herbal supplements as well. The best fish oil supplements are hard to find. I use DHA fish oil or omega 3 capsules nutritional supplements as a foundation of my daily vitamins and supplements regime.
I love taking my fish oil tablets and vitamin pills. I take an omega-3 90% kapseln or omega 3 capsules after reading an Omega 3 index. So, yea, I'm into supplements, and I'm willing to spend as my health is vital to everything I do.  In truth, vitamin d supplement stuff and vitamins pills (and fish oil) are the foundation of my regime.
At least until I found Total Balance. I'm always looking at natural skin care products too. And looking for the best fish oil supplements (including CoQ10 supplement fish oil) has been replaced by finding a good mutlivitamin that is made from top level ingredients. I found that,
I believe, with your product. I think you for the commitment to excellence you have.

Norm P., California
Read more reviews and testimonials on Total Balance Unisex Premium here

How Much Does The Xtend-Life Total Balance Unisex Premium multi-vitamins Cost?
One bottle sells for $45.00 USD and each bottle is 90 enteric-coated tablets. According to Xtend-Life, we're recommended to take 6 tablets per day so 1 bottle will last for 15 days
(Note: if you need/want to drag a little bit, you can take 3 tablet per day so 1 bottle will last 1 month BUT note that the effects will be halved ya - I don't really recommend this fully because it's only 50% strength but I think 50% strength is better than 0% which is none at all)

Does It come with a Guarantee?
Yes, it does.
Xtend-Life offers a full 365-days money back guarantee for every one of their natural health supplements and skincare products. Or you can choose the full product replacement - your choice.
Any negatives or actual Customer Complaints?
If you're like me, I find it very biased if any reviews doesn't include any discussion on the negative parts or customer complaints (note: in the online world, bad news travel like 100x the speed, so any complaints would be heard quickly too).
The biggest complaint is not the product itself - actual customers are very happy with the outcomes, and there are pages and pages of testimonials. Morever, it doesn't have side effects as well.
Literally the largest and most prominent complaint about Xtend-Life health supplements are mainly its costs/pricing. Xtend-Life seems to understand and explains that their natural health supplements and skincare products are made with the highest quality and certified raw ingredients; compliance with GMP, FDA, New Zealand Ministry of Health and British Pharmacopeia; and confirms at least 80% (and more) assimilation and absorption - the attention to details and quality directly increases costs.
Note: being in health and healthcare industry, I have personally seen patients and people having to fork out 5 figures to 7 figures to fix their health, and even in healthcare no medical practitioners will give any patients any forms of guarantee. Because of my training, experience and exposure, I find that Xtend-Life health supplements and skincare products are very value for money, for the extensive dedication to quality, purity and outcomes (plus zero side effects, gosh) - it's money well spent.
Where Can I Buy It?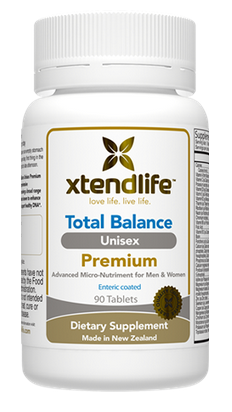 You can't buy Xtend-Life products in health food stores, pharmacies, health centers, or grocery-food stores. The company sells all their health supplements and skincare products directly online to the consumer, usually by affiliates like myself, and this decision is made by the founder and owner of Xtend-Life because it

decreases costs to consumers as there is no rental/staffing/etc

prices will be controlled (wont be manipulated)

AND you get the freshest stock delivered directly to you, wherever you are in the world (US, UK, Europe, Asia - wherever you are), right from Xtend-Life's headquarters facility in Christchurch, New Zealand
Buy Total Balance Unisex Premium directly from Xtend-Life Here
I hope this review of Xtend-Life Total Balance Unisex Premium product has been helpful and useful to guide your health decisions.

Return to Xtend-Life Product Reviews from Xtend-Life Total Balance Unisex Premium Cellular Multivitamin and Nutrients Review

Back to Top