Xtend-Life Bee Pollen Natural Health And Energy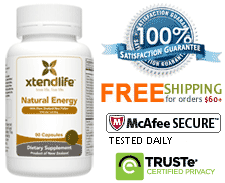 For a natural energy boost
A "Get up and GO" boost from nature
May help you manage "junk food" cravings

Contains exclusively pure New Zealand bee pollen
Most of us experience that mid-afternoon slump from time to time…
If you are using our Total Balance it is possible that you seldom experience this problem…but still, it can take a few months of using Total Balance to build up to that stage. Even so, if you are under a high level of stress or are short of rest, you may still need a natural energy 'booster'…
We developed our Natural Energy product to meet these needs. It is designed to be taken on an empty stomach so it is perfect for taking mid-afternoon…when your eyelids suddenly become heavy and a nap is all you can think about.
A 'get-up-and-go' boost from nature…not an energy drink!
Some customers use it as their preferred 'energy boost' instead of the over-hyped energy drinks which contain excessive amounts of caffeine and other potentially harmful chemicals…not to mention loads of calories…Natural Energy may also help you avoid afternoon cravings for 'junk-food' that carry their own health perils!
How do we achieve this?
Natural Energy uses the potent health boosting components found in Bee Pollen…mixed with a special synergistic enzyme blend to help release the Bee Pollen's energy-boosting properties.
There are other important nutrients which you can learn more about by clicking on the Ingredients tab. As soon as the Bee Pollen is harvested it is immediately packed and sealed to preserve its goodness. When we receive it at our production facility, we blend the enzymes into it using a 5 day process. 
The Bee Pollen and enzymes are then blended with the other ingredients and prepared for encapsulation.
Pure Bee Pollen FACTS
We source our Bee Pollen from one of the most pristine areas of New Zealand:
Borders one of the largest National Parks in the North West Corner of the South Island of New Zealand…
No industries or factories…
Prevailing winds are from the South West…
Nothing between this area and Antarctica…besides the remote Southern Ocean…The air is so clean that most days you can see for 100 miles…leaving our Bee Pollen free from the air pollution and other contaminants found in so many other commercial brands…
You deserve the best Bee Pollen available and we're proud to give it to you in our Natural Energy product.
Regular consumption of Natural Energy aids your general health and well-being and can help:
Provide sustained energy
Naturally suppress 'junk food' cravings
Provide nutritional support
Support your immune system
Improve skin condition
Mid-afternoon energy boost
Testimonials
Natural Energy is exactly that. I never feel like I just got a jolt and then crash a few hours later. I will be reordering for sure.
A McManus, USA
I used to feel like I needed a nap after work and didn't have the energy to get anything done around the house. It was making me depressed and miserable.
After taking Natural Energy, I wasn't feeling tired and sluggish anymore. I don't feel jittery or crash at the end of the day. I am still able to fall asleep at night-I just have the energy I need to make through the whole day.
M.L, USA
Return to XtendHealthAsia.com Home Page from Xtend-Life Bee Pollen Natural Health And Energy

Back to Top