Xtend-Life Cardio-Support Heart Health Supplement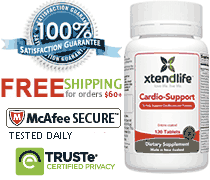 Xtend-Life Cardio-Support Heart Health Supplement
Supports cardiovascular health & function
Helps maintain healthy blood pressure levels
Contains Nattozimes® to help maintain a healthy circulatory system
Supports heart muscle health and function!
Support the health of your heart with Cardio-Support...
Our Total Balance and Omega 3/DHA products help you to maintain a healthy heart and cardiovascular system...as well as all your other systems, but some customers also need a supplement that specifically supports the circulatory system such as Cardio-Support.
How Cardio-Support may help the cardiovascular system
If you had been on Total Balance and Omega 3/DHA since you were 30 years of age then it is unlikely that you would need this product...BUT, this is not the case with most of us...so we may need Cardio-Support to help maintain a healthy heart through several mechanisms:
Maintaining healthy levels of aggregation of platelets...
Supporting circulatory strength and heart muscle function...
Maintaining healthy calcium levels...
Advancements through research
Our chief researchers got to work on the problem and after more than a year of research Cardio-Support was developed. This was further refined in our second generation of this product.
In the second generation of Cardio-Support we added a high potency special enzyme called Nattozimes® to help maintain arterial health and function. It also helps support healthy blood flow and the natural clotting management properties of blood.
However, a problem with Nattozimes®, as with all enzymes is that they are very sensitive to stomach acid. For maximum efficacy Nattozimes® have to be protected as they pass through the stomach.
A natural supplement, not a drug
Cardio-Support is a natural supplement that utilizes a special enteric-coating system to safely protect the active ingredients from stomach acids and release them in the upper intestine. This delivery method not only protects the enzymes such as Nattozimes® but also greatly enhances the efficacy of other ingredients present such as Trans-resveratrol and Reduced L-Glutathione.
Also, for those customers whose are on statin drugs...we wanted this formula to help support the body's ability to cope with the effects caused by CoEnzymeQ10 depletion. This is why we included CoQ10 in the formula to help offset this depletion.
BUT...that's only part of it…
In order to produce a potent supplement that will achieve all of these objectives, the ingredients discussed above are only the start. You also need...
A range of amino acids in the right proportions and the right type...
Additional enzymes for better nutrient absorption...
Specialty nutrients such as vinpocetine, policosanol, alpha lipoic acid etc...
Beneficial agents such as Betain HCL etc...
The correct form of minerals for the objectives...
The correct form of vitamins in the right amounts...
And...most importantly these nutrients have to be combined in a synergistic way to work together! This has all been achieved with Cardio-Support. Have a look at the ingredient tab to get a better appreciation of what has gone into this product to support cardiovascular health.
Cardio-Support 'combos'
Cardio-Support can also be taken in combination with our Core Wellness Activators, including the Total Balance complete nutrient system and Omega 3/DHA Fish Oil products.
Testimonials
I watched my diet and I'm already a runner for many years. I started taking your products including Kiwi-Support, Cardio-Support, Omega 3 and returned to my doctor for updated testing a year later. My cholesterol has dropped to optimal level. Praise God for your great work!
Paul, USA
I started taking the Cardio-Support and found that I could walk farther before the pain started. I would stop and wait for the pain to subside and then walk on through the pain. Now I walk three miles a day without pain. I will continue to stay on the Cardio-Support, since your products speak for themselves.-
Nanina H, USA
Return to XtendHealthAsia.com Home Page from Xtend-Life Cardio-Support Heart Health Supplement

Back to Top