Xtend-Life Female Rejuvenator Women's Menopause Sex Vitamin Supplements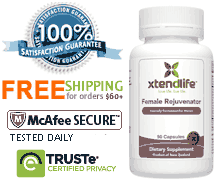 Xtend-Life Female Rejuvenator Women's Menopause Sex Vitamin Supplements
Supports women's sexual health & function
Enhance sexual satisfaction
Supports natural hormonal balance
Helps manage PMS and menopausal symptoms
"As a woman you know your body and mind have a lot to endure during your reproductive life...and beyond."
Feminine health and hormonal symptoms
Pre-menstrual syndrome (PMS) and menopause are by far the most common health complaints for a woman today. PMS affects many women and there is a good chance that you...at some point in your life...have also experienced the aches, pains and emotional stresses of this condition.
In fact 30-40% of all women have reported to their doctors the following symptoms: irritability, mood swings, cramps, breast tenderness, headaches, lethargy, bloating, and bad skin.

If this was not enough, you may well become one of the 75% of menopausal women who suffer from: hot flashes, sleep disturbances, vaginal dryness and mood swings.

In addition...studies have shown that you have a more than 50% chance of developing sexual dissatisfaction and loss of desire at some point in your life...
Natural Support For Menopause And PMS Is Available
Did you know that last year...doctors in the US issued around 65 million drug prescriptions to women DESPERATE for help with the above problems...the same drugs that carry potentially serious side effects!

HOWEVER...you can choose to avoid these side effects by considering natural options such as Xtend-Life's Female Rejuvenator...
This natural supplement may help:
Relieve PMS symptoms...
Cope with menopausal discomfort...
Support women's health and reproductive function...
Support healthy hormone levels...
Increase your natural sexual desire, sensitivity and intensity...
Cope with common sexual problems...
Manage the frequency and severity of mood swings...
Synergistic ingredients to work for most women
We understand that no two women are the same...what works for one may not always work for the other...BUT with this in mind...Female Rejuvenator works for most women...covering the widest possible spectrum of beneficial activity with a range of potent ingredients!

More importantly... these ingredients have been combined in a synergistic way! In other words...they are designed to ''work' together. For more information on the ingredients, please click on the Ingredients tab. For further information on how this product may help you, please click on the FAQ tab.
Female Rejuvenator can be used as a stand-alone product...BUT for even better results...try combining this product with Total Balance Women's standard or Total Balance Women's Premium and Omega 3 / DHA Fish Oil.
Testimonials
Thank you. I look forward to receiving it. This is my second time ordering this product. I love it, it works. PMS was a nightmare, but after taking these pills, and with lots of prayer, I feel so much better. I love Xtend-Life.-
Daidree W, USA
I started taking Female Rejuvenator about 2 weeks ago. I have had very painful menstruations for 26 years. The last one was, for the first time ever, pain free, PAIN FREE!!! I never thought that would be possible for me.
Anne, New Zealand
Return to XtendHealthAsia.com Home Page from Xtend-Life Female Rejuvenator Women's Menopause Sex Vitamin Supplements

Back to Top