Xtend-Life Garcinia Cambogia and Green Coffee Bean For Natural Weight Loss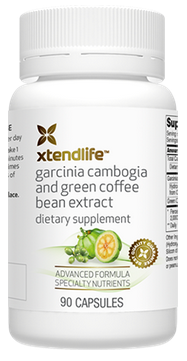 Healthy Weight Loss and Management
Helps to manage body weight

Premium, quality ingredients
Safe to be taken as part of a weight management regime
Choosing weight loss health supplements with Quality You Can Trust
There are many weight management products on the market, and you may already be taking a Garcinia or Green Coffee Bean supplement.
However, after reviewing the products on the market, Xtend-Life found that many of these other products were lacking in quality ingredients or it was impossible to even find out where they were produced, or by who.
Due to popular demand and feedback from their regular customers - who had reservations about the quality of their Garcinia supplements, Xtend-Life looked to produce an affordable Garcinia and Green Coffee Bean product with ingredient quality that customers could rely on.
The quality of an ingredient refers not only to location and the manufacturer the ingredient is sourced from, but also the manufacturing processes and the quality systems in place. The quality of the finished product in turn depends on ingredient quality, and perhaps most importantly, it must be produced in a full compliance with GMP (Good Manufacturing Practices).
Plenty of research is required to make an informed decision on a quality supplement, and they have made this process easier for you

No unnecessary fillers

This means that there should not be any additional ingredients listed (many unscrupulous companies add useless fillers like powder and other non-nutritional/helpful stuff to make their product "look good enough to sell" - yuck).

Xtend-Life ONLY uses the highest quality Garcinia and Green Coffee Bean extract, with a small amount of silica to aid in production and to ensure product stability.

Garcinia and Green Coffee Bean extract have been shown to be beneficial when taken in conjunction with each other. Other Garcinia blends often contain calcium which interferes with the effects of HCA.


Lab verified

The quality, identity, purity and strength of every ingredient must be verified by strict laboratory testing. Xtend-Life has tested every one of our quality ingredients through third party certified laboratories, using verified methods.


Quality History

Xtend-Life is located in New Zealand and has been producing quality supplements since 2000. They use stringent testing methods and uphold the highest standards, and every ingredient is individually tested in third party GMP-labs such as Alkemists Labs in US and Azure Labs in New Zealand, and ingredients that passed the test are given Certificates Of Analysis (COA) - which you can request anytime from Xtend-Life.


Manufactured under strict Good Manufacturing Practices (GMP)

This ensures that the manufacturing facility conforms to industry standards. This also ensures that every batch of product is produced according to strict processes and controls and that every step of every process is documented.
Xtend-Life has produced exceptional quality supplement containing the best Garcinia Cambogia extract and Green Coffee Bean extract so that you can have access to a genuine weight management product you can really trust.
comparing Xtend-Life Garcinia Cambogia and Green Coffee Bean For Natural Weight Loss with others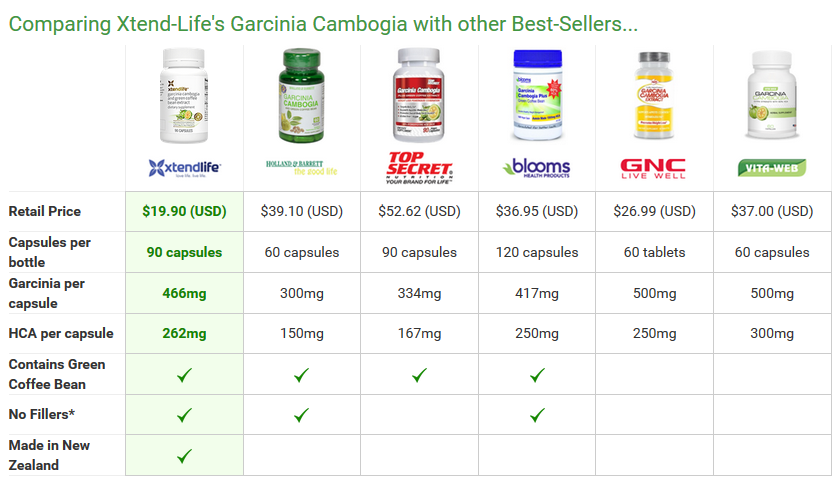 *Fillers are ingredients such as calcium, chromium, iodine, and potassium, which are used to bulk up the product and may interfere with the efficacy of the Garcinia ingredient.
From the table, Xtend-Life's products are not only the best quality (from individually tested/approved to GMP-facilities) but they also are the best value for your money. They ensure that each serving (of three capsules) contains more than 700mg of HCA content and ZERO use of fillers to bulk up our product.

Xtend-Life's Garcinia cambogia is proudly manufactured in New Zealand and they are confident that their choice of quality ingredients will lead to faster, safer, and more effective weight loss results.
A bit more about xtend-life's quality ingredients: Garcinia Cambogia
Garcinia Cambogia, also known as Malabar tamarind or Goroka fruit, contains an organic compound called hydroxycitric acid (HCA) that possesses several actions useful in helping to manage body weight. HCA is primarily found in the rind of Garcinia cambogia. It is a derivative of citric acid, but has very different properties.
While the dried fruit rind is used extensively for culinary purposes in Southern India, Thailand, Malaysia and Burma, dietary supplements containing Garcinia cambogia extracts (with concentrated amounts of HCA) are popular additions to many weight management programs.
It all comes down to HCA content.
There are several theories as to how it works.
One theory for the mechanism of action of HCA is reported to be the inhibition of the enzyme ATP-citrate lyase. ATP-citrate lyase is a key enzyme involved in fatty acid biosynthesis, the body's fat-making process, to turn excess sugars and carbohydrates into stored fat. When inhibited, this may affect the production of fats such as LDL and triglycerides, as well as the amount of fat converted and stored in the body.
Xtend-Life sources their Garcinia cambogia from a remote area in India, and the fruit goes through a 100% water extraction process (with no chemical solvents added) before being carefully dried in a vacuum environment. By performing the final drying phase under vacuum, the garcinia extract can be dried at lower temperatures to ensure its quality and efficacy is optimized.
Testing and ensuring for HCA content
Did you know that there is a standard validated method for measuring HCA content?
Other Manufacturers may choose to use a non-validated method to give them a falsely high HCA percentage; however, Xtend-Life only use the recognised and validated United States Pharmacopoeia (USP) Method.
Xtend-Life's facility is registered with the US FDA and they also abide by cGMP requirements for Raw Material testing for identity, purity, strength and composition. They engage third party laboratories to perform impartial testing of their ingredients to ensure strict compliance with these regulations.
Xtend-Life have tested our premium quality Indian Garcinia cambogia extract and stand confidently behind their HCA content.
Calculating HCA
Do not be fooled by products that boast 70% HCA content or higher.
While these may seem superior at a glance, it is important to take a closer look. The amount of HCA should be calculated into milligrams for the true representation.
Here is an example of how to calculate the amount HCA in your Garcinia supplement.
Read the label and establish the amount of Garcinia extract in milligrams (mg) per serving. Some companies mention the amount of fruit rind used - be sure to look for the amount of garcinia fruit extract.


Once you have established the amount of Garcinia extract per serving, calculate the amount of HCA in milligrams. For example, if a company claims to have 70% HCA content, but only offers 1000mg of Garcinia per serving, calculate 70% of 1000mg. From the calculation we know that the product provides only 700mg of HCA a day.
Xtend-Life's Garcinia and Green Coffee Bean contains 1400mg of Garcinia cambogia extract (~60% HCA) and 70mg of green coffee bean (~40% chlorogenic acid) per serving. This means that you get 785mg of HCA from Garcinia extract plus an additional 28mg of chlorogenic acid from their green coffee bean extract.
now, A bit on Green Coffee Bean…
Green coffee beans are coffee beans that have not been roasted, but remain in their raw, natural form. While roasting coffee beans gives it its unique rich coffee flavour, roasting the beans causes them to lose chlorogenic acid - a vital beneficial compound present in raw coffee beans.
Chlorogenic acid is a polyphenolic antioxidant present in green coffee beans that provides numerous benefits. Chlorogenic acid supports healthy inflammation management and is thought to help regulate the levels of glucose and LDL in the body. Chlorogenic acid can also aid the liver to better process fatty acids.
Xtend-Life added Green Coffee Bean extract into their formulation to further enhance the weight loss management properties of their  premium quality Garcinia extract. They source their green coffee bean from a remote area in India where it is grown in the shade in forests and hills away from pollutants and is pesticide-free. The dried raw beans are extracted, decaffeinated and spray-dried, resulting in concentrated chlorogenic acid that won't keep you awake at night or feeling jittery. 

Weight Management - a Step to Better Health
Xtend-Life has always stood behind the philosophy of health being a TOTAL package. This includes a healthy diet and lifestyle, adequate exercise and quality supplementation. Therefore, it is important that when taking a weight management supplement, that you also review your lifestyle, diet, and general health as well.
For best results with weight management and long-term health, Garcinia Cambogia and Green Coffee Bean is best taken with:

Kiwi-Klenz – Adding Kiwi-Klenz to your weight management regime is crucial, as a healthy digestive system is important for ensuring proper absorption of key nutrients, as well as encouraging better elimination of toxins in the body.


Omega-3 Fish Oil – Adding top-quality Omega-3 Fish Oil is a unique blend of essential fatty acids which support healthy weight and inflammation management, as well as a large number of overall health benefits.


Total Balance Series - Our food cravings are often a result of inadequate nutrition and Total Balance ensures your body gets all the essential nutrients it may be lacking from food. Healthy nutrition is one of the key factots to healthy weight management.

Total Balance Men's Premium
Total Balance Women's Premium
Total Balance Unisex Premium

While we are not promoting this product as a magic bullet for weight loss, you can be assured that this product contains Garcinia and Green Coffee Bean extracts of the highest quality, to provide great support to any weight loss management regime.
Return to XtendHealthAsia.com Home Page from Xtend-Life Garcinia Cambogia and Green Coffee Bean For Natural Weight Loss

Back to Top