Xtend-Life Immu-Stay Healthy Immune Supplement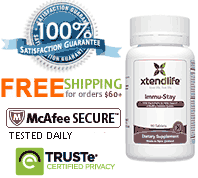 Xtend-Life Immu-Stay Healthy Immune Supplement
Support a healthy immune system
Supports a healthy immune response to common seasonal ailments
Maintain your body's immune function
Supports healthy inflammation management
For most people, taking Xtend-Life Total Balance gives them the immune system support that they need throughout the year.
However, you may need an extra boost to provide you with additional seasonal immune support or you may not be taking Total Balance but want an economic solution to build up your immunity.
What makes Immu-Stay so effective?
In order to cater for these concerns we developed Immu-Stay. It can be taken in addition to Total Balance at the rate of just 3 tablets per day, or by itself at 6 tablets per day. If you are taking Total Balance you may only want the extra boost from Immu-Stay for 3 - 4 months of the year.
The More Support Your Immune System Gets…The Better You'll Feel!
Your immune system is your body's ultimate defense against organisms and invaders that can make you sick. It is a complicated network of cells, tissues, and organs which include:
Antibodies – are specialized proteins that recognize and trap bacteria, viruses and toxins. Once these foreign substances are identified and "tagged" – your body's T cells – also called "killer cells" – can wipe them out.
White blood cells – also called "leukocytes" – travel throughout your body and devour bacteria, viruses and toxins stopping them causing you harm. An army of healthy, white blood cells in your body creates a strong immune system.
White blood cells come in two basic types:
Phagocytes – cells that destroy invading organisms…
Lymphocytes – cells that remember and recognize previous invaders – so your body can quickly destroy them if they ever show up again…
The truth is… as you get older – your immune system gets older too…and weaker.
These ingredients include:
Indian Echinacea (Andrographis paniculata)...
Quercetin...
Beta 1-3 Glucan...
Olive Leaf Extract...
Diindolylmethane (DIM)...
Bilberry Extract...
Turmeric...
Black Cumin Extract...
Plus, another 12 active ingredients which collectively form a unique immune-supporting combination! We have also added Piperine to help improve the overall bio-availability of the formula.
If you click on the ingredients tab you can learn more about the individual benefits of each of the active ingredients.
Immu-Stay may be taken independently – however this immune-supporting formula is designed to also work with the Core Wellness Activators, including the Total Balance complete nutrient system. 
If you are using Immu-Stay by itself, the dose is 6 tablets per day.  If you are using a full dose of Total Balance, you may not need Immu-Stay at all, however for additional immune system support you can use a ½ dose of Immu-Stay in conjunction with Total Balance.  Total Balance should be used all year round, while Immu-Stay may only be needed for the 3-4 months each year when your immune system is in most need of a boost.
testimonials
I have been taking your Immu-Stay for a few months now and have found it fantastic. So far, despite my stress levels and despite it being the middle of winter, I have not had one cold!

Peggy M, Australia
I would like to tell you about the success I had with Immu-Stay. This winter, Immu-Stay has prevented me from catching colds or flu the entire winter now! I am living in London peacefully free from the colds and flu that used to trigger my asthma so badly!

Mohamed F, UK
Return to XtendHealthAsia.com Home Page from Xtend-Life Immu-Stay Healthy Immune Supplement

Back to Top