Xtend-Life Ingredient D-Limonene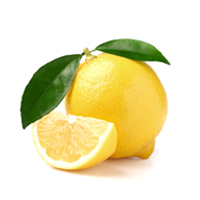 D-Limonene Background and Benefits
Limonene is a hydrocarbon chemically classified as a cyclic terpene. Its most common form, or isomer, is d-limonene, which is a colorless liquid at room temperature.
The rinds of fruits in the Rutaceae family, commonly known as citrus fruits, contain large quantities of d-limonene that give these fruits their distinctive odor. By comparison, l-limonene smells more like turpentine. D-limonene is named after lemons, from which it was first derived. Citrus fruits are also the most commercially important source of d-limonene, which is extracted by steam distillation or centrifugal separation.
D-limonene is often used for its lemon scent. It is also a precursor for carvone, which gives caraway seeds their flavor. This process consists of three basic chemical reactions, beginning with the selective addition of nitrosyl chloride to the d-limonene. This product is converted to its oxime with a base, and a hydroxylamine is removed to produce carvone.
The fragrance and solvent properties of d-limonene also make it useful in a range of other applications, especially cosmetic products. It is a popular additive in food and oral medication where its citrus taste can mask bitter flavors.
D-limonene is an adenosine agonist, meaning that its effects are similar to those of other substances containing adenosine. Many neurotransmitters contain adenosine, which provides d-limonene with its sedative properties. D-limonene is also commonly used to relieve digestive discomfort such as heartburn.
Uses of D-Limonene
The primary use of d-limonene supplements is for the management of digestive discomfort. It may also be helpful for maintaining bowel motility, managing gallstones and weight management.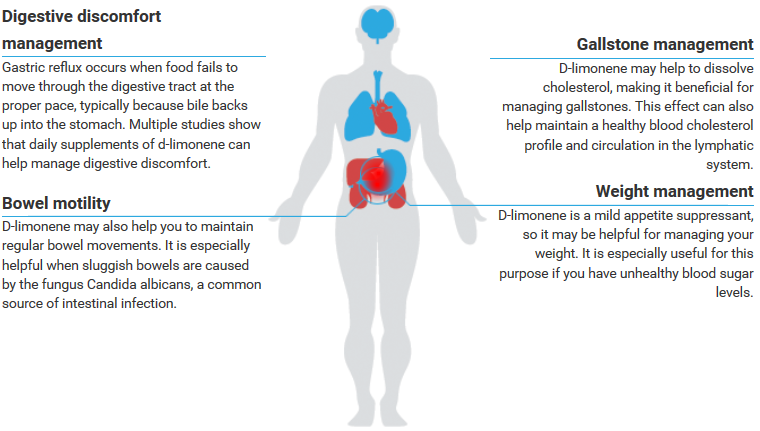 Signs You May Need D-Limonene
Gastric reflux is the strongest indication that you may need d-limonene supplements. Other causes of stomach irritation may also mean that you can benefit from d-limonene.
D-limonene may be useful if you have difficulty in having at least one bowel movement per day, especially when you have a fungal infection. Gallstones that are primarily composed of cholesterol may also be a significant sign that you may need d-limonene, especially for women.
Other Ingredients That May Be Of Interest
Celery seed extract - The primary use of celery seed is to support menstruation. It may also be used for other purposes such as supporting healthy circulation, urination and healthy weight management.
Phosphatidyl L-serine - The primary uses of phosphatidyl l-serine involve the support of cognitive functioning. Additional uses deal with memory, moods and digestion.
Synonyms and Similar Forms of D-Limonene
D-lemonene, D lemonene, l-limonene, lemon scent
Products containing D-Limonene
Return to Xtend-Life Pure & Certified Ingredients List Page
Return to XtendHealthAsia.com Home Page from Xtend-Life Ingredient D-Limonene
Back to Top