Xtend-Life Men's Age Defying Body Lotion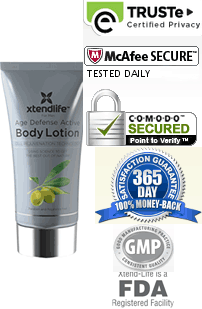 Natural nourishing body moisturize
Includes our unique Kanapa™ blend
Soothes, moisturizes and protects
Absorbs quickly and supports skin elasticity
Great skin anytime, anywhere.
Xtend-Life Men's Age Defying Body Lotion meets the daily needs of all skin types. It's the secret behind smooth, comfortable, well-kept skin.
Age and environment affect men's skin's natural moisture retaining properties. As men age, contact between the epidermis and dermis lessens, affecting the skins moisture trapping capability. The active ingredients in our Age Defying Body Lotion penetrate beneath the skin's surface to actively help to revive and strengthen your skin's ability to remain toned and supple.
In addition to your skin care routine, Age Defying dietary supplements nourish from the inside out, deep within your skin, where creams and lotions cannot reach – complimenting this Age Defying Range.
Benefits
Xtend-Life's advanced formula helps fight premature skin aging. Delivering active ingredients into the skin, it is a creamy all-over body moisturizer that conditions your skin, leaving it smooth, soft and well-kept:
CoEnzyme Q10 is a natural component of your skin which actively works to keep it firm, however levels of CoQ10 decrease with age. This special formulation supplements your skin's natural level of CoEnzyme Q10.


Specifically formulated to help address men's skin, support healthy levels of hyaluronic acid and lock in moisture with natural ingredients that help retain hydration.


Penetrates below the skin's surface to support the collagen and elastin proteins in skin.


Age can leave your skin looking tired and dull. Our nutrient-dense ingredients not only offer moisture, but they also support the radiance and health of your skin.


Hydrate, tone and soothe skin leaving it revitalized and youthful.


A customer favorite, this product is paraben-free, BPA-free and fragrance-free, and it can be your first step to well-kept skin.
Key Ingredients
Kanapa™ is a key ingredient in our newly reformulated skin care lineup of groundbreaking skin care products, each specifically formulated to to provide age-defying solutions that reactivate skin's vital functions. Our Age Defying Body Lotion is suitable for all skin types and climates.
Kanapa ™ blend – Xtend-Life's unique Kanapa™ blend, is a mix of three antioxidants along with oils and aloe to moisturize, soothe, defy aging and support the skin against oxidative stress. You can read all about the ingredients that make up this unique blend by clicking on the Ingredients tab.


DermCom – This helps to support collagen and elastin production while supporting the natural growth factors of the skin. It also helps to renew the skin's resilience, helps to defy premature aging and rejuvenates the skin, promoting firming across the skin's surface.

Capuacu butter consists of various beneficial fatty acids including oleic acid (omega 9 monounsaturated fatty acid) to help skin retain moisture, defy the visible signs of aging and support new cells.


Nano-Lipobelle H EQ10 - This topical coenzyme Q10 penetrates beneath the skin's surface to help increase the amount of ATP in the skin for improved overall function.
customer testimonials

I have never used a better product than your body lotion. It has noticeably firmed my skin, and I'm almost 60 years old! It's definitely worth waiting for.

Janet B, USA
The Body Lotion is the BEST I have ever used in my 54 years on this planet. I LOVE it! I am on my 2nd order of the lotion and women's vitamins. Your company rocks!!!!

Linda T, USA
Return To XtendHealthAsia.com Home Page from Xtend-Life Men's Age Defying Body Lotion

Back to Top