Xtend-Life Men's Age Defying Cleansing Mask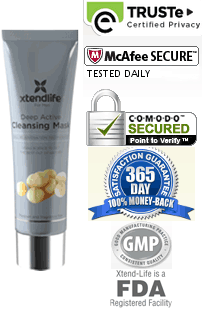 A luxurious cleansing mask for men
Purges impurities from the pores
Leaves skin cleansed and smooth
Refines the skin
Boost your age-defying routine with a balancing and restorative bi-weekly deep cleansing, botanical enriched mask that combines purifying Kaolin clay and Manuka honey to absorb excess oil, lift out blockages and blackheads and thoroughly cleanse the pores.
A multi-purpose mask with a mixture of gentle yet effective ingredients to soak up impurities, gently cleanse, calm and clear the skin while absorbing toxins and dirt buried deep in your pores. 
This nature inspired formula was specially formulated to draw out grease and impurities, while infusing skin with a dose of hydration that keeps your skin looking youthful and well-groomed.
Blemishes and irritation are soothed and minimized, and skin is left with a rejuvenated glow. This product is paraben-free.
Age Defying Cleansing Mask pairs exceptional, soothing botanical ingredients with the results you are looking for.
Formulated to be used every two weeks – alternating with the Age Defying Hydrating Mask.
Benefits
Xtend-Life's newly formulated Age Defying Cleansing Mask delivers active ingredients deep into the pores of the skin offering deep pore purifying and removing toxins.  

A fast-acting mask that restores lost moisture and provides an extra boost of 'clean confidence' by going below the skins surface, resulting in healthier well-groomed skin.
Age Defying Cleansing Mask works to refine dull, uneven skin with Kaolin Clay and Bentone Gel.  These natural cleansers go deep into the pores achieving deep purifying to reveal a more radiant and even complexion.


Shea Butter delivers continuous moisture to keep skin hydrated, while Allantoin helps to soothe your skin and support inflammation management and protects the skin from environmental stressors, which are known to prematurely age skin.


Manuka honey contains natural antioxidants and has the ability to absorb and retain moisture while helping to soften skin.


Omega fatty acids and macadamia nut oil deliver the perfect balance of nutrients. Reveal cleansed, well-groomed skin in just 10 minutes.
Key Ingredients
Xtend-Life's formula contains a wide range of specially formulated ingredients, including:
Kanapa ™ blend – Xtend-Life's unique Kanapa™ blend, is a mix of three antioxidants along with oils and aloe to moisturize, soothe, defy aging and support the skin against oxidative stress. You can read all about the ingredients that make up this unique blend by clicking on the Ingredients tab.


Kaolin - This special clay is part of what sets our cleansing mask apart. While other clays leave the skin feeling dry and parched, our Cleansing Mask is more gentle, ensuring that it cleans deeply without drying skin.


Zinc oxide - This protects skin and helps to clean pores while easing minor skin irritations.


DermCom – This helps to support collagen and elastin production while supporting the natural growth factors of the skin. It also helps to renew the skin's resilience, helps to defy premature aging and rejuvenates the skin, promoting firming across the skin's surface.


Manuka Honey - This honey, which is found only in New Zealand is a natural moisturizer and antioxidant. Dense in nutrients, our Manuka honey nourishes your skin with vitamins, minerals and protein, helping to support collagen and elastin while helping to soothe irritated skin.
Xtend-Life never cut corners and only rigorously select only the best possible ingredients for their products, to ensure that you see the best possible results.
Your skin will feel fresh and glowing with health.
Return to XtendHealthAsia.com's Home Page from Xtend-Life Men's Age Defying Cleansing Mask

Back to Top