Xtend-Life Multi-Xtra 48 Bio-Available Multi-Nutrients For Best Cellular Health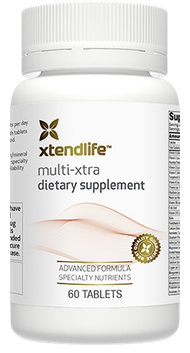 Advanced natural multi-nutrient supplement
48 bio-available nutrients for targeted cell fuel
Provides a broad spectrum of essential nutrients
Economical formula can be used by the entire family
A multi-vitamin and mineral formula that REALLY feeds your cells
48 bio-available nutrients for cell health and longevity
Contains nutrients in the most bio-available forms for optimum absorption
Economical formula for the entire family
Remember the good old days when your grandparents could go out on the farm or to a local grocery stand to get fresh, natural foods LOADED with nutrients?
They didn't need vitamins and minerals - their foods were rich in nutrients!
Now fast forward to today: Commercially grown vegetables, fruits, and grains contain significantly lower nutritional content than foods grown just 30 years ago! In fact - we're breeding the nutrition out of our food!
Take a look at this…
Proteins in wheat and barley have declined by nearly 50%


Newer crops of corn now contain less protein, oil and amino acids


Most wheat contains 6 fewer minerals than in your grandparents' day


USDA reports calcium content in broccoli dropped over 65% - from 12.9 mg to 4.4mg


Farmers increase yield of raspberries with phosphorous fertilizer - but that crop can be deficient in minerals by as much as 50%
Even if you try to eat as healthy as possible - you're still not going to get all the nutrients your body needs to thrive. Think about this:
Mineral deficiencies in the soil - create inferior products lacking essential nutrients


Environmental pollution - contaminates our food sources from seed to harvested product


Modern farming methods - using pesticides, herbicides, chemical fertilizers and other harsh chemicals deplete the natural nutrients in foods


Antibiotics and other drugs injected in livestock - means humans are also ingesting these drugs with every bite


Transportation and storage - causes fruits and vegetables to be deprived of natural sunlight… picked too soon... and then artificially ripened while stored in trucks, ships and planes
So is a multi-vitamin the answer?

Yes. and no.
If you think a run-of-the-mill multi-vitamin will give you the nutritional boost you need to enhance your health - think again!
In our nutrition-depleted world - you need a superior multi-vitamin - to deliver the goods - and Multi-Xtra works better than standard multis - available exclusively through Xtend-Life.
Here's why:
48 bio-available nutrients - ready to optimize cell health! Unlike regular, mass-produced multi-vitamins - you get much more than the basic vitamin and mineral mix. With Multi-Xtra - you get the critical co-factors that are necessary for optimum absorption of nutrients.

Without these co-factors - such as Piperine to improve bio-availability of nutrients - your body simply can't absorb the nutrients properly. But don't worry - it's all in Multi-Xtra


Naturally sourced nutrients - not synthetic. Many multi-vitamins cut costs by giving you synthetic vitamins that your body can't utilize properly. Take for example, Vitamin E. Research shows that Vitamin E - in its natural form - contains a synergistic balance of both Tocopherols and Tocotrienols.

However, the common Vitamin E used in most multi-vitamins - contains only one of these compounds - Alpha-Tocopherol.
Why does this matter?
Well, you need a balance of both Tocotrienols and Tocopherols to experience the maximum power of Vitamin E! In fact, Vitamin E without Tocotrienols is like a jumping out of a plane with an umbrella! Not recommended! What's more…
…studies suggest it's Tocotrienols that may help:
Maintain healthy cholesterol levels
Support CoQ10 levels
Protect your heart and arteries
Suppress C-Reactive protein - an important inflammation marker
Support healthy levels of dangerous blood fats called triglycerides
Multi-Xtra: Bio-available Nutrients
By providing you with only one of the powerful forms of Vitamin E you need - can you see how regular multi-vitamins are simply not getting the job done to protect your health? With Multi-Xtra - you get the right natural nutrients your body needs for healthy performance!
A solid foundation for your health! If you don't always eat well - you can rest assured you're getting the important vitamins and minerals your body needs every day! Multi-Xtra is like a little "health insurance" to assist your body dealing with the effects of a nutritionally deficient diet!
Multi-Xtra contains only the finest bio-available ingredients available. Thanks to our in-house manufacturing and quality systems - we control the quality of the nutrients in Multi-Xtra to ensure you're getting optimum potency and efficacy in every serving! What's more…
… Multi-Xtra is formulated for men and women - making this an economical and affordable way to enhance the health of every family member.
Please note: If you're currently taking any of the Total Balance complete nutrient formulas found in the Core Wellness Activators - you do NOT need to take Multi-Xtra.
Total Balance Series:
Testimonials
Hello, I'm just sending you this email to let you know you have a great selection of products and your company is amazing. I am very pleased with the multivitamins I've been taking, and will continue to purchase them.
James S, USA
Thank you so much. I now have my husband and two adult daughters (18/23) taking Multi-Xtra and the omega 3 fish oil supplement and my husband also takes the lipi-rite cholesterol supplement.
We are nearly finished our 1st month and are seeing some results. I am hopeful I may be able to upgrade to Total Balance soon but for now these are excellent.
Susan M, USA
Return to XtendHealthAsia.com Home Page from Xtend-Life Multi-Xtra 48 Bio-Available Multi-Nutrients For Best Cellular Health

Back to Top