Xtend-Life Neuro-Natural Recall Brain and Memory Supplement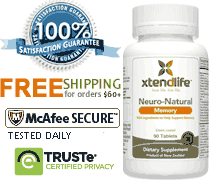 Support brain function and memory recall
Help maintain memory recall
Supports healthy neuron function
Supports healthy brain cell activity
Sick And Tired Of Walking Into A Room And Forgetting Why You Went In There In The First Place?
How about forgetting where you left your car keys or reading glasses?
If you're still reading this – you're probably concerned about your memory. It's most likely you sometimes:
Misplace objects and can't remember where you put them…
Lose your train of thought in mid-sentence…
Forget important details…
Experience mental fatigue and forgetfulness…
Can't remember names – maybe even of close friends and family members!
Suffer from "senior moments"…
If you think these are normal signs of aging – and you'll just have to live with them – THINK AGAIN!
Research now shows you can support your memory recall – and remember where you left those darn car keys! Numerous brain-supporting nutrients can help support brain health and function. In fact…
Some of the most potent recall-supporting nutrients are found in optimal synergistic amounts within Neuro-Natural Recall.
Two ingredients found in Neuro-Natural Recall warrant a special mention; namely Vinpocetine extracted from the leaves of the lesser periwinkle plant, and Huperzine A which has been extracted from a special kind of moss…both ingredients are from natural sources.
Although they are becoming more widely known they are still somewhat rare because of their extremely high cost. However, you can read more about these and the other highly effective ingredients in Neuro-Natural Recall by clicking on the Ingredients tab…
BUT…what other nutrients do you need?
As good as these nutrients are, they are not sufficient on their own to make a really good memory support supplement. Other nutrients are also needed to complement them...such as:
Bacopa extract…
5-HTP…
Phosphatidyl-L-Serine…
Alpha-Lipoic acid…
RNA…
And if that isn't enough…
Neuro-Natural Recall also includes adaptogens which are important for supporting healthy neurotransmitter function. Two of them…Eleuthero and Schisandra...are included in the formula along with another 37 active ingredients and co-factors…each with their own role to play as well as enhancing the efficacy of their 'companion' nutrients.
Maximum Efficacy
This supplement is not just effective because of its specialized ingredients…it also uses a special enteric-coating system which ensures that the beneficial nutrients are not destroyed by stomach acid…so they reach the upper intestine intact to be absorbed by the body…resulting in optimal efficacy…
Neuro-Natural Recall is a state-of-the-art supplement, using exceptional ingredients specifically combined to work together, and representing exceptional value for money. It may be taken alone or for the best possible results combine it with Total Balance and Omega 3/DHA Fish Oil.
Help optimize your recall and reduce the risk of cognitive decline with Neuro-Natural Recall.
Testimonials
The best food for the brain! And a refreshment for the memory. The best to be every day younger! Thank you!
Henri S, USA
I am a graphic designer at a newspaper and I work with tight deadlines often. I have noticed that I am coping with stress better and I can stay focused on the task at hand better. The supplements are worth every penny to me for those reasons alone.
Keith, USA
Return to XtendHealthAsia.com Home Page from Xtend-Life Neuro-Natural Recall Brain and Memory Supplement

Back to Top