Xtend-Life Neuro-Natural Sleep Supplement Aid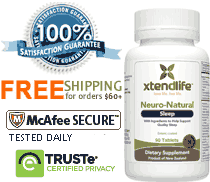 neuro natural sleep

Supports healthy sleeping patterns
Promotes healthy, restful sleep
Encourages healthy night time brain activity
Supports immune health and overall sense of well-being
in 2007, 64 million Americans were regularly suffering from insomnia
Over time, lack of sleep can seriously interfere with your physical, mental and emotional wellbeing. Sleep disorders such as insomnia are very serious and need to be addressed immediately...preferably without sleeping pills or drugs as they could very easily become addictive.
Lack of sleep will cause your immune system to weaken with consequential increases in:
Viral and bacterial infections...
Skin problems...
Mood disorders...
Headaches...
Slower recovery times from injuries and wounds...
Waking up tired – maybe even exhausted?
If you wake up feeling like you barely got any sleep – it's probably because you didn't. More accurately – you probably didn't experience all 5 stages of healthy sleep.
You may have stayed stuck in stage 1 - where you're between wakefulness and sleep...or maybe you reached stage 2 - where your brain is relaxing, body temperature is lowered, heart rate slows, and you're no longer aware of your surroundings...but you never made it to stage 3 delta waves - where you're transitioning into a deep sleep.
Not even to stage 4 delta sleep – where restorative and healing sleep occur...or to the stage 5 REM (rapid eye movement) – where you're in dreamland and your brain is storing the day's memories.
Without experiencing all 5 stages of sleep – you never fully relax during the night – so it's no wonder you wake up feeling tired and wired. What can help you experience the deep, restful sleep your body needs?
Neuro-Natural Sleep...a complex natural supplement specifically designed to support healthy sleeping patterns...was developed for those people who need extra support to achieve a good night's sleep.
Neuro-Natural Sleep contains a sophisticated and synergistic combination of 49 ingredients...all in a specific dosage to ensure each one works well with the others to support healthy sleep patterns.
In order to protect all these ingredients against stomach acids and to ensure maximum bio-availability... Neuro-Natural Sleep is enteric-coated.
Sleep-specific formula
In Neuro-Natural Sleep we use:
Natural herbal extracts including Valerian, Hops and Passion Flower extracts...
Selected amino acids such as D-Phenylalanine and L-Threonine...
Specialized nutrients such as SAMe, Vinpocetine, Huperzine A and Resveratrol...
Plus a further 32 nutrients and co-factors...
Important note about insomnia
Insomnia can be caused by many different factors. This product may or may not work for you. We cannot guarantee that it will fix your insomnia, but it may help you achieve improved sleeping patterns. If you are not feeling the benefits of this product after the first month, please let us know and we will give you a full refund as per our 100% risk-free guarantee.
customer testimonials

The sleep product is a real blessing. I've had the first 2 nights of wonderful sleep that I've had in ages! The best! Thank you!
Louise W, USA
I just want to let you guys know how wonderful your sleep formula is, I have tried everything before this with no results and your product is amazing. I slept well for the first time in many years. Please pass this on to the manager or head. I am very happy with your products
Andrea, Holland
Return to XtendHealthAsia.com Home Page from Xtend-Life Neuro-Natural Sleep Supplement Aid

Back to Top