Xtend-Life Not Just Joints Arthritis Supplements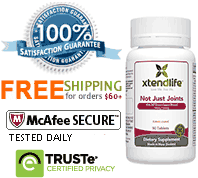 Xtend-Life Not Just Joints Arthritis Supplements
Joint, muscles & connective tissue support
Helps comfort sore joints and muscles
Supports healthy cartilage and mobility
Promotes healthy inflammation management
Our exclusive Not Just Joints formula contains targeted nutrients that help support the body's ability to manage the 4 stages of joint pain and cartilage destruction:
Stage 1: Support cartilage function
Cartilage is the soft tissue padding between all joints and bones which acts like a shock absorber. After years of wear and tear – the amount of cartilage between joints can decline – and that can lead to stiff and painful joints. Not Just Joints contains a host of cartilage supporting nutrients including:
Glucosamine – to support healthy fluid levels around joints
Chondroitin – to help support the immune system in response to cartilage damage
Not Just Joints contains a broad range of synergistic ingredients that work together to support cartilage growth and function.
Stage 2: Supports healthy inflammation management
When cartilage erodes over an extended period of time, the prolonged immune response could lead to chronic inflammation, potentially triggering further conditions.
Cartilage has no blood supply, in fact it depends on a clean supply of synovial fluid for nutrients to travel. Not Just Joints supports the body's healthy inflammation management process (also called immunomodulation) with a multi-faceted approach that starts with a nutrient unique to New Zealand:
Green Lipped Mussels - this potent New Zealand whole food contains marine lipids, essential fatty acids, vitamins and minerals to help support inflammation management.
MSM (Methylsulfonyl methane) - helps support the structure of connective tissues in your joints.
Stage 3: Manage the cycle of cartilage destruction
Chronic inflammation in the synovial membrane can trigger the production of more inflammatory compounds, which travel into the synovial fluid and then back into cartilage. This may cause further cartilage destruction – and even more chronic inflammation, becoming a vicious painful cycle.
Not Just Joints contains specialized natural agents that are rarely found in other natural joint formulas for two reasons:
Cost - Most supplement companies don't want to compromise their bottom line by putting these expensive nutrients in their formulas.
Delicate ingredients - Many of these nutrients can easily be destroyed by stomach acids long before they reach your joints and connective tissues. That's why we use a special enteric-coating system to ensure these beneficial nutrients safely travel to your joints and deliver maximum efficacy.
These delicate nutrients include:
SAMe, Cetyl Myristoleate, Celery seed extract and Phellodendron bark extract (also known as "CorkTree") – To support inflammation management and the immune system as well as manage aching joints.
Stage 4: Healthy joints and cartilage reduces the risk of "Bone-on-Bone" scraping
As cartilage deteriorates – you lose the protective space between bones – and that bone-on-bone scraping can trigger inflammation, pain and reduced mobility.
Not Just Joints helps to support:
The body's ability to manage cartilage and glutathione depletion
Mobility
Healthy inflammation management
Comfort sore joints
Immune function and skin health
The boost you need.
Despite the fact that our Total Balance, Green Lipped Mussel Powder and Omega 3/DHA products are excellent for supporting healthy inflammation management and the healthy function of  your connective tissue and joints, many customers still need a 'booster' formulated to help people suffering from joint and connective tissue discomfort, Not Just Joints is just the boost you need.
For maximum potency, Not Just Joints can be taken in conjunction with our Green Lipped Mussel Powder, Omega 3 / DHA Fish Oil and any version of Total Balance.
Return to XtendHealthAsia.com Home Page from Xtend-Life Not Just Joints Arthritis Supplements

Back to Top