Xtend-Life Omega 3/DHA Mini Gels For Brain, cognitive, memory, concentration, attention span, skin and immunity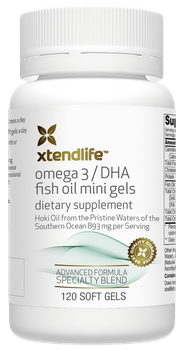 Rich in DHA, exceptional purity and freshness
Mini gels for easy swallowing - ideal for children

Supports healthy circulation
Exclusive New Zealand formula with 600mg DHA/day content
Formulated to support children's healthy growth and development
Top up your child's Omega 3 fatty acids (in particular DHA and EPA)
Support learning, memory and brain development
Help to ensure that children who do not like to consume fish are getting adequate amounts of Omega 3 to maintain optimal brain health
Omega 3 fatty acids support healthy inflammation management and healthy skin
Support quality of sleep and waking less in the night
Regarded as building blocks for the brain, Omega 3 fatty acids are crucial for a child's proper development and growth. Busy, active minds need a continual supply of brain-supportive nutrients every day.
Most children are deficient in DHA and EPA, two vital Omega-3 essential fatty acids found in fish oil. These vital nutrients are crucial building blocks of children's development and play key roles in many aspects of health, including brain and eye function.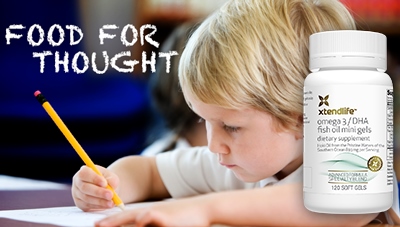 DHA is an essential nutrient required in high levels by the brain and the retina of the eye in order to provide for optimal neuronal functioning (learning ability, mental development) and visual acuity, in the young and old alike.
As our bodies are unable to produce Omega 3 fatty acids, it is vital to the development of a child's brain that they consume Omega 3 fatty acids in their daily diet. Omega 3/DHA Fish Oil Minis Gels may help support brain development, cognitive function, memory, concentration and attention span, skin and immune system function, especially in children who don't receive enough Omega 3 in their daily diet.
At 50% smaller size for easy swallowing, don't let the reduced size fool you. Xtend-Life Mini Gels still deliver the powerful benefits you would expect from Xtend-Life products. Our passion for pure and natural ingredients has cemented our reputation for making a significant difference to health and wellbeing. To reassure that our products are effective and also safe and exceptionally pure, we test every ingredient for purity, identity and strength, and we produce all products in our own world-class facility in New Zealand in full compliance with both HACCP and GMP.
Omega 3/DHA Fish Oil formula delivers high levels of DHA and other Omega 3 essential fatty acids in every serving - making it the ideal way to get more valuable Omega 3's into children's diets
Contains New Zealand Hoki fish: Harvested from the pristine waters of the Southern Ocean off the coast of New Zealand. Thanks to the equatorial currents which prevent many of the contaminants in the Northern hemisphere waters from crossing the equator – these are some of the purest waters found in the world.
Pure concentrated Tuna oil: Processed for the highest level of purity and concentrated to meet our strict standards. This assures that you receive the quality fish oil your body needs.
High DHA content: DHA is known as the most valuable component of fish oil. Our Omega 3/DHA Fish Oil Mini Gels contain high levels of DHA – plus the benefits of the full spectrum hoki oil that combine to make our fish oil superior to others.
Bio-availability: We use Hoki fish oil in the form of natural triglycerides and Tuna oil in the form of concentrated esters. This makes Omega 3/DHA Fish Oil Mini Gels highly bio-available – so your body can properly utilize our formula for maximum benefits.
Freshness: We do not additives or flavoring to mask rancidity, and there is no need to. Each batch of our fish oil has been carefully manufactured and monitored for ultimate freshness.
Eco-friendly: We only use sustainable sources of fish within the ecosystem in order to preserve our precious natural resources.
Our Omega 3/DHA Fish Oil Mini Gels are ideal if you want to maintain and enhance your child's immune function and brain health - giving them the best foundation for their future health and development.
0-2 years: 1 mini gel (squeezed) of fish oil a day.
2-10 years: 1-2 mini gel (squeezed) of fish oil a day.
10-12 years: 2-4 mini capsules of fish oil a day.
Testimonials
The Best! Lots of energy, memory so much better and my arthritis pain is almost gone! I am 62 and I love the extra energy and no pain.
Elizabeth H, USA
I am in love the quality of this vitamin I think that it is an excellent supplement! I don't get fish burbs with this product like other fish oil supplements! Great Product!
Great for expecting mothers or any one who wants to live a healthy lifestyle! I would recommend this product to my friends, family and anyone else that I would meet!
A Miller, USA
Return to XtendHealthAsia.com Home Page from Xtend-Life Omega 3/DHA Mini Gels For Brain, cognitive, memory, concentration, attention span, skin and immunity

Back to Top