Xtend-Life Omega 3 Premium Fish Oil For Mood, Heart, Cholesterol And Sleep
Pure and fresh with age defying skin support
Exclusive New Zealand formula
Antioxidant blend – containing Lyc-O-Mato® lycopene and AstaPure® astaxanthin

Supports the skin against premature aging
For fish oil users who also want to S-L-O-W skin aging and receive maximum antioxidant support...
Pure and Effective Omega 3 premium fish oil supplement from New Zealand
The pristine and uncontaminated waters off the coast of New Zealand hold part of the key to the potency... purity...and perfection you get in our exclusive Xtend-Life Omega 3/DHA Premium Fish Oil.
Xtend-Life proprietary bio-available blend contains high levels of DHA to supercharge your health and deliver the health results you desire. So now you can help...
Support your heart – help keep it pumping strong
Fuel your brain - with critical "brain foods" to maintain brain health and function
Support healthy cholesterol levels – to help keep arteries clear
Maintain joint health – and lubricate your joints for better mobility support
Support healthy blood pressure – and resist "the silent killer"
Lift your mood – and stay mentally focused!
Support healthy blood sugar levels – and boost your energy
Support quality sleep – and wake up refreshed and raring to go
And much more
PLUS: You get a powerful antioxidant blend to help you:
How the premium version of the Omega 3 Fish Oil differentiates itself from the standard is that it also provides:

S-L-O-W-E-D skin aging

You get additional antioxidant support in every serving of Omega 3/DHA Fish Oil Premium to enhance skin appearance – so you can experience a more youthful glow.


Visibly reduced effects of photo-aging caused by excessive sun exposure and UV radiation

Omega 3/DHA Fish Oil Premium contains Lyc-O-Mato® – a complex lycopene extract from tomato oil that's been scientifically shown to increase skin density... increase skin thickness... decrease scaling of the skin... and decrease skin roughness!

That's means YES – you can have great looking skin again.


Create an army of free radical fighters

The potent antioxidant AstaPure® astaxanthin in our formula is derived from natural algae. This gives your skin a rich source of free radical support to help reduce the appearance of fine line lines and wrinkles... boost skin moisture content... and support the healthy function of skin cells

With regular use of Omega 3/DHA Fish Oil Premium – you may notice that your skin is noticeably more radiant and refreshed.
xtend-life combined the benefits of Lyc-O-Mato lycopene with natural AstaPure astaxanthin to create an effective skin formula! Here's the proof...
The data shows the Lyc-O-Mato in Xtend-Life exclusive Omega 3 / DHA Fish Oil Premium can help:
Increase skin density - Helps skin look firm and healthy
Increase skin thickness - That's more elasticity – so skin can stay smooth and reduce the appearance of fine lines and wrinkles
Decrease scaling of the skin - That means real protection for the outer layer of skin cells
Decrease skin roughness - Gets rid of rough patches and keeps skin feeling smooth and soft
Xtend-Life Omega 3 Premium Fish Oil For Mood, Heart, Cholesterol And Sleep formula delivers high levels of DHA and other Omega 3 fatty acids such as EPA – in every serving.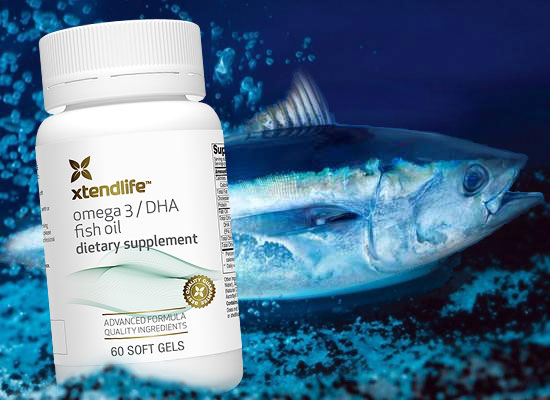 You probably know fish oil contains Omega 3 fatty acids called docosahexaenoic acid (DHA) and eicosapentaenoic acid (EPA).
These phenomenal nutrients have been shown to help support the healthy function of the body as well as inflammation management... supporting healthy blood pressure levels... maintaining healthy circulation... supporting brain health and function... and help maintain healthy cholesterol levels – just to name a few.
However...
... your body can't naturally produce fatty acids – you've got to get them from foods or supplements. But as you may know...
... the typical diet is extremely low in healthy Omega 3's – but contains way too much Omega 6. This imbalance is now shown to disrupt the body's healthy inflammation management processes…which over time could negatively impact the health of your cardio-vascular system.
That's why many health conscious folks take fish oil – to naturally boost their Omega 3 levels. Yet many don't experience the health benefits they hoped for.
Here's the little-known reason why:
The shocking truth about ordinary fish oil...
Many fish oil suppliers:
Use cheapest fish available 

Most fish oils are derived from industrial waste oils. They usually contain a mixture of poor quality fish.


Purchase fish harvested from waters that may be polluted

Parts of the seas in the northern hemisphere – where many fish are harvested – are also now exposed to potential radiation hazards.


Over process

To help eliminate some of the impurities that come from poor quality fish sources – many manufacturers over process their fish oil and use questionable chemicals – such as hexane – known for over 40 years to cause nerve damage.
With Omega 3/DHA premium Fish Oil formula – you get the BEST, all natural New Zealand Hoki fish oil and concentrated pure Tuna oil.

SEE and FEEL the difference.
The pristine and uncontaminated waters off the coast of New Zealand holds part of the key to the potency... purity...and perfection you get in our exclusive Xtend-Life Omega 3/DHA Fish Oil formula.
Here's why they're confident that their specialized Omega 3/DHA Fish Oil is the ALPHA – yes the absolute BEST Omega 3 fish oil formula:
Great looking skin:

Combining Lyc-O-Mato® lycopene with AstaPure® astaxanthin delivers remarkable skin health benefits in every serving! Clinical studies on these powerful antioxidants show benefits in regard to skin redness... scaling... and density.


Additional prostate support:

Lyc-O-Mato® extract belongs to a class of carotenoids that have been shown to be effective antioxidants which may help support and maintain prostate health and function.


Watchdog on alert for abnormal cells:

A recent study showed astaxanthin caused inhibition of 5alpha-reductase – an enzyme associated with abnormal cell growth in prostate and breasts.


Contains New Zealand Hoki fish

Harvested from the pristine waters of the Southern Ocean off the coast of New Zealand. Thanks to the equatorial currents which prevent many of the contaminants in the Northern hemisphere waters from crossing the equator – these are some the purest waters found in the world.


Pure concentrated Tuna oil

Processed for the highest level of purity and concentrated to meet our strict standards! This assures you receive the quality fish oil your body needs.


High DHA content

DHA is known as the most valuable component of fish oil. Xtend-Life's Omega 3/DHA Fish Oil contains high levels of DHA – plus the benefits of the full spectrum hoki oil that combine to make our fish oil superior to others.


Supports the body's inflammatory management processes

Inflammation is a natural process that occurs in the body and is something we all need to survive. However, poor lifestyle choices and anti-inflammatory drugs may negatively impact the body's ability to manage inflammation effectively (also known as immuno-modulation). Fish oil helps support the body's ability to manage inflammation and return inflammation to a healthy balanced state (also known as homeostasis).


Bio-availability

They use Hoki fish oil in the form of natural triglycerides and Tuna oil in the form of concentrated esters. This makes Omega 3/DHA Fish Oil highly bio-available – so your body can properly utilize our formula for maximum benefits.


Freshness

They never use additives or flavoring to mask rancidity. What's more – you won't experience embarrassing "fish burps" or smells with our fish oil.


Eco-friendly

They only use sustainable sources of fish within the ecosystem in order to preserve our precious natural resources!
Omega 3/DHA Premium Fish Oil blend is ideal if you want to maintain and enhance your health.
Testimonials
These pills help with my everyday movement good fish pills are not the same and believe me when I say I have tried many I would rather pay a little more and feel so much better and they really do help your skin to be younger.
I am going to be 70 the end of this month and I cannot count the people that say you might be 50 good pills good health.
Pamela M, USA
I have been truly impressed with my last pack of Omega 3 Premium I ordered. I can honestly say that I feel my memory has improved!! Thanks
Priscilla R, New Zealand
Return to XtendHealthAsia.com Home Page from Xtend-Life Omega 3 Premium Fish Oil For Mood, Heart, Cholesterol And Sleep

Back to Top