Xtend-Life Systemic Care Vitamin Supplements For Diabetic Care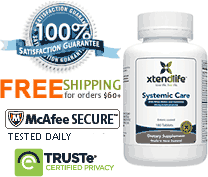 Xtend-Life Systemic Care Vitamin Supplements For Diabetic Care
Supports healthy organs and function
Help maintain a healthy blood sugar level when taking insulin
Support your immune, nervous and endocrine systems
Support the health and function of the kidneys, pancreas and liver
Trying to manage your blood sugar levels when taking insulin? Now you can get the support you need as part of your diet while supporting the healthy function of your organs…
If you're struggling to maintain healthy blood sugar levels when taking your insulin – you know there are times when your sugar levels are too high. When this happens – it can have a negative impact on all of your body's systems:
Circulatory – to transport blood throughout your body…
Digestive – to break down food for energy…
Endocrine – to produce hormones for body function…
Immune – to defend against infections and diseases…
Lymphatic – to filter out disease-causing organisms and create antibodies…
Muscular – to control body movement…
Nervous – to send, receive and process signals through your body…
Reproductive system…
Respiratory – to bring air into the body and remove carbon dioxide…
Skeletal – to shape your body and protect organs…
Urinary – to remove waste from the blood and eliminate it from the body…
Too much sugar in your body's systems can harm blood vessels and nerves and this can lead to:
Kidney problems…
Vision impairment…
Nerve damage…
Amputations…
And many other serious problems…
While you're working hard to balance your blood sugar levels while taking insulin – Systemic Care may help provide the needed support for your bodily systems. Here's how…
Systemic Care is formulated to help support healthy bodily systems and organs as part of a healthy diet and regimen for people taking insulin to balance their blood sugar levels.
Systemic Care delivers nutrients to help support the body's ability to manage healthy pancreatic function.
In addition Systemic Care also provides essential nutrients that help to support:
The healthy function of your endocrine system…
Immune health and function…
Kidney health and function…
Eye health and function…
Cardiovascular health and function…
And the normal healthy functioning of your body's systems and organs…
Please Note: If you suspect you have a blood sugar imbalance, please seek advice from a health care professional and get an accurate diagnosis. If it is confirmed that you do have a blood sugar imbalance, then you need to do 2 things:
Balance your blood sugar levels every day
Give your body and organs the nutrients they need to support their healthy functioning
No compromise
In order to produce a systemic supplement as effective as Systemic Care...NEVER compromise on quality...giving the world's best value for money and best possible ingredients.
For example, Luteolin, of which Xtend-Life include 268mgs in a full daily dose, costs more than 10 times as much as a quality green tea extract. But...it is a crucial component of the formula - it had to be done.

There are other important nutrients which you can learn more about by going to our Ingredients tab.
Enzymes are also important components within a complex supplement like Systemic Care...which is why the tablets are enteric-coated in order to protect these sensitive enzymes from stomach acids...providing improved efficacy and potency...
How to get the best value for money
Xtend-Life acknowledge and appreciate the fact that Systemic Care may look like an expensive product...they have done our best to keep the cost as low as possible...HOWEVER, when compared directly with other systemic health products and their ingredients, Systemic Care represents exceptional value for money...in fact, they guarantee that you won't find better value anywhere else...
In addition, some people find that they can make their dollars go further by reducing their dose from 6 tablets per day (full dosage) to 4 tablets per day...after the first 2 to 3 months of taking full doses of Systemic Care and getting an initial boost from this remarkable supplement, and enjoying the true benefits...
Important Note
Whether you simply have blood sugar imbalances or you are Type-1 or Type-2 diabetic...watch your sugar levels, and consult with your doctor. Always have appropriate tests done with a health professional.
Testimonials
I've been taking Systemic Care for almost 3 weeks and I have suddenly seen a significant improvement in my fasting glucose! My stomach is actually growling in the morning (indicating low blood sugar) and it's been a long, long time since I've experienced that effect!
I have also include a more consistent diet (2/3 raw) as well as intense interval training. While those aspects are significant contributing factors the sudden change recently is undeniably related to your product!
Stacy Y, Canada
My daughter's boyfriend has Type 1 Diabetes (since childhood). I provided his Endocrinologist with the information on your "Systemic Care" to the doctor and he was very impressed and agreed for him to take it.
Today, his blood sugars are more stable... so much so that the doctor wants him to start weaning him off of his insulin. I say "BRAVO" Thank you Warren... stay true and stay strong.
Adele S, USA
Return to XtendHealthAsia.com Home Page from Xtend-Life Systemic Care Vitamin Supplements For Diabetic Care

Back to Top