Xtend-Life Women's Age Defying Body Lotion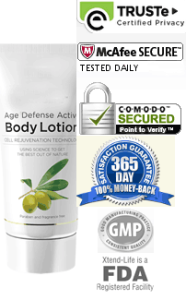 Xtend-Life Women's Age Defying Body Lotion
Healthy skin is the key to a radiant looking complexion
Soothes and moisturizes skin for long-lasting hydration
Contains essential antioxidants

Keeps skin healthy from top to toe
A skin-quenching moisturizer that promotes smooth, luminous, healthy looking skin.  Smooth and tone skin in one replenishing step. This nutrient-rich cream glides into skin for a soft, nourished appearance, returning vitality to your skin, while supporting firmness, elasticity, and hydration.
With age, the skin's reserves of essential nutrients are reduced. This can lead to de-nourished skin and signs of aging that become more visible. Your skin becomes drier, less resilient and more delicate. This deeply hydrating formula has been developed to transform the appearance of skin, leaving your skin soft and silky, with a more even tone, and improved skin texture.
While you take must take care of the skin on your face and neck, do not ignore the rest of the body.
In addition to your skincare routine our beauty from within supplements provide a comprehensive range of nourishing ingredients that work from the inside out, deep within your skin where the collagen, elastin and moisture retaining layers are found, caring for your skins inner condition, where creams and lotions cannot reach – complementing our exceptional age defying skincare line.
Benefits
Xtend-Life's advanced formula harnesses the power of antioxidants to support the skin's ability to resist free radical damage and helps fight premature skin aging. Delivering active ingredients deep into the skin, it is a creamy all-over body moisturizer that conditions, leaving skin radiant and fresh.
CoEnzyme Q10 is a natural component of your skin, which actively works to keep it firm, however levels of CoQ10 decrease with age. This special formulation enriches the skin's natural level of CoQ10.


Penetrates below the skin's surface to support the collagen and elastin proteins in skin.


Rejuvenates tired and dull skin at a cellular level and supports your skin's natural repair processes.


Highly active, light-weight and formulated to feed and protect skin, support healthy inflammation management in your skin, and resist the appearance of fine lines and wrinkles using only the very best ingredients, all working in synergy to support skin firmness and enhance skin tone and texture.


Age can leave your skin looking tired and dull. Our nutrient-dense ingredients not only offer moisture, but also glowing radiant skin


A customer favorite. This product is paraben, PBA and fragrance free, and it is your first step to beautifully nourished skin.


Age Defying Body Lotion is suitable for all skin types and climates.
Key Ingredients
Kanapa ™ blend – Xtend-Life's unique Kanapa™ blend, is a mix of three antioxidants along with oils and aloe to moisturize, soothe, defy aging and support the skin from oxidative stress. You can read all about the ingredients that make up this unique blend by clicking on the Ingredients tab.


DermCom – This helps to support collagen and elastin production while supporting the natural growth factors of the skin. It also helps to renew the skin's resilience, helps to defy premature aging and rejuvenates the skin, promoting firming across the skin's surface.


Nano-Lipobelle H EQ10 – This topical coenzyme Q10 penetrates beneath the skin's surface to help support the amount of ATP in the skin for improved overall function.
Return to XtendHealthAsia.com Home Page from Xtend-Life Women's Age Defying Body Lotion

Back to Top