Xtend-Life Women's Deep Renewing Supporting Invigorating Cleansing Mask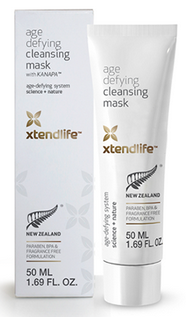 Supports skin's natural self cleansing functions
Pores are visibly refined

Invigorates and clarifies
Deep renewal for blemished skin
This highly effective Age Defying Cleansing Mask uses purifying ingredients sourced from nature, cleaning deep into your pores. Consider it a high-powered fix for skin conditions such as blocked pores, blemishes caused by blockages or skin prone to couperose and enlarged pores. The appearance of redness or blemishes may be diminished; pores visibly refined and skin can appear more even and toned. Helps skin glow with a healthy radiance.
Our Age Defying Cleansing Mask and Age Defying Hydrating Mask are designed to tackle the root causes of premature aging of skin. Hydration and protection against free radicals are the first lines of defense against the premature aging of skin, while the cleansing of bacteria and other contaminants is the second line of defense. These two masks have been formulated to use alternatively providing your skin with these essential benefits.
We harness the natural cleansing power of Kaolin Clay to effectively and efficiently penetrate deep into your pores, actively binding with and loosening dirt particles, lifting and drawing them from the skin. Blackheads are softened, skin is soothed and the appearance of redness and blemishes can be diminished. Kaolin Clay works wonders to reinvigorate and rejuvenate skin and has been used for centuries to disinfect, cleanse and beautify.
By providing soothing care and deep renewal the appearance of blemishes can be diminished, pores can be visibly refined and skin can appear more even and toned. Skin glows with a healthy radiance. Suitable for all skin types, including skin prone to blemishes or irritation.
Benefits
Especially beneficial for clearing pores of excess oil that may lead to the formation of blackheads. The poultice activity of Kaolin Clay gently absorbs pollutants and exfoliates the skin, drawing dead cells away from the surface to leave the skin fresh and accessible to nutrients.


This gentle cleansing mask draws toxins away from the skin and removes dead skin cells for a clearer, more radiant and refined complexion.

Pure Kaolin Clay has a remarkable ability to absorb toxins, control oil and stimulate circulation.

Kanapa™ supports skin healing and health. This bi-weekly ritual will help your skin reveal its natural radiance and vitality.


Age Defying Cleansing Mask will effectively and efficiently draw out impurities leaving skin clearer and healthier, with pores refined and nourished, protecting skin against negative external influences.


Age Defense Cleansing mask removes embedded dirt, sweat and oil while deeply exfoliating. The all natural formula loosens blackheads, unclogs pores, cleanses oil and evens skin tone while helping to reduce the shine caused by oily skin.
Key Ingredients
Kaolin

Another ingredient exclusive to New Zealand, this clay extract contains natural minerals that gently cleanse pores and support the skin, controlling and reducing the outbreak of blemishes.


DermCom

Helps to support collagen and elastin production while supporting the natural growth factors of the skin. It also helps renew the skin's resilience and firmness, working as an intense age-defying treatment to rejuvenate the skin structure, promoting firming and lifting across the skin's surface.


Manuka Honey

This honey, which is found only in New Zealand is a natural moisturizer and antioxidant. Dense in nutrients, our Manuka honey nourishes the skin with vitamins, minerals and protein, helping to support collagen and elastin while helping to soothe inflamed skin.


Shea butter

This skin superfood is packed full of essential fatty acids, phytosterols and antioxidants. It is harvested from the nut of the African shea tree and rumored to be used by Egyptian queens to keep their skin moist and supple.

It protects the skin from sun and dehydration and is especially soothing on sensitive or inflamed skin.
Testimonials
I been using Xtend-Life deep active cleansing face mask and found it to be very good...perhaps the best cleansing mask I ever used. It deep cleanses and rejuvenates my skin without drying or irritating it!

Louise L, Taiwan
BTW, I'd thought I'd share this with you. My Sister ordered a few of the skin products. She is raving about the cleansing face mask. She definitely will be ordering more if it.

Meghan A, USA
Return to XtendHealthAsia.com Home Page from Xtend-Life Women's Deep Renewing Supporting Invigorating Cleansing Mask

Back to Top