Xtend-Life Women's Nourishing Hand Cream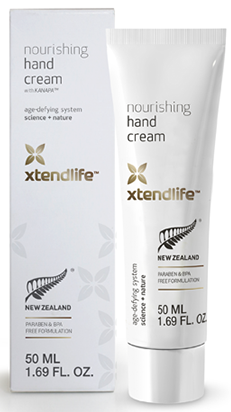 For softer, smoother hands
Protect your hands with 24 hours of significant moisture
Soothe parched skin while visibly reducing redness
Leave skin smooth and soft without residue
Luxurious Nourishment For Hard Working Hands
Our hands are constantly being exposed to the elements – cold weather, dry heat, harsh soaps – and they are often the first giveaways of our age. Nourishing Hand Cream with Kanapa™ is a silky smooth formula that absorbs quickly while providing 24 hours of significant moisture.
Enriched with plant essence, this light-weight cream leaves behind a fresh floral aroma that captures the subtle scent of morning gardens.
Perfect for dry, sensitive and irritated hands, this beauty must-have is essential for home, work and on-the-go.
After many years of R&D, Xtend-Life has had a breakthrough last year with Xtend-Life Kanapa™.

Found only in Xtend-Life products, it is specifically designed to minimize and prevent visible signs of aging, while delivering intense hydration and boosting radiance.
Benefits
Firm and smooth skin
Protect against environmental damage
Reduce redness and irritation
Soften and hydrate without any residue
Key Ingredients
Nourishing Hand Cream with Kanapa™ glides on, leaving hands soft and smooth with no oily traces. It can be applied as often as needed and contains no BPA, mineral oils, petroleum-based ingredients or parabens.
Kanapa™

Applying the most advanced beauty discoveries, this proprietary blend preserves skin texture and tone, while restoring a radiant glow. The first of its kind, it is the pinnacle of skin health and luxury.


Laminaria Ochroleuca Extract

Also known as 'golden seaweed', this protects the back of your hands against oxidative stress caused by overexposure to sunlight.


Nano-emulsion CoQ10

This powerful antioxidant is wrapped in a 'nano-shell' to ensure deeper penetration beneath the skin's surface and a reduction of wrinkles.


D-Panthenol

This natural compound improves superficial skin damage by strengthening the outer layers of the skin's protective barrier. Effective in reducing redness and irritation, it helps to heal and protect skin.
Return to XtendHealthAsia.com Home Page from Xtend-Life Women's Nourishing Hand Cream
Back to Top