Xtend-Life Women's Restorative Night Cream Omega 3 & 6, Antioxidant Moisturizer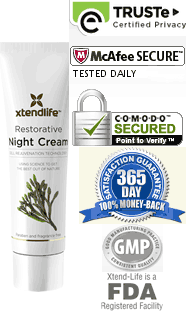 Infuse skin with restorative moisture
Repairing and Rejuvenating
Maintain collagen and elastin
Softens, smooths, improves
Start a good day the night before with this high potency night time moisturizer formulated with natural active ingredients to nourish and regenerate the skin leaving it looking its healthy best, so you wake up to brighter, more radiant skin.
The unique combination of Omega 3 & 6, with antioxidants, vitamins and nutrient-dense moisturizing ingredients, including tropical butters help uncover healthy-looking skin that looks re-energized and well-rested. When used as part of your regular beauty routine your skin tone will appear fresh and even, glowing and smooth to the touch, with improved firmness and hydration.
Designed to work while you sleep, our Restorative Night Cream is an all-natural revitalizing cream that addresses both wrinkles and the firmness of your skin, and it will help you support your skin's youthful strength and resilience.
This night cream is fortified with Xtend-Life's unique Kanapa™ blend which enhances and enriches the formula, boosting the age defying benefits.  Our unique Kanapa™ blend is rich in minerals, moisture-rich replenishers, and vitamins to refresh and regenerate skin while you are sleeping, so you wake up to naturally radiant morning skin.

Experience overnight, surface cell renewal with deeply nourished skin, resulting in a beautiful, radiant, youthful complexion.
For around-the-clock benefits for your skin; combine with daily use of Age Defying Day Cream to give your skin everything needed to achieve optimal health and radiance.
BENEFITS OF THE Xtend-Life Women's Restorative Night Cream

Reparative and restorative skin care. Our goal is not just to benefit the surface of your skin, but to penetrate beneath the skin's surface, protect skin from stress and help regain its natural balance by supplying the nutrition you need for healthy, nourished glowing skin.
An intense night cream formulated to deliver a glowing radiant complexion while reducing the signs of premature aging. Restorative Night Cream is quickly and easily absorbed, to boost skin recovery and radiance while minimising the appearance of fine lines and wrinkles.


Our easily-absorbed night time moisturiser deeply nourishes and repairs while you sleep. By assisting the skin's natural process of regeneration, this cream helps support suppleness and elasticity.


Soothe, protect and care for easily irritated skin, with our deeply hydrating and comforting cream, harnesses the power of antioxidants to support the skin's ability to resist free radical damage.  Your skin is in safe hands.
Key Ingredients
Kanapa ™ blend – Xtend-Life's unique Kanapa™ blend, is a mix of three antioxidants along with oils and aloe to moisturize, soothe, defy aging and support the skin from oxidative stress. You can read all about the ingredients that make up this unique blend by clicking on the Ingredients tab.


Nano-Lipobelle H EQ10 – This topical coenzyme Q10 penetrates deep beneath the skin's surface to help increase the amount of ATP in the skin for improved overall function.


Crodamol™ GTCC – This natural emollient helps support the skin's ability to repair itself and restore its moisture while working in synergy with other ingredients to boost the moisturizing properties of our Restorative Night Cream.


Manuka Honey – This honey, which is found only in New Zealand is a natural moisturizer and antioxidant. Dense in nutrients, our Manuka honey nourishes the skin with vitamins, minerals and protein, helping to boost production of collagen and elastin while helping to soothe inflamed skin.
Testimonials
This is the best night cream I have ever tried (and I have gone through many of the expensive branded ones). It feels so nourishing and I love the way my skin just drinks it up, revealing beautifully refreshed and soft skin in the morning. It is great to have found a night cream that is natural, affordable and produces such great results.

Lynn W, UK
I have been using the Night Cream and I can actually feel my skin tightening. I can honestly say I won't be buying my creams from anyone else. I am a really happy customer.

Ana, Canada
Return to XtendHealthAsia.com Home Page from Xtend-Life Women's Restorative Night Cream Omega 3 & 6, Antioxidant Moisturizer

Back to Top