Xtend-Life Zupafood Greenz Energy, Immunity, Calcium and Detox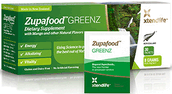 Green 'Superfood' with a 'Buzz'
Get that natural energy 'buzz' from Green Tea Extract
Spirulina and Chlorella immune support and waste elimination
Aquamin ™ delivers bio-available calcium​
Combining the power of Xtend-Life's 'Superfood' Blend, Spirulina and Chlorella... and more to give you an effective and economic 'green' health tonic.
Over recent years many of Xtend-Life's customers have asked them if they could produce a 'green' health tonic using Spirulina and Chlorella, which would be economic enough to take in addition to their current Xtend-Life regime of Core Wellness Activators.
Xtend-Life listened, and their R & D department spent almost 2 years researching and perfecting a new family of Xtend-Life supplements which they call ZUPAFOODS.
As with all their Xtend-Life products they always strive to provide something better, of higher quality and better value than anything else on the market. Just making a product from Chlorella and Spirulina (although easy and cheap to do) was just not going to be good enough. So, their goal was to go to a higher level than just providing these two excellent ingredients.
Their research resulted in the development of a special New Zealand 'Superfood' blend consisting of the ingredients listed below. But...they  didn't stop there...they added other green superfoods as well as some other 'extras'.
Here are the details of the Xtend-Life 'Superfood' blend of which there is over 2,800mgs in every serving of Zupafood GREENZ. Further down the page you will find details of the other ingredients that make GREENZ stand out from other 'green' products in the market.
Kiwi-Fruit
Kiwifruit has a number of health benefits. Their New Zealand Superfood blend contains Kiwifruit in two forms. One as a freeze dried powder and another in the form of a special extract which provides highly concentrated actives, including phenolics and enzymes.
Xtend-Life uses both of these forms in our Kiwi-Klenz supplement product. You can find more information about this unique and very effective ingredient on the Kiwi-Klenz product page...especially focusing on how it can help support healthy digestion.
Grape Seed Extract
The Grape Seed Extract used in the Xtend-Life Superfood Blend is all produced in New Zealand from grapes harvested in the Marlborough area of the South Island. The UV light from the sun is very intense and amongst the strongest in the world (due to the low level of ozone above New Zealand).
As a result, nature has adapted the grapes grown in this region to have greater anti-oxidant concentrations than grapes grown in other parts of the world.
This is nature's way of protecting the grapes. Also, the extraction process used for these grapes uses only water, not ethanol. Ethanol is the method used primarily in other parts of the world, and unlike this unique water extraction process, ethanol extraction destroys some of the valuable elements of the grape seed.
Red Grape Skin Extract
This is a quite a unique grape skin extract, and it is rarely used in supplements because very little is produced. What makes it different?
This is grown in New Zealand, and the extract is produced from non-fermented grapes. Usually grape skin extract is produced from the skins of grapes that have already been fermented during the process of making of red wine.  This means that they have lost their deep purple color and have been bleached white. Ethanol is also used in the extraction process.
The grape skin extract that Xtend-Life uses is from non-fermented grapes and uses a unique water extraction process. Laboratory tests on the extract prove that the extract contains 20 actives while 'normal' grape skin extract only has around 4!
Organic Wheat Grass
Wheat Grass contains a wide spectrum of vitamins and minerals – including 13 essentials, along with dozens of other trace elements and enzymes. Wheat grass also contains P4D1 – a "gluco-protein" that supports circulation and the immune system.
Wheat grass has been shown to support your body's natural defenses, balanced blood sugar and... maintenance of liver health and function – just to name a FEW of the amazing benefits!
Please know this: the wheat grass found in the Zupafood Greenz formula is certified organic.
So you can be certain you're getting high quality, pure wheat grass for optimal health and wellness! And since our organic wheat grass is gluten-free – it's safe to take if you have wheat allergies or sensitivities.
Organic Barley Grass
Barley Grass acts as a free radical scavenger that may support circulation and healthy cholesterol levels.
Barley grass also contains an exceptional amount of organic sodium – which helps support joint health and function.
Spirulina and Chlorella
The benefits of Spirulina and Chlorella are well known so any 'Superfood' product which is also produced for general health should contain them...particularly a green superfood.
In their GREENZ formula Xtend-Life have included 3,200 mgs of organic Spirulina and 481mgs of organic Chlorella in each serving.
Spirulina
Spirulina helps support the immune system's healthy inflammation management processes.

Spirulina is a good source of Gamma-linoleic acid (GLA) – which further helps maintain and support a healthy immune system.
Organic Chlorella
Chlorella is a natural cleanser for your cells! This can be a real benefit, as it helps support the body's healthy waste management process.
Chlorella also helps promote healthy gut flora and therefore a healthy digestive system…increase energy levels… and even support your mood!
Our formula contains chlorella vulgaris – a superior form of broken cell wall chlorella – which has been meticulously pulverized and delicately processed to ensure the powerful nutrients in chlorella are digestible and bio-available.
For Additional Energy
Although many of these ingredients above can help with sustained energy throughout the day, Xtend-Life knows from experience that a bit of extra help as an energy boost is always welcome.
So…they included a high quality green tea extract with natural caffeine to help stimulate a mild natural 'buzz'. Plus, it provides other general health benefits. They included 75mgs of this extract in every serving.
Green Tea Extract
Along with general health benefits, the Green Tea in Xtend-Life's Zupafood Greenz delivers a natural energy boost. That is because one of the actives in green tea is natural caffeine. However this green tea extract contains a low dose of caffeine that doesn't cause the "jittery" effects associated with caffeine found in coffee – yet still gives you an energy boost.
Additionally...green tea extract contains the amino acid L-theanine –that helps improve your mood.
Studies show that combining caffeine and L-theanine can have positive, synergistic effects – giving you a mild, natural "buzz" to keep you mentally and physically focused.
For Your Bones
Xtend-Life is aware that many people including men, women and children of all ages may have low levels of calcium. Often they take calcium supplements.
The most common option is calcium carbonate, which is basically limestone or chalk.
Problem: The bio-availability of these supplements is very poor and there may be a risk of a build-up in the cardiovascular system.
Xtend-Life have sourced a unique form of plant calcium from marine algae called Aquamin TG, and they have included 400mgs in every serving, which has the calcium benefits of eating most of a cup of raw spinach every day and can help maintain healthy calcium levels in your body.
Aquamin TG (calcium)
Aquamin TG is extracted from a marine plant source that is rich in natural calcium, magnesium and 74 other trace minerals including zinc, iron and selenium.
Aquamin TG is produced from the red algae, Lithothamnion species – which is only found in three remote areas around the world. During its growth phase, these algae absorb essential minerals directly from the sea – giving Aquamin TG its unique and potent multi-mineral content.
IT Has to Taste Good
Sweetening a 'Superfood' is quite easy by using stevia, which is a natural sweetener (we would not use sugar). But, to get an acceptable flavor is not easy...UNLESS an artificial flavor is used...but, Xtend-Life were under strict instructions from their Founder and Chairman Warren Matthews NOT to use anything artificial.
He didn't care how much extra it cost…and he insisted that Xtend-Life ONLY use NATURAL flavors. So, they develop their own special natural flavors using real fruit by spray drying the fruit and concentrating it so they could end up with a great tasting product. After many trials they successfully developed natural flavors for all their Zupafood products.
For Zupafood GREENZ the flavor is 'green mango'…made from real mangos!
Return to Xtend-Life Product Reviews from Xtend-Life Zupafood Greenz Energy, Immunity, Calcium and Detox

Back to Top