I've a bee pollen-dedicated site at BeePollenForHealth.com - do swing by to go in-depth on bee pollen supplementing and more there - Nigel

Bee Pollen, Menopause And Menopausal Symptoms
Bee pollen has far reaching health benefits, from weight loss, to balancing metabolic systems, to improving energy and sexual libido, and it is also able to help women who are in menopause and having menopausal symptoms.
Honeybee bread, which is another term for pollen, has been used for hundreds of years, if not thousands of years ago for their vast health benefits they bring.
Question is, can bee pollen truly help women who are menopausal or having menopause symptoms?
Today bee pollen is increasingly known as the superfood alternative to having the hormone replacement therapy (HRT, also known as hormone therapy treatments). If you're a woman between 40 to 55 years old, or if you know someone who is around that age, if you hadn't experienced menopause yet, it should be coming soon.
And before it comes, it'd be good to consider regularly taking bee pollen in anticipation for it, as bee pollen can help with menopausal symptoms such as:
fatigue
hot and cold flashes
emotional ups and downs
mood swings

Menopause and menopausal symptoms are uncomfortable and can be stressful for women, and their spouses/partners and family.
Bee Pollen, Menopause and Menopausal Symptoms: How Does It Help?
First and foremost, because of its high-density of nutrients of amino acids, enzymes, minerals and multi-vitamins, it helps to restore nutritional deficit/deficiency that most of us who live in cities and urbanized societies face. And the reason for that is two fold:
we eat a convenient diet consisting of fast foods, frozen or tv foods
the food of today have low nutrition/nutrient compared to the days of 1950s, the times of our grandfathers because of nutrient erosion from industrialization, contaminations, mutations, early pickings for logistical reasons etc
A direct result of a nutritional balance is sense of well being, well rested and obvious energy. This is likely the most well known and main purpose of bee pollen (though pollen has a lot more far-reaching health benefits).
What's important to note is that the energy that one gets from taking pollen supplements consistently is that it's not like energy from caffeine/caffeinated drinks or sugar, where there is a caffeine/sugar-high followed by a massive crash – that's a terrible experience and method to work, study or have fun – how does one function with such a crash?
Of course, as menopause and menopausal symptoms for women is normal when they are advancing in age, but supplementing with high quality pure bee pollen can help significantly decrease its symptoms and side effects. Another symptom of menopause is erratic mood swings and a sense of "blurness" which is also known as (mind fog, mental fog, stupor), and this is addressed by the high density of vitamin B complex and other minerals, amino acids and enzymes that bee pollen is rich in.
Additionally, one can experience increased brain and mental functions, including concentration, alertness, short and long term memory as well as sharper mental processing.
365 Days Full Product Guarantee
If you're thinking of improving your health with the benefits of a bee pollen supplement, or thinking of gifting it to a loved one/friend, I would definitely invite you to consider getting one that is a nutraceutical, which basically means pharmaceutical-grade (highest quality a supplement can be labeled with).
It should also be sourced from an area that is pure, pristine and contaminants/pollution-free; and be produced in a facility that is GMP-compliant which meets the standards set by the United States FDA. In fact, I know of a company that meet those criteria, and even surpasses US FDA standards, and it's from a health company in New Zealand.
Xtend Life Bee Pollen For Health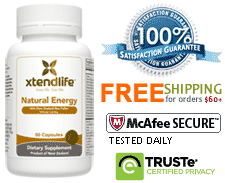 I've been using their bee supplement since 2014, and it is formulated scientifically. In fact, the manufacturers also add additional synergistic enzymes and minerals to further enhance the health benefits of their pollen supplement.
Their bee pollen is harvested from the north-western corner of south island of New Zealand, in a pure, pristine and non-industrialized area beside a national park, and this ensure 100% free from contaminants and pollution (important as pollution WILL affect flowers and bees, leading to contaminated pollen like those from China).
On top of it being a pharmaceutical-grade bee pollen supplement, the manufacturer also offer customers a full 365 days full product guarantee – meaning that within 1 year if for whatever reason you're not 100% satisfied with the product, you can get a full refund or full product replacement.
I've been taking this personally since 2014, and I honestly say this: it has helped me a lot in my life, giving me all the energy, health and wellness I need to handle my 5 AM to 10 PM days everyday, young children, family, manage multiple busy physiotherapy clinics, meetings, investments, readings etc. To me, it's one of my favorite and important supplements that I take every day. Without fail. Read more or try it here.
Back to Top