Does nutella cause cancer?

In the first few weeks of January 2017, there was a lot of buzz and articles that screamed:
Nutella causes cancer!
No, Nutella doesn't cause cancer!
Question is, which one is correct?

In fact, both are not right. There are some research that explains how both are not right, read more below.
What did the research say?
A health report came out in May of 2016 from a European food safety agency...which shows some potentially cancer-causing compounds that is found in refined palm oil.
And Nutella contains refined palm oil.
But that was in May 2016 right.
Seven months later, what happened was Ferrero, the inventor of the chocolate hazelnut spread in the 1940s and uses 25% of the world's hazelnut supply decided to fight back against outcry and some proposed regulations in Europe.
the may 2016 health report focused on three specific compounds:
GE (Glycidol Ester) is the bad-boy compound that gets reported on media, and for good reason: GE content of palm oil is much higher than that of other oils.
3-MCPD and 2-MCPD can both be produced and by-products/simultaneously with GE, and can be detrimental on their own.
So basically the report shows that GE is not really healthy in animal studies. It has genotoxicity, which means that it has characteristics that can damage our DNA, which is linked to causing cancer/cancerous cells to develop.
3-MCPD harmed the kidneys and male reproductive organs of the experimental animals and data on 2-MCPD were too little to comment on.
important to note:

From the report, it is babies that are at the most risk of consuming too much GE, because some babies are fed/rely purely on infant formulas as their main food source.
And...infant formulas contain high levels of GE.

This is why breast milk is still the best, though in some cases there is too little breastmilk production, so infant formula can sometimes be the only options at times.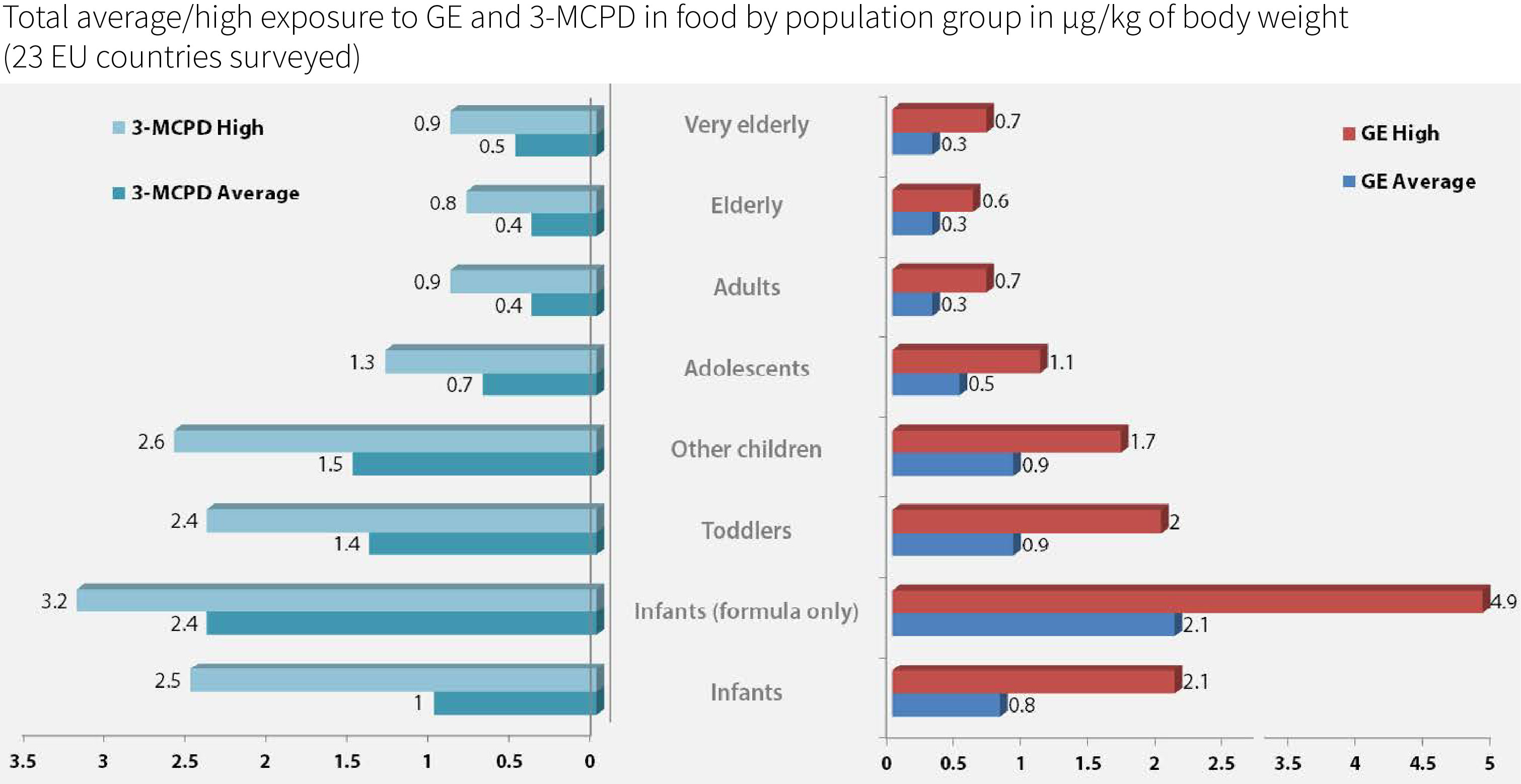 Refer to the above chart, which is copied from the European agency's report, shows two important points:
Babies and children tend to consume much more GE (and 3-MCPD) as compared to anyone else on the list 
Babies who drink purely infant formulas are in the worst category, with more than twice the average intake.
The reason why it affects babies more (especially those who mainly on infant formulas) is because:
That's mainly ALL/MOST of what they're fed.
Adults on the other hand, eat a variety of food and beverages. Children score the second-worst because they too tend to eat a lot of GE-laden snacks.
BUT How serious is this cancer risk from nutella is exactly?
The report is very long at 159 pages, but there is one line that isn't mentioned in the abstract:
3.3.4 Observations in humans:
No data was identified.

The health report was based entirely on animal studies, mostly in rats and mice. None of the studies were in humans. This by itself already severely limits the conclusions that can be drawn from the data, for two reasons:
Human's aren't rodents, or close in make-up to rodents. Examples are rodents can make vitamin C out of glucose and we can't, so we have to eat it. Plus, cancer studies on rodents don't really translate to humans BECAUSE rodents ARE more susceptible to cancer
Lacking human data/statistics means that you have to guesstimate, and when rodents aren't the same as humans, it's pretty hard. For the report, the authors took the dose that caused cancer in rodents and divided it by 25000, and used that number as the "safe levels to consume" in humans - but without human data...it's really hard to determine exactly.

Lastly, people don't just eat Nutella alone. We tend to eat it in combination with other foods, and also eat a variety of foods in varying amounts over time.
If you do eat only Nutella, stop it - it's unhealthy.
Note: GE levels has decreased more than 50% because of changes in manufacturing processes

The report isn't a damning report OF nutelle: it's basically a report on GE and palm oil, and GE is formed when palm oil is processed above 200 celcius.
Nutella is processed at a MUCH lower temperature to reduce the production of contaminants such as GE.

Also, the report has mentioned that between 2010 and 2015, GE levels in palm oils and other fats went down by half due to changes in manufacturing.
Ok, that is not a green light to just eat Nutella.
The main focus of the report is palm oil is not like other oils: palm oil is rich in a type of fat called DAG (diglyceride), whereas other oils have more of the normal stuff, triglyceride. And according to the research group, refined oils are the only direct source of GE in the human diet. THIS is the crux of the report.

bottomline?
Nutella isn't a problem by itself in varying quantities, especially if it's taken moderately and you take in a variety of food especially fruits, supplements etc. It only is a problem if it's the only thing you take.
Oils that are high-heated processed aren't good BUT it is the dose that makes the poison. So the occasional junk/fried food is generally ok.
We're not rodents so our biocomposition is different, so this report isn't super relatable...but...eat your greens and vege and fruits. Take some high quality supplements too as listed on this website especially consider the Total Balance Series.

This article is extracted from Examine's blog on Nutella and Cancer, and you can find the full article here: https://examine.com/nutrition/does-nutella-cause-cancer/?utm_source=newsletter&utm_campaign=insiders011917&utm_medium=insiders
Back to Top