Xtend-Life Ingredient Adenosine Triphosphate (ATP)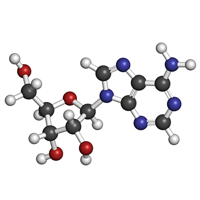 ATP Background and Benefits
Adenosine triphosphate (ATP) is chemically classified as a nucleoside triphosphate. Its primary biological use is as a coenzyme in various processes involving the transfer of chemical energy. All organisms use ATP, although the specific mechanisms vary greatly.
Karl Lohmann discovered ATP in 1929, although its specific chemical structure wasn't determined until the 1930s. The German biochemist Fritz Albert Lipmann first proposed ATP as an intermediary agent between biochemical reactions requiring energy and those yielding energy. The Scottish biochemist synthesized ATP for the first time in 1948.
ATP is generally biosynthesized by adding three phosphate groups to the purine nucleoside adenosine. The phosphate donors in these reactions are usually adenosine monophosphate (AMP) or adenosine diphosphate (ADP), although other compounds may also donate phosphate to make ATP.
These reactions also require a catalyst such as ATP synthase. The most common methods for animals to biosynthesize ATP are oxidative phosphorylation and substrate-level phosphorylation. Plants use photophosphorylation to biosynthesize ATP as part of photosynthesis.
Phosphorylation in animals is part of the larger process of cellular respiration. It generally consists of combining glucose and oxygen to produce ATP and carbon dioxide. This process yields about 30 ATP molecules for every glucose molecule that it uses.
Uses of ATP
One of the uses of ATP in health supplements is its effect in increasing physical energy. Additional uses of ATP include the support of the digestive system, joint health and heart function.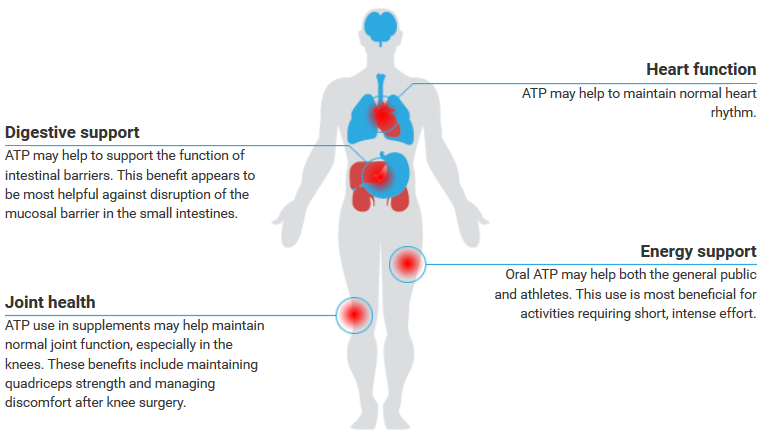 Signs You May Need ATP
Athletes are one of the groups likely to benefit from ATP supplements, especially those who play sports involving short, quick movements. These sports include sprinting, weightlifting, football, hockey, volleyball and tennis.
You may also need ATP if you have damage to the small intestines, especially when it is caused by nonsteroidal anti-inflammatory drugs (NSAIDs). Additional conditions that may benefit from ATP include the discomfort that's common while recovering from knee surgery.
Other Ingredients That May Be Of Interest
L-Methionine - Methionine is an essential amino acid used to synthesize proteins. It plays many other biological roles in all multi-celled animals.
Ubiquinone - Ubiquinone, commonly known as coenzyme Q10 or CoQ10, plays an essential role aerobic respiration.
Ubiquinol - Ubiquinol is a reduced form of CoQ10, meaning that it's rich in electrons. It's an essential component in the production of cellular energy, and it also has significant antioxidant properties.
Synonyms and Similar Forms of ATP
Adenosine triphosphate
Products containing Adenosine triphosphate (ATP)
Return to Xtend-Life Ingredients Page
Return to XtendHealthAsia.com Home Page from Xtend-Life Ingredient Adenosine Triphosphate (ATP)
Back to Top