Xtend-Life Ingredient Bitter Melon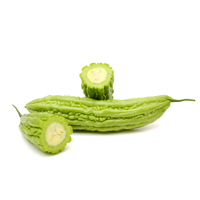 Bitter Melon Background and Benefits
The scientific name for bitter melon is Momordica charantia, which also has other common names such as balsam-pear, bitter gourd and bitter squash. This tropical vine originated from the Indian subcontinent, although it was introduced to China during the 14th century. Bitter melon is now cultivated throughout tropical regions of Africa, Asia and the Caribbean.
Bitter melon is primarily grown for its edible fruit, although its shape and flavor is highly dependent on the specific variety. The herbaceous vines can exceed 15 feet in length. The leaves have up to seven lobes and may reach a diameter of four inches. Each plant bears flowers of both genders, which bloom in early summer.
The rind and fruit of the bitter melon is typically eaten as a vegetable while it is still green. It has a slightly bitter flavor at this stage, with a crunchy, watery texture. The fruit becomes sweeter and the rind more bitter as the fruit ripens. The rind of the fully ripe fruit is typically unpalatable, so it is usually discarded.
Bitter melon also has a well-established use in various systems of herbal medicine in Africa and Asia, especially India. All parts of the plant are used in the Ayurvedic system, most often for digestive ailments. Additional uses of bitter melon in Ayurveda include remedies for ailments of the respiratory system, joints and skin. The biologically active components in bitter melon include charantin, momordicilin and momordenol.
Note by Nigel: as an Asian from Malaysia and now living in Singapore, as well as traveling around Asia Pacific, I had eaten this bitter melon many many times before. The Asians would sing high praises for its health benefits, though I never understood then. The Cantonese call this the "fu kua", in Mandarin it's labeled as "ku kua", which literally translate to "bitter melon".

Uses of Bitter Melon
The most common use of bitter melon extract in modern herbal medicine is supporting the body's ability to manage healthy blood sugar levels. Additional uses include supporting wound recovery, digestive support and antioxidant benefits.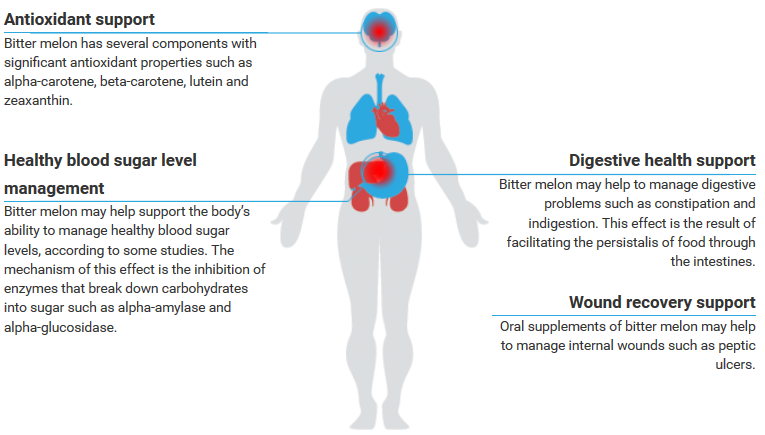 Signs You May Need Bitter Melon
Metabolic syndrome is the most significant indication that you may benefit from bitter melon. Similar conditions that may be helped by bitter melon include an unhealthy glucose tolerance and HbA1c level, which is a measure of blood sugar control.
Constipation, indigestion and peptic ulcers may also mean that bitter melon extract could help you. The antioxidant activity of bitter melon components may benefit age-related conditions that affect the skin.
Other Ingredients That May Be Of Interest
Gingko biloba - Gingko biloba, commonly known as just ginkgo, is a tree that is the only living species in the Ginkgophyta division. It's typically used to support cognitive functions.
Gymnema sylvestre - Gymnema sylvestre is an herb that originates from southern India. This herb suppresses the ability to taste sweet, and its extracts are often used to support metabolic syndrome.
Synonyms and Similar Forms of Bitter Melon
Momordica charantia, balsam-pear, bitter gourd, bitter squash
Products containing Bitter Melon
Return to Xtend-Life Ingredients Page
Return to XtendHealthAsia.com Home Page from Xtend-Life Ingredient Bitter Melon
Back to Top