Xtend-Life Ingredient Calcium Oxide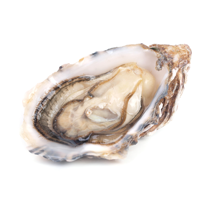 Calcium Oxide Background and Benefits
Calcium oxide is a chemical compound known as burnt lime or quicklime. It is a white crystalline powder at room temperature and is highly caustic in pure form.
The commercial production of calcium oxide generally involves heating a source of calcium carbonate, typically limestone or seashells. Calcium carbonate releases carbon dioxide when it reaches a temperature of 825 degrees Celsius, which produces calcium oxide. It must be cooled with water to prevent the calcium oxide from spontaneously converting back to calcium carbonate when it reacts with the carbon dioxide in the air. This form of calcium oxide is commonly known as lime mortar or lime plaster.
The preparation of calcium oxide for health supplements primarily relies on oyster shells as the source of calcium carbonate. The high temperature used in this process drives off the lead and other heavy metals that are in the oyster shells. Health supplements typically contain a combination of calcium oxide and calcium hydroxide.
The primary purpose of using calcium oxide in health supplements is to provide a bioavailable form of calcium, which is an essential element in human nutrition. Calcium performs many functions in the body, although virtually all of the calcium in the human body is found in the bones and teeth.
Uses of Calcium Oxide
The benefits of calcium oxide generally relate to its use as a source of calcium. These benefits primarily include bone health support, although calcium oxide may also support the blood, heart and menstruation.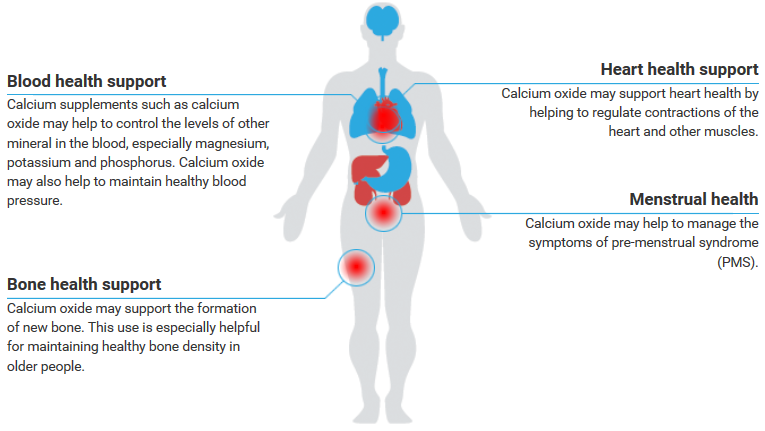 Signs You May Need Calcium Oxide
Postmenopausal women are one of the highest risk categories for a calcium deficiency. Groups with a low intake of dairy products are also at risk, including strict vegetarians and people who are lactose intolerant.
The earliest signs that you may need calcium oxide are often a tingling sensation in the extremities and around the mouth. Additional signs that calcium oxide may benefit you include involuntary muscle contractions, especially in the hands.
Other Ingredients That May Be Of Interest
Magnesium - Magnesium is a chemical element with the atomic number 12. Magnesium is a component of more than 300 enzymes, including all of the enzymes involved with adenosine triphosphate (ATP).
Vitamin K2 - Vitamin K2 is a collective term for a group of compounds known as menaquinones. Their most significant role in biology is thought to be the maintenance of healthy bone density.
Products containing Calcium Oxide
Return to Xtend-Life Raw & Certified Ingredients List Page
Return to XtendHealthAsia.com Home Page from Xtend-Life Ingredient Calcium Oxide
Back to Top