Xtend-Life Men's Active Quick Invigorating and Hydrating Mask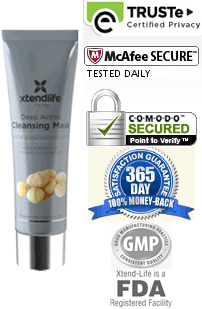 Improve skin's tone and texture
Ultra-invigorating
Ultra hydration

Immediate results
Boost your age-defying routine with a bi-weekly hydrating mask for extra nourishment. This deeply hydrating mask is brimming with restorative ingredients to soothe, rejuvenate and revitalize your skin.
Get ready to combat the look of fatigue with our nutrient-enriched Age Defying Hydrating Mask. This is a deeply hydrating mask that wakens and uplifts dull, fatigued skin - working immediately, this 20 minute mask leaves your skin looking revitalized energised and feeling hydrated.
Like a clean slate for your skin, using purifying, hydrating ingredients sourced from land and sea, hydrating your skin as nature intended - consider it a high-powered support for all manner of skin conditions, including uneven skin tone, rough or dry spots, and reducing the appearance of fine lines and wrinkles.
When it comes to healthy skin, Xtend-Life doesn't compromise.
Their Age Defying Hydrating Mask is rich in plant based, nourishing ingredients which are the key to skin that looks well-groomed and healthy.
Benefits
This carefully balanced formula quickly absorbs into your skin to provide moisture, plump fine lines and reveal a smoother complexion:
Men's skin is especially prone to problems because it has a thicker texture and is more prone to becoming oily, as well as irritation from shaving.

The Deep Active Hydrating Mask has light moisturizers to penetrate thick skin, antioxidants to help support the skin's ability to manage blemishes and moisturizers to soothe nicks and small cuts caused by shaving.


Helps the production of collagen and elastin while supporting the natural growth factors of the skin. It also helps renew the skin's resilience and firmness, working as an intense age-defying treatment to rejuvenate the skin within the dermis, promoting firming and lifting across the skin's surface.


Rich in antioxidants, so it supports your skin's ability to resist the damage caused by free radicals


Formulated to be used once every two weeks – alternating with the Age Defying Cleansing Mask.
Key Ingredients
Rigin™

Xtend-Life found the Italian import Rigin, an emollient that helps reduce the visible signs of aging and keep skin cells younger while specifically firming and softening the skin around the face and neck, where fine lines often occur.


Alpha-tocopherol

This natural form of vitamin E is a powerful antioxidant in our formulation that helps reduce the breakdown of collagen and elastin, keeping our skin taut, supple and free from the appearance of wrinkles.


Unique actives

Xtend-Life also uses only natural nut oils and Manuka honey from their own backyard in New Zealand, which has been prized for centuries for its immune-supporting benefits.
Testimonials
I have been using your night cream and purifying mask and hydrating mask with success for 7 months. My skin looks so much better, and I have not had restylane fillers or needs them since. Also no more acne, maybe because of this!

Lise P, Italy
Thank you. I really love your products and the cell rejuvenation mask is phenomenal. I just used it last night and my skin is absolutely glowing this morning.

Alison, USA
Return to XtendHealthAsia.com Home Page from Xtend-Life Men's Active Quick Invigorating and Hydrating Mask

Back to Top