Xtend-Life Women's Nourishing, Moisturising And Anti-Aging Day Cream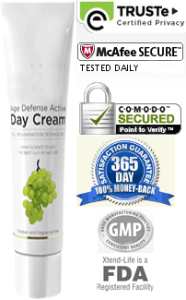 Nourish & reduce the visible signs of aging
Reducing the appearance of wrinkles and fine lines
Replenish moisture
Nutrient-packed & lightweight
Infuse your skin with the youthful glow of healthy skin. This nourishing moisturizer penetrates deeply to replenish moisture and strengthen skin helping to promote a smooth, healthy complexion and reinforce skin elasticity.
Potent cell-rejuvenating Age Defying Day Cream delivers the high-performance nutrition of Xtend-Life's unique Kanapa™ blend. This unique, innovative formula was developed specifically to immerse the skin in the healing properties of exceptional botanicals rich in omegas, which are known to help promote the skins natural renewal process, while providing concentrated immediate & long-term hydration for a radiant and refreshed complexion
This age defying formulation drenches your skin with hydration while working to help resist free radicals and protect skin from the invisible drivers of aging - pollution, stress and fatigue.  This leaves your skin bright, healthy, plump and revitalized.
Age Defying Day Cream supports softer, smoother, firmer skin and a more even skin tone. Over time your skin is refined for a firmer, more youthful complexion.
This precisely balanced Age Defying Day Cream is rich in plant botanicals, omegas, minerals, and antioxidants which deliver optimal results – skin that is healthy and luminous.
Benefits
This nutrient enriched, non-oily moisturizer delivers an intense surge of hydration and nourishment that wakens and uplifts dull, fatigued skin.

Age Defying Day Cream also helps protect against the effects of environmental aggressors resulting in skin that looks healthy and luminous: It's fast-absorbing, and delivers a soft, natural glow that lasts all day. Let your skin drink in the ultimate nutrition.
This innovative Age Defying Day Cream penetrates deep into skin, targeting the key signs of aging: texture, sagginess, elasticity, firmness, resiliency, fine lines, wrinkles, radiance, even skin tone, and clarity, with optimal results.


The perfect first step after cleansing to reveal smoother, more radiant skin for all ages, ethnicities, and skin types. Delivering precisely balanced omegas, minerals, and antioxidants that nourish your complexion with the healthy ingredients that your skin naturally craves.

Results are visible, healthy, and luminous.
Read more benefits on Xtend-Life Women's Day Cream here
No matter how well you protect your skin, sun, stress and pollution bring daily damage. Age Defying Day Cream is a potent moisturizer that works to deliver Kanapa™, a unique complex of  special plant based ingredients, helping to defuse this free-radical activity.


Helps keep skin strong and prevent visible signs of aging and boost radiance. 


This lightweight formula absorbs quickly for a boost of vital moisture, while vitamin E works to maintain the skin's elasticity and smoothness. This powerful antioxidant helps protect the skin against free radicals, leaving your complexion soft, smooth, and refreshed.

Key Ingredients
Age Defying Day Cream is a lightweight, daily age-defying moisturizer for all skin types formulated with Kanapa™, Xtend-Life's  unique age-defying, hydrating, and radiance-boosting blend. Kanapa™ includes eight special ingredients to support collagen and hyaluronic acid, reduce the appearance of fine lines and wrinkles, moisturize, and soften the skin. 
Kanapa ™ blend – Xtend-Life's unique Kanapa™ blend, is a mix of three antioxidants along with oils and aloe to moisturize, soothe, defy aging and support the skin from oxidative stress. You can read all about the ingredients that make up this unique blend by clicking on the Ingredients tab.


DermCom – This helps to support collagen and elastin production while supporting the natural growth factors of the skin. It also helps to renew the skin's resilience, helps to defy premature aging and rejuvenates the skin, promoting firming across the skin's surface.


Nano-Lipobelle H EQ10 – This topical coenzyme Q10 penetrates beneath the skin's surface to help support the amount of ATP in the skin for improved overall function.
Age Defying Day Cream is designed to complement Xtend-Life Women's Restorative Night Cream. You will see the best results by using both products in your skin care regimen.
Testimonials
Your Age Defense Day Cream is the best on the market. Remarkable product! I have tried everything and at a great expense, but this exceeds them all. So thank you!!

Kathy A, USA
The specific thing I have noticed about the Age Defense Active Day Cream is my skin has a healthier, more youthful glow when I use it under my mineral make up.
Now I have a full compliment of your products and can really go to town on my skin. Thank You.

Julia M, USA
Return to XtendHealthAsia.com Home Page from Xtend-Life Women's Nourishing, Moisturising And Anti-Aging Day Cream

Back to Top