Xtend-Life Ingredient 5-Hydroxytryptophan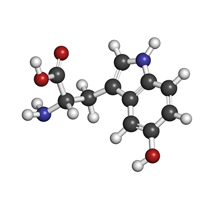 5-HTP Background and Benefits
5-Hydroxytryptophan (5-HTP) is an amino acid that occurs naturally in the human body. Its primary use in the human body is as a precursor in the conversion of tryptophan into the neurotransmitters melatonin and serotonin. 5-HTP is available as an over-the-counter dietary supplement in several countries, including the United States. It is also available in European countries under trade names such as Cincofarm, Levotonine, Levothym, Oxyfan, Triptum, Telesol and Tript-OH.
Supplement forms of 5-HTP are typically available in gelatin and vegetarian capsules, usually in dosages of 50 and 100 mg. It has been available in a transdermal patch in the United Kingdom since 2014. The use of 5-HTP in an oral spray was also explored in a 2012 study.
Dietary sources of 5-HTP are generally insignificant, although significant sources of tryptophan include meat, milk, potatoes and pumpkins. The most well-studied benefit of 5-HTP is its use for mood disorders. This psychoactive effect derives from 5-HTP's role in the production of serotonin.
A 2005 study of a placebo-controlled, double-blind trial supported its effectiveness in this capacity. However, larger studies are needed to further evaluate 5-HTP's effectiveness for mood disorders. The primary obstacle to further studies is obtaining the necessary funding, since 5-HTP can't be patented.
Uses of 5-Hydroxytryptophan
Taking 5-Hydroxytryptophan may help to improve low moods. Early studies show that 5-HTP may also have uses for mood disorders. Some scientific evidence also exists to support its use in reducing the symptoms of severe headaches. Other uses of 5-HTP include relieving the discomfort of fibromyalgia.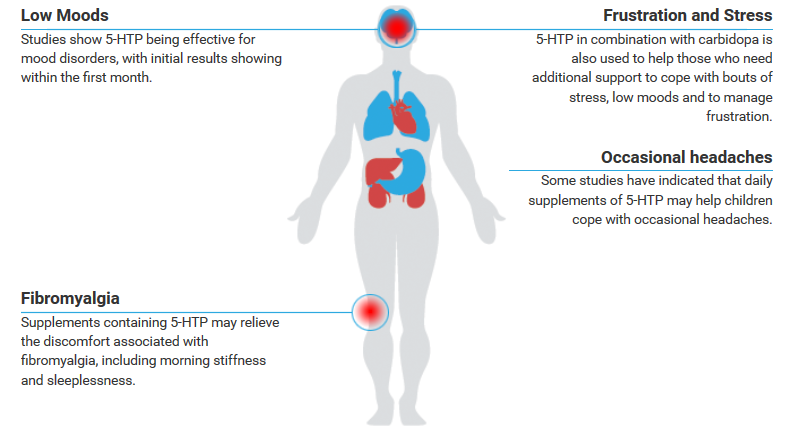 Signs You May Need 5-HTP
The most significant sign that you may need 5-HTP is a low serotonin level. Serotonin deficiency causes a range of symptoms, including low moods, frustration and stress and unhealthy sleeping patterns. You may also benefit from 5-HTP if you suffer from widespread ligament, muscle and tendon discomfort.
People who are under the effects 3,4-methylenedioxy-methamphetamine (MDMA), commonly known as "ecstasy" frequently use 5-HTP to replace the serotonin depleted by this psychoactive drug.
Other Ingredients That May Be of Interest
Valerian extract - Valerian is a perennial flowering plant with white or pink flowers. It has many uses in herbal medicine, including an antiseptic, discomfort reliever and sedative.
Passionflower extract - Passion flowers may be any plant in the Passiflora genus, which includes about 500 species. Passiflora incarnata, commonly known as Maypop, has a long history of use in folk medicine as a reliever of discomfort and to help support healthy sleeping patterns.
Synonyms and Similar Forms of 5-HTP
N-Acetyl D- 5-HTP, N-Acetyl 5-HTP, 5-HTP sulfate, 5-HTP hydrochloride
Products containing 5-HTP
Return to Xtend-Life Ingredients List
Return to XtendHealthAsia.com Home Page from Xtend-Life Ingredient 5-Hydroxytryptophan

Back to Top