I've a bee pollen-dedicated site at BeePollenForHealth.com - do swing by to go in-depth on bee pollen supplementing and more there - Nigel

Xtend Life Bee Pollen Natural Energy Product Review
This article will cover the review on Xtend Life Bee Pollen Natural Energy With New Zealand Bee Pollen, and I will try my best to be as objective as possible.
So I have been taking and using Xtend Life bee pollen supplement since 2014, and I've a personal interest, passion and curiosity for pollen too, sparking my interest to read and study more about this humble but powerhouse superfood.
I chanced upon pollen as a supplement in 2013, but "never got around" to taking it as a health supplement only until 2014, where I became more conscious of my health, when my wife told me that she's pregnant, and I want to ensure that I am as healthy as I can be to support my family and be a husband and father to them.
Once I researched pollen, I found that they have many health benefits, including:
improved energy because of the abundant vitamin B complex that stimulates metabolism, which in turn boosts our fat-burning ability and releases natural energy without the usual sugar/caffeine-crash
improved sex drive and libido
anti-oxidant helps with free radicals, which is anti-cancer and anti-aging
helps with skin health
and many more (more bee pollen benefits here)
I prefer the pure bee pollen powder capsules for many reasons:
convenient to take as no need to prep (granules needed soaking up to 12 hours to improve the absorption rate)
no chalky taste and texture of granules
measured dosage
has additional synergistic nutrients, enzymes and minerals added to further enhance the benefits of pollen
portable to bring around and travel
no possibility of mess (can you imagine dropping a jar of granules – OMG)
no need to think of what to eat the granules with
Yup, because of my commitments and preferences, I wanted the health benefits of bee pollen in a fuss-free and easy, convenient manner. It sustains my 5 AM to 10 PM days, so I take it very regularly to keep me on top of managing my projects, caring for family, investments, research, meetings etc.
Being a health enthusiast, I do regular research and try out different vendors and products, and from personal experience, there are many that doesn't provide the benefits that it claims to have, as many of them are not high quality (because of poor manufacturing practices, or poor raw materials in the first place).
Three things are very important when it comes to choosing a high quality bee pollen supplement:
where the pollen is harvested from – it needs to be harvested from bees and flowers that are in a pure and pristine environment that is free from airborne-pollution, industrialization, modern living and contaminants. The reason for this is because pollution and contaminants will impair the quality of the pollen, and this will affect the end product.
the manufacturing facility and processes: needs to be a GMP-compliant facility that follows the standards set by the United States FDA and individual batches get tested and receives Certificates Of Analysis – these ensure very high quality.
The pollen also needs to be freeze dried to retain their beneficial nutrients and enzymes (please avoid any that are heat dried or processed – all the nutrients are destroyed by then)
Xtend Life Bee Pollen For Natural Energy: What To Look Out For
Xtend Life's manufacturing facilities are based in Christchurch in New Zealand, and they are cGMP-compliant (this means that they are "current" and active in Good Manufacturing Practices) with their equipments and facility being advanced and modern.
They adhere to very high standards, exceeding the standards set by the United States Food and Drug Administration (US FDA) and their herbal extraction standards too exceed the British Pharmacopeia, which is the standards for the United Kingdom's medicinal products and pharmaceutical substances.
Combine these two achievements and Xtend Life as a supplement company stands head and shoulders above the rest of the supplement companies in the world. As a reference point, in the United States, supplements are not overseen by the FDA and hence those companys have a lot more "leeway" with their manufacturing standards.
That is why Xtend Life's products, including their bee pollen natural energy, are labeled as nutraceutical or pharmaceutical grade quality supplements.
And that is exactly what you should look for, and what you should demand in your health supplements: that they are made with the highest rigor and standards with guarantee of performance. Nothing less.
So What's Included In Xtend Life Bee Pollen? What Are You Getting?
So each capsule in every bottle of Xtend Life bee pollen natural energy not only contains pure New Zealand bee pollen powder, but the creators, with the advice of biochemists and scientists, have added synergistic blend of minerals, amino acids and vitamins that works together to harmoniously enhance the health benefits of bee pollen. I've been taking it since 2014, and I am pretty particular with my decision making and what I allow into my body as supplement – I feel consistently energetic, increased mental clarity for my meetings, decision makings, research and studies; helping to take care of my family – for me, it helps my daily life significantly.
Xtend Life's marketing says that their bee pollen supplement product provides a "preferred boost of energy" and it's not meant to be a health tonic, but from my experience since 2014, it does give energy and clarity that's noticeable to me.
For me I don't find the energy like a "burst or spurt or spike" of energy like how taking caffeinated or sugared drinks give, and neither does it give a crazy post-sugar/caffeine crash – the energy to me is like a "balanced, consistent energy", like my baseline energy levels are higher than before.
When I researched, I understood that it's contributed by the rich source of vitamin B complex, which helps to balance out metabolic processes, stimulate our base metabolic rate (BMR) which boosts our fat-burning processes and as direct result: releasing natural energy and losing some weight in the process.
Of course, their supplement has also a lot of other ingredients, vitamins, minerals, enzymes and co-factors on top of bee pollen already comprehensive nutritional profile.
See the label here:

How Much Does It Costs?
The price for one bottle is USD$ 27.50 of 90 capsules of pure bee pollen powder plus additional enzymes, minerals and co-factors. Based on the daily recommended dosage of three capsules a day, this means that a bottle equates to a month's supply.
Xtend Life provides free shipping worldwide for any orders above USD$ 60, and if the order doesn't reach the USD$ 60 threshold, then there is a shipping fee of USD$ 6.50, which is pretty reasonable too. There isn't any additional sales tax.
365 Days Full Product Guarantee

Xtend Life provides a full 1 year money back guarantee or full product replacement if we for any reason isn't 100% completely satisfied with their products.
This is a highly unusual guarantee because I hadn't come across ANY health supplement company that offers this kind of 1 year guarantee, and I think it's their confidence in their products because their products are produced in very rigorous manufacturing processes in cGMP-compliant facilities, with support by scientists and clinical research.
This is on top of ensuring that their raw pollen source is pure and pollution/contaminant-free, being sourced from bees beside a national park in the north-western corner of south island of New Zealand that has zero industrialization and far from the city.
In fact, Xtend Life also guarantees that a minimum 80% of the nutrients of each bee pollen capsules will be absorbed by your body, and this is important to note because the usual bee pollen granules have very low absorption rate, usually around 5-7%.
The reason for this is because most vitamin supplements (including bee pollen supplements) bio-delivery systems either:
impairs nutrients from passing/surviving the strong stomach acids to go to the upper intestines/duodenum where it can be absorbed into the blood stream
nutrients are difficult to be absorbed for multiple reasons
Think about this: have you ever taken vitamin supplement and the first couple of days when you pass urine, you notice that your urine has turned a darker yellow color? What happened is that either
your body couldn't absorb and that's why it had to eliminate via urine OR
the nutrients couldn't get pass your stomach acids and were destroyed in the stomach, then eliminated
Either ways means that the health benefits of the health supplement you bought…has slipped down the drain (or toilet).
And that's the reason why for Xtend Life to state a minimum absorption of 80% is a very significant statement. And that figure is not a "marketing sales talk" – it's from lab tests results.
That's the real reason why they are happy to offer a full 365 days money back guarantee on all their products, including their bee pollen supplement.
You can get more information on Xtend-Life's bee pollen supplement or try it by clicking here.
Any Customer Complaints Or Bad Reviews?
From what I checked, the worst complaints are few and far in between, only 2, and these generally say: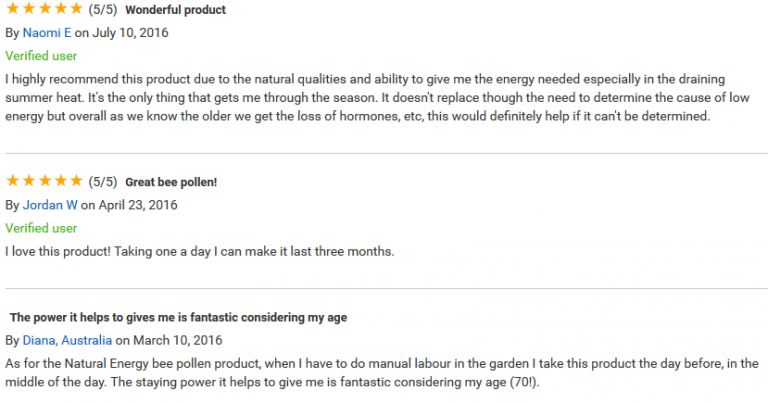 As Xtend Life is a private company, all their financial informations and business-related issues are not available as public information. That being said, they have a lot of testimonials that they receive on their website and blog.
If you want to see the testimonials of their bee supplement product, click on this link and it'd bring you to the product page, click on the "Reviews" tab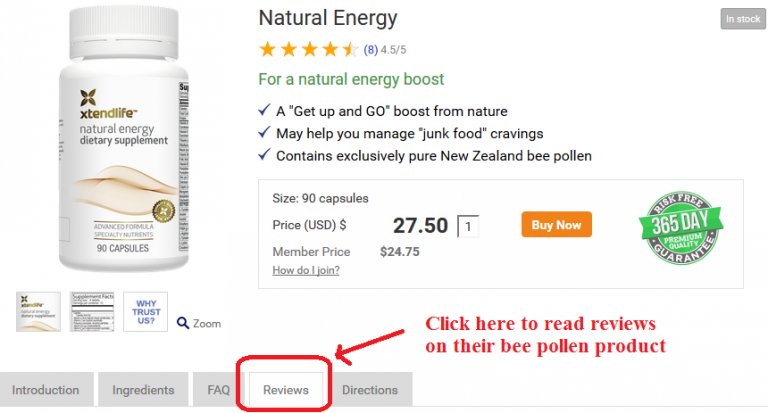 Customer Reviews
Some of the additional reviews are:
(4/5) A subtle change By Cathy B on July 24, 2015 Verified user I did not notice a change when I started to take the Bee Pollen. It was after I stopped taking the Bee Pollen that I noticed I wasn't feeling as energized. I have returned to taking the Bee pollen and feel better for it.
  (5/5) Highly recommend By M.L. on April 23, 2014 Amazon review I used to feel like I needed a nap after work and didn't have the energy to get anything done around the house or take my little girl outside to play. It was making me depressed and miserable. After the first few days of taking this I all the sudden realized I wasn't feeling tired and sluggish anymore. I don't feel jittery or crash at the end of the day. I am still able to fall asleep at night-I just have the energy I need to make through the whole day. I have also lost about 12 lbs in the past month. I don't know if its the product or just from having more energy and moving more.
(5/5) Love it!
By A. McManus "trinity" on September 06, 2013
Amazon review
Natural Energy is exactly that. I never feel like I just got a jolt and then crash a few hours later. I will be reordering for sure.
I've my own personal friend, who is a senior physiotherapist, mother of 2 beautiful children and well-known runner in Singapore, Jenny Huang who had this to say:
Xtend Life natural energy helps me to keep running, and it doesn't give me the jitters like how caffeine and sugar and energy products does – highly recommended
Where Can I Buy It?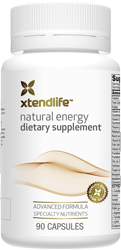 The bee pollen supplement I take is freeze dried and scientifically formulated to also contain additional synergistic enzymes, amino acids and minerals to enhance the health benefits.
The pollen is harvested from north-western corner of south island of New Zealand, a pure and pristine area beside a national part that is free from industrialization and airborne pollution. Its nutritional effects will be noticed and I comfortably personally endorse it.
When you factor in the fact that it is processed and manufactured in GMP compliant facilities with standards that meet the FDA's standards for pharmaceutical-grade quality drugs, it's even better. Basically earning this a nutraceutical status (highest label for a supplement in terms of quality), and this is not common nor easily found in the US.
The manufacturer also offers a 365 days money back guarantee or full product replacement – something the health world don't offer today. It's also less expensive than other supplements while still maintaining a high level of quality, pharmaceutical quality.
I've been taking this personally since 2014, and I honestly say this: it has helped me a lot in my life, giving me all the energy, health and wellness I need to handle my 5 AM to 10 PM days everyday, young children, family, manage multiple busy physiotherapy clinics, meetings, investments, readings etc.
To me, it's one of my favorite and important supplements that I take every day. Without fail.
Back to Top