Xtend-Life Ingredient D-Phenylalanine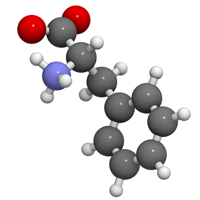 D-Phenylalanine Background and Benefits
Phenylalanine is an amino acid with the chemical formula C6H5CH2CH(NH2)COOH. It has two distinct forms known as enantiomers, including L-phenylalanine and D-phenylalanine. A mixture of these two enantiomers is called a racemic mixture of phenylalanine.
L-phenylalanine is an essential amino acid that has many naturally occurring sources. Significant sources of D-phenylalanine generally do not occur in nature, so it must be synthesized in the laboratory. D-phenylalanine is not an essential amino acid, but it is one of the few D enantiomers of amino acids that are pharmacologically active.
Phenylalanine was first isolated in 1879 from yellow lupine seedlings and was initially described with the empirical formula C9H11NO2. It was synthesized for the first time in 1882 from ammonia, hydrogen cyanide and phenylacetaldehyde.
Marshall W. Nirenberg and J. Heinrich Matthaei discovered the DNA codons for L-phenylalanine in 1961, which are uracil-uracil-cytosine (UUC) and uracil-uracil-uracil (UUU). Their work essentially consisted of inserting multiple repeats of uracil into the genome of E. coli, which helped to correlate the information in nucleic acid with the expression of proteins in living cells.
D-phenylalanine is typically available only in the form of health supplements. It is sold as both pure D-phenylalanine and as part of a racemic mixture of phenylalanine. D-phenylalanine's pharmacological effects generally relate to its ability to inhibit the actions of enzymes that affect the brain and nervous system.
Uses of D-Phenylalanine
The primary use of D-phenylalanine as a health supplement is the relief of discomfort. It may also help to support neurological and joint functions.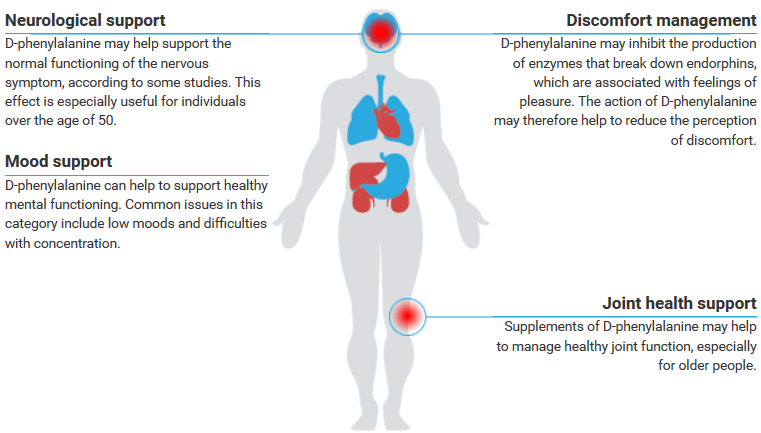 Signs You May Need D-Phenylalanine
Chronic discomfort is the most significant sign that you may need D-phenylalanine supplements. Common causes of this type of discomfort include alcohol withdrawal and age-related joint conditions. Neurological signs that may indicate that D-phenylalanine could benefit you include low moods and a short attention span.
This is especially likely if you are unresponsive to standard treatments for these disorders. An inability to feel pleasure may also mean that you could benefit from D-phenylalanine.
Other Ingredients That May Be Of Interest
L-threonine - Threonine an amino acid with the chemical formula HO2CCH(NH2)CH(OH)CH3. It is most common uses derive from its role as a precursor for glycine, which provides many neurological benefits.
5-HTP - 5-HTP and oxitriptan are common names for 5-hydroxytryptophan, which has various direct biological functions in the body. This amino acid is also the precursor for essential neurotransmitters, including melatonin and serotonin.
Synonyms and Similar Forms of D-Phenylalanine
L-phenylalanine, DL-phenylalanine
Products containing D-Phenylalanine
Return to Xtend Life Ingredient List
Return to XtendHealthAsia.com Home Page from Xtend-Life Ingredient D-Phenylalanine

Back to Top