Xtend Life Ingredient L-Carnitine Support for Kidney Health
L-Carnitine Background and Benefits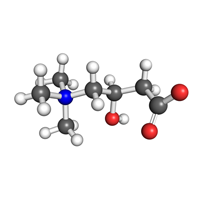 Carnitine is an ammonium compound that is synthesized from the amino acids methionine and lysine, primarily in the liver and kidneys. Plant and animal cells use it to transport fatty acids into the mitochondria to metabolize fats. Carnitine was discovered as a growth factor in mealworms and originally named vitamin BT, although it is not actually a vitamin. Carnitine has two forms, d-carnitine and l-carnitine, but only l-carnitine is biologically active.
Red meat is the most common dietary source of l-carnitine, although it is also present in many vegetables. Seeds such as pumpkin, sesame and sunflower are sources of l-carnitine, as are legumes like beans, lentils, peanuts and peas. Leafy green vegetables such as broccoli, collard greens, kale, okra and parsley also contain l-carnitine. Additional sources of l-carnitine include cereals like corn, oatmeal, rice bran, artichokes, asparagus and wheat germ.
L-carnitine is a popular nutritional supplement that is commonly used by people with naturally low l-carnitine levels. This condition often occurs in strict vegetarians and premature infants. Low l-carnitine levels can also result from a variety of genetic disorders that interfere with its biosynthesis. In addition, L-carnitine supplements are helpful for people taking certain drugs or undergoing hemodialysis.
Uses of L-Carnitine
L-carnitine may be helpful for relieving muscle discomfort, especially strains caused by exercise. L-carnitine is also commonly used for supporting healthy levels of thyroid hormones.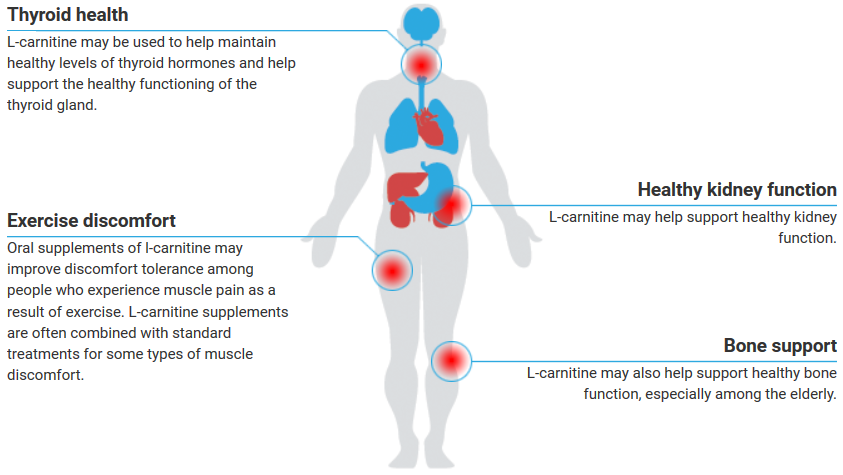 Signs You May Need L-Carnitine
L-carnitine may benefit you if you have a carnitine deficiency, which is generally the result of a dietary deficiency or inability to absorb this nutrient from food. Common causes of a carnitine deficiency include a genetic disorders that affect the liver and kidneys.

L-carnitine supplements may also help you if you have deficiencies of other nutrients that are required for the biosynthesis of l-carnitine, including iron, lysine, methionine, niacin, vitamin B1, vitamin B6 and vitamin C.
Synonyms and Similar Forms of L-Carnitine
Acetyl-L-carnitine, L carnitine
Products containing L-Carnitine
Neuro Natural General


Fuel for a healthy brain and nervous system

Neuro Natural Recall


Support brain function and memory recall

Neuro Natural Sleep


Supports healthy sleeping patterns & sleep quality


Natural Energy


For a natural energy boost
Return to Xtend Life Ingredient List
Return to XtendHealthAsia.com Home Page from Xtend Life Ingredient L-Carnitine Support for Kidney Health

Back to Top