Xtend Life Ingredient L-Lysine Support For General Health
L-Lysine Background and Benefits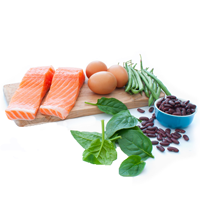 L-lysine is an essential amino acid for humans, meaning that the body can't synthesize it. It must therefore be obtained in the diet, typically in the form of proteins that contain lysine. The Food and Agricultural Organization has established nutritional requirements for l-lysine, which generally decrease with age. For example, the minimum requirement for l-lysine is 103 milligrams per kilogram (mg/kg) of body weight for infants no older than four months. The minimum requirement of l-lysine for adults is 12 mg/kg.
The best dietary source of l-lysine is typically animal protein, especially red meat. Eggs and fatty fish such as cod and sardines are also good sources. Vegetable sources of lysine include legumes such as beans and peas. Foods are generally considered to have sufficient lysine if they have at least 51 mg lysine per gram of protein.
As an essential amino acid, l-lysine serves performs many functions. It is required for the biosynthesis of acetyl-CoA, which is an essential enzyme in many biochemical reactions. L-lysine is also used to make allysine, which is component of collagen and elastin.
Dietary supplements containing l-lysine are often used by people whose diets may be deficient in this amino acid. They are also used by many bodybuilders to improve athletic performance.
Uses of L-Lysine
L-lysine supplements are primarily used to maintain overall health, since it is essential for human nutrition. It may also be used by many people with cold sores, including oral and topical applications.
Signs You May Need L-Lysine
Strict vegetarians are the people most likely to suffer from a deficiency of l-lysine, especially if cereal grains comprise the majority of their diet. Signs of an l-lysine deficiency primarily include a compromised immune system, loss of appetite and subsequent weight loss.

Additional signs of this deficiency include fatigue, nausea, bloodshot eyes and reproductive disorders. People with low l-lysine levels may also have low calcium levels and problems related to the poor metabolism of fatty acids.
Other Ingredients That May Be of Interest
L-Arginine - L-arginine is an amino acid that is classified as a semiessential amino acid. This classification means that the human body normally produces its own supply of the amino acid, although this ability can be compromised under certain circumstances. For example, preterm infants can't synthesize l-arginine. Like most amino acids, the best dietary sources of l-arginine are meat and dairy products.
Synonyms and Similar Forms of L-Lysine
L-lysine HCL, l-lysine, l lysine, lysine
Products containing L-Lysine
Total Balance Men's Premium

The ultimate men's health and nutrition supplement

Total Balance Women's Premium

The ultimate women's health and nutrition


Total Balance Unisex Premium

The ultimate age defying health supplement

Cardio Support


Supports heart health, strength & function

Neuro Natural Recall


Support brain function and memory recall
Return to Xtend Life Ingredient List
Return to XtendHealthAsia.com Home Page from Xtend Life Ingredient L-Lysine Support For General Health

Back to Top