Xtend-Life Ingredient Calcium Carbonate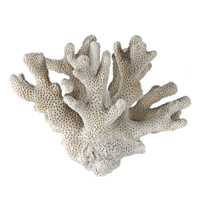 Calcium Carbonate Background and Benefits
Calcium Carbonate is a chemical compound with the formula CaCO3. It is found in many minerals, especially limestone, chalk and calcite. Calcium carbonate is also the primary component in the shells of many animals, especially mollusks. Industries such as agriculture and construction use calcium carbonate on a large scale.
Calcium carbonate also has many applications in the pharmaceutical industry. It is commonly used as an antacid, and many pharmaceutical products also use calcium carbonate as an inert filler.
Calcium carbonate also serves as a bioavailable source of calcium, which is essential for all organisms. It performs many functions in the body and is the primary component in bones and teeth. Calcium is also used for signaling in many cellular processes.
Dairy products are some of the most abundant dietary sources of calcium. However, unfermented dairy products may be unsuitable for people who are lactose intolerant. Leafy green vegetables are good sources of lactose-free calcium, especially spinach, kale and seaweed. Nuts, seeds, soy beans and figs are also significant sources of calcium. Many other foods are frequently fortified with calcium, including breads and cereals.
Coral reefs are becoming an increasingly common source of calcium for use in dietary supplements. Coral calcium primarily consists of calcium carbonate, but it also contains magnesium and other minerals. However, living coral reefs can't be harvested without causing significant damage to the surrounding ecosystem. Coral calcium must therefore come from fossilized coral reefs that are now on dry land. The sands in Okinawa are a common source of coral calcium that causes no significant environmental impact when harvested.
The commercial production of coral calcium begins with mining the grains of fossilized coral from the sands on the coastline. These grains are ground to a fine powder and heated to at least 1,000 degrees Fahrenheit to burn off impurities. The remaining material is primarily calcium carbonate, to which other ingredients are often added. These ingredients may include silicon dioxide as an anti-caking agent and magnesium stearate as a lubricant. The final product is then placed into capsules and packaged for sale.
Uses of Calcium Carbonate
The primary health benefits of calcium carbonate relate to its use as a source of calcium. These benefits primarily deal with bone health, although they also include support for menstruation, the kidneys and the digestive system.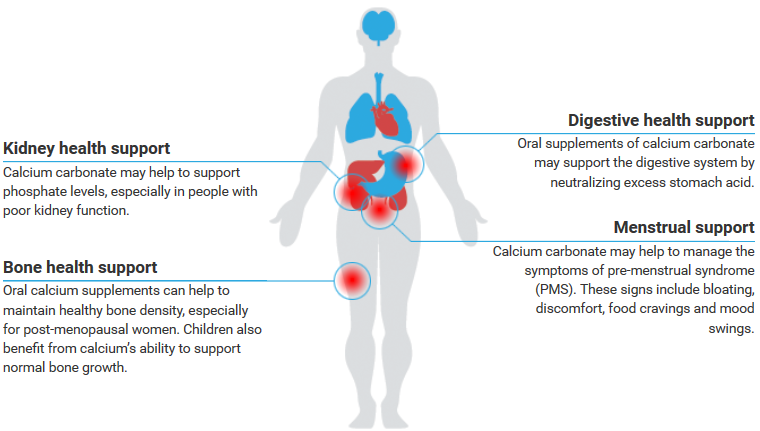 Signs You May Need Calcium Carbonate
Chronic vomiting, excessive magnesium intake and removal of the parathyroid gland are also reasons that you may need more calcium. The most significant signs of a calcium deficiency include dark spots on the skin, which grow into larger bruises. Strong, involuntary muscular contractions indicate a more severe calcium deficiency.
Other Ingredients That May Be Of Interest
Magnesium - Magnesium is a chemical element with the atomic number 12. It is an essential nutrient for all life forms, primarily because the interaction between magnesium and phosphate ions.
Vitamin K2 - Vitamin K2 is a collective term for a group of related compounds known as menaquinones. The maintenance of bone mineral density is one of the most important health benefits of vitamin K2
Products containing Calcium Carbonate
Return to Xtend-Life Ingredient List
Return to XtendHealthAsia.com Home Page from Xtend-Life Ingredient Calcium Carbonate

Back to Top