Xtend-Life Ingredient Folic Acid
Folic Acid Background and Benefits
Folic acid has the chemical formula C19H19N7O6 and is known by many other names such as vitamin B9, pteroyl-L-glutamate and pteroyl-L-glutamic acid. The term "folate" is also used to refer to the deprotonated ion of folic acid, typically within the context of food additives and health supplements.
Herschel K. Mitchell and others first isolated folic acid in 1941 from spinach leaves. He named it after the Latin word folium, meaning "leaf," to indicate its abundance in leafy green vegetables. Bob Stokstad synthesized pure folic acid in 1943 and later determined its chemical structure.
Folic acid is an essential human nutrient, meaning that it can't be synthesized in the body. The minimum daily requirement of folic acid is 400 micrograms (mcg) for adults and 600 mcg for pregnant women. Folic acid is biologically inactive in pure form and must first be converted to other forms such as dihydrofolic acid and tetrahydrofolic acid before it becomes biologically useful.
Folic acid is generally used to synthesize, repair and methylate DNA. It is also used to catalyze many biochemical reactions in the body. Folic acid is most useful for processes involving rapid cell division, especially fetal development. It is also essential for producing red blood cells.
Uses of Folic Acid
The best-known use of folic acid in health supplements is the support for cognitive function and mood. It may also help to support heart health as well as healthy pregnancy and fetal development.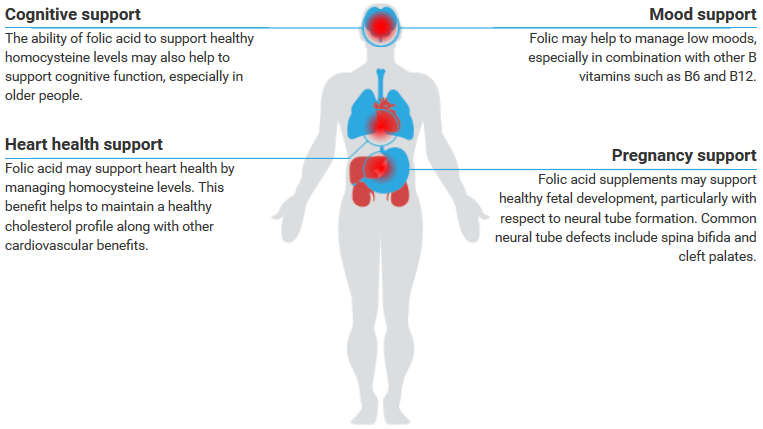 Signs You May Need Folic Acid
The most common signs of a folic acid deficiency include weight loss and loss of appetite. It can also cause physical weakness, heart palpitations, headaches and a sore tongue. Psychological signs that you may need folic acid supplements include behavioral disorders and irritability.
Adults with an advanced folic acid deficiency may suffer from megaloblastic and macrocytic anemia. Babies born to women with low folic acid levels may have a low birth weight and a greater risk of neural tube defects.
Other Ingredients That May Be Of Interest
PABA - PABA is the abbreviation for para-aminobenzoic acid, also known as 4-aminobenzoic acid. It is typically taken to help general fatigue, low moods, irritability and age-related skin conditions.
Vitamin B12 - Vitamin B12, known chemically as cobalamin, performs many functions that involve the nervous system. It is also essential for the production of red blood cells.
L-methionine - Methionine is an alpha-amino acid, with L-methionine being the biologically active form. L-methionine is primarily used to synthesize proteins.
Synonyms and Similar Forms of Folic Acid
Folate
Products containing Folic Acid
Total Balance Men's Premium

The ultimate men's health and nutrition supplement

Total Balance Women's Premium

The ultimate women's health and nutrition


Total Balance Unisex Premium

The ultimate age defying health supplement

Multi Xtra Natural Health Supplement


Advanced natural multi-nutrient supplement

Neuro Natural Recall


Support brain function and memory recall

Neuro Natural Sleep


Supports healthy sleeping patterns & sleep quality


Neuro Natural Serenity


Fuel for a healthy nervous system & mood
Back to Xtend Life Ingredient Page
Back to XtendHealthAsia.com Home Page from Xtend-Life Ingredient Folic Acid

Back to Top