Xtend-Life Ingredient
Grape Seed Extract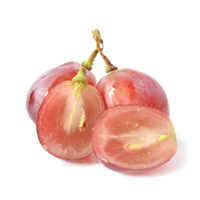 Grape Seed Extract Background and Benefits
A grape vine is any member of the Vitis genus, which are deciduous woody vines. Grapes are the fruiting berries of these vines and typically grow in clusters. They have many uses as food, beverages and health supplements.
Grapes probably originate from the Near East, although grapes are commercially cultivated in temperate climates throughout the world. They have been cultivated for at least 8,000 years, primarily for winemaking. Yeast grow naturally on the skin of grapes, which was a significant factor in the early development of winemaking.
Approximately 60 species of grapes exist, although only a few are commercially significant. Wine is typically made from varieties of V. vinifera, also known as the common grape vine. V. labrusca, commonly known as the fox grape, is typically used for table grapes and grape juice.
Extracts from grape seed have also become popular dietary supplements in recent years. Some of the most pharmacologically active components of grape seed extracts are oligomeric proanthocyanidin complexes (OPCs), which have antioxidant properties. This activity provides grape seed extract with the potential for protecting cells from free radicals, which are highly reactive ions or molecules. Free radicals may cause many types of cellular damage, which primarily include age-related conditions.
A study of healthy subjects showed that grape seed extract significantly increased the antioxidants in their blood. The most significant benefits of grape seed extract include the management of healthy circulation and blood flow.
Oxifend® Grape Seed Extract
Oxifend® Grape Seed Extract is made from Sauvignon Blanc grapes that are grown in New Zealand's Marlborough region. This region is also the premier winemaking region in New Zealand.
Oxifend® Grape Seed Extract is extracted with a proprietary "Aqua Pure®" process that uses only water. The grapes are harvested and the juice is removed with a cold press technique, leaving the skin and seeds. The seeds are extracted with water and filtered to separate the seeds from the skins. The seeds are then freeze dried to preserve their antioxidant activity. Oxifend® Grape Seed Extract is completely soluble in water and contains no solvent residues.
Oxifend® Grape Seed Extract has high levels of polyphenols, including OPCs with a high molecular weight. It contains 48 percent polyphenols, of which 80 percent is OPCs. The remaining 20 percent of Oxifend® Grape Seed Extract's polyphenolic content is epicatechin and epigallocatechin, which have lower molecular weights than OPCs
Uses of Grape Seed Extract
The most common use of grape seed extract is support for the cardiovascular system. It is also useful for maintaining digestive health, age-related conditions and eye health.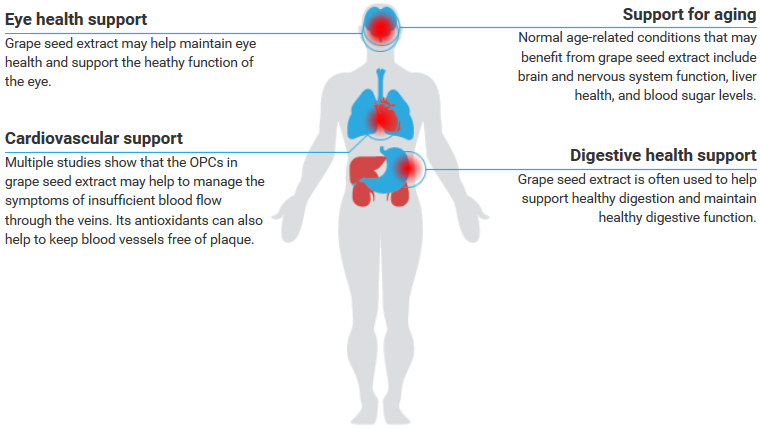 Signs You May Need Grape Seed Extract
The most significant signs that you may need grape seed extract are generally due to oxidative stress, especially those that affect the cardiovascular system. These signs primarily include an unhealthy blood pressure and cholesterol level.
You may also benefit from grape seed extract if you suffer from edema, which can cause discomfort, fatigue and visible veins. Chronic venous insufficiency and atherosclerosis are additional signs that you may need grape seed extract.
Other Ingredients That May Be Of Interest
Grape skin extract - Grape skins are a normal byproduct of the winemaking. Extract from grape skins is high in polyphenols, especially resveratrol. It can help to inhibit platelet aggregation, which is an essential step in the blood clotting process. Grape skin extract can also help to dilate blood vessels by inhibiting the activity of angiotensin and increasing the production of the vasodilator hormone.
Synonyms and Similar Forms of Grape Seed Extract
Grape seed, grapeseed extract
Products containing Grape Seed Extract
Cardio Support


Supports heart health, strength & function

Zupafood Elite


The elite of all super foods


Zupafood Greenz


Green Super Food with a 'buzz'


Zupafood for Skin


Beauty from the inside out

Male Rejuvenator


Supports men's sexual health & function

Total Balance Men's Premium

The ultimate men's health and nutrition supplement

Total Balance Women's Premium

The ultimate women's health and nutrition


Total Balance Unisex Premium

The ultimate age defying health supplement

Neuro Natural General


Fuel for a healthy brain and nervous system

Neuro Natural Recall


Support brain function and memory recall

Neuro Natural Serenity


Fuel for a healthy nervous system & mood
Return to Xtend Life Ingredients List
Return to XtendHealthAsia.com Home Page from Xtend-Life Ingredient Grape Seed Extract

Back to Top