Xtend Life Ingredient Inositol For Mental Health
Inositol Background and Benefits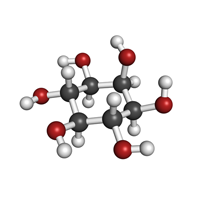 Inositol, known chemically as cyclohexane-1,2,3,4,5,6-hexol, has the chemical formula. The most common of inositol's nine forms, or stereoisomers, in nature is cis-1,2,3,5-trans-4,6-cyclohexanehexol, commonly known as myo-inositol.
Myo-inositol performs many essential functions for eukaryotic cells, which includes all plants and animals. It serves as the structural basis for cell messengers, primarily inositol phosphates. It is also a component of phosphatidylinositol and other phospholipids, which are used to construct cell membranes. Plants commonly use inositol hexaphosphate, commonly known as phytic acid, as a means of storing phosphates.
Significant quantities of pure inositol don't exist in nature. However, the associated lipids and phosphates of inositol are found in many foods, especially oranges and cantaloupes and oranges. Phytic acid is a phosphate of inositol that is most common in cereal with high bran content. It is also found in seeds, nuts and beans, although it is not digestible by humans without cooking. Lecithins are also a widely available source of inositol that's relatively easy to digest in raw form.

Uses of Inositol
Relief from panic disorders is one of the common uses of inositol. It may also help with the symptoms of polycystic ovary syndrome (PCOS), which is a common condition among obese women. Additional problems that inositol may benefit include obsessive compulsive disorders (OCD).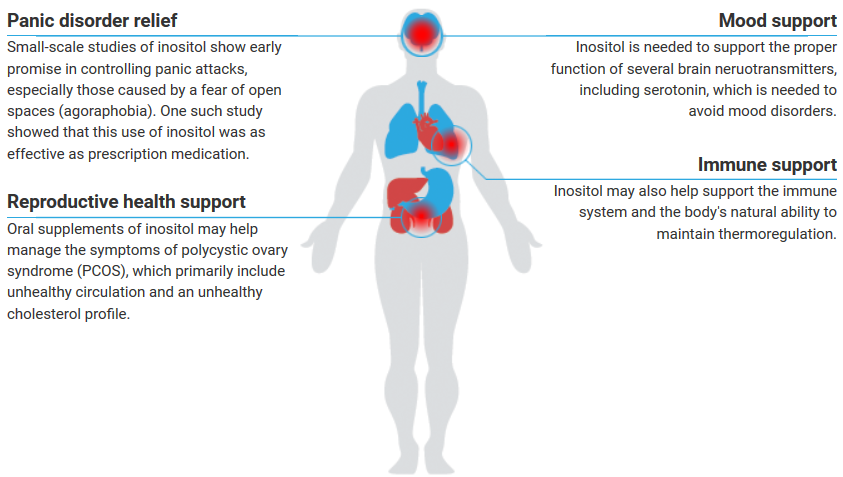 Signs You May Need Inositol
Inositol may help support low moods and may relieve stress and frustration. It is an essential component in the synthesis of the neurotransmitter serotonin, which is a mood stabilizer. Inositol may also help support healthy digestive function.
Additional signs that inositol may benefit you include vision problems, memory loss, excess liver fat and constipation.
Other Ingredients That May Be of Interest
Phosphatidyl choline - Phosphatidylcholines (PC) are a type of phospholipids that contain choline. They are most commonly found in egg yolks and soybeans. Oral supplements of PC in combination with interferon may help support healthy liver function.
Vitamin B12 - Vitamin B12, also known as cobalamin, is one of the eight essential B vitamins. It primarily performs essential roles for the nervous system and blood production.
Synonyms and Similar Forms of Inositol
Calcium magnesium, inositol hexaphosphate
Products containing Inositol
Total Balance Men's Premium

The ultimate men's health and nutrition supplement

Total Balance Women's Premium

The ultimate women's health and nutrition


Total Balance Unisex Premium

The ultimate age defying health supplement

Cardio Support


Supports heart health, strength & function

Multi Xtra Health Supplement


Advanced natural multi-nutrient supplement

Natural Energy


For a natural energy boost

Neuro Natural General


Fuel for a healthy brain and nervous system
Return to XtendHealthAsia.com Ingredient List Page
Return to XtendHealthAsia.com Home Page from Xtend Life Ingredient Inositol For Mental Health

Back to Top