Xtend Life Ingredient L-Cysteine For Antioxidant Support
L-cysteine Background and Benefits
L-cysteine is an amino acid that is classified as semi-essential in humans, meaning that the body biosynthesizes adequate amounts of it under normal circumstances. The biosynthesis of l-cysteine requires methionine, which supplies the sulfur needed to make this amino acid. This requirement is one of the primary reasons that sulfur is an essential human nutrient.
L-cysteine is available through many dietary sources, primarily animal protein. Eggs and dairy products also contain significant levels of l-cysteine. Vegetable sources of l-cysteine include broccoli, Brussels sprouts, garlic, granola, sprouted lentils, oats, onions and peppers. The commercial extraction of l-cysteine typically uses human hair, due to its high concentration of this amino acid. Other commercial sources include hog hair and poultry feathers. L-cysteine may also be synthesized in a process that involves fermentation by a variety of E. coli.
L-cysteine's high reactivity makes it essential in many biochemical reactions. This amino acid is a thiol, meaning that it has a sulfhydryl group at one end of its chain. This group consists of a sulfur and hydrogen atom, and is the primary reason that l-cysteine is chemically active. In particular, l-cysteine readily undergoes reduction-oxidation reactions, commonly known as redox reactions. This reactivity gives l-cysteine strong antioxidant properties, which help support cells from different types of damage.
Uses of L-cysteine
The primary health benefits of l-cysteine derive from its antioxidant properties, which helps support the body's natural ability to manage and regulate blood sugar levels. It also supports digestive health, manages blood sugar levels and maintains the skin's appearance.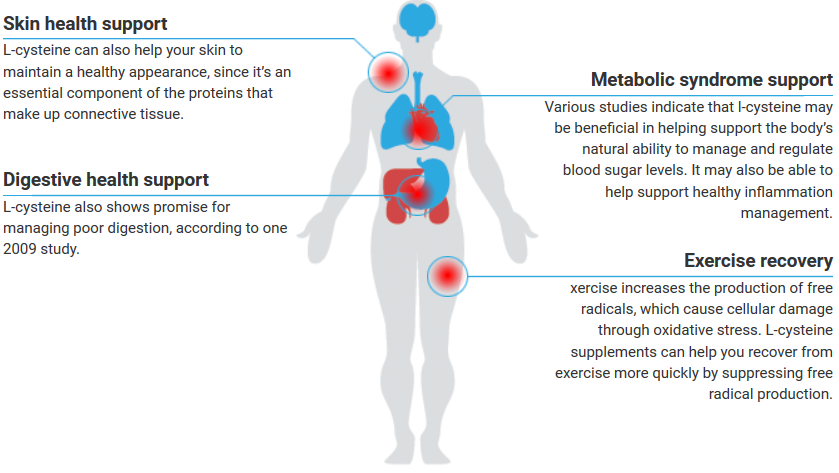 Signs You May Need L-cysteine
A deficiency of l-cysteine is most likely to occur in people who are unable to biosynthesize it, such as the elderly and infants. People with malabsorption issues and metabolic syndrome may also be unable to synthesize adequate amounts of L-cysteine.
An L-Cysteine deficiency may result in a compromised immune system, which can cause a slow recovery from injury and ailments. Additional signs that you may need L-cysteine include brittle nails, acne and scar tissue.
Other Ingredients That May Be Of Interest
L-Glutathione - This important antioxidant is found in most life forms, including plants, animals and some bacteria. It supports cells from many reactive substances, including free radicals, heavy metals and peroxides.
Taurine - Taurine is an organic acid that is abundant in animals, especially bile and the large intestine. It plays a fundamental role in many biological processes, including antioxidation, membrane stabilization and calcium signaling.
Products containing L-cysteine
Total Balance Men's Premium

The ultimate men's health and nutrition supplement

Total Balance Women's Premium

The ultimate women's health and nutrition


Total Balance Unisex Premium

The ultimate age defying health supplement

Cardio Support


Supports heart health, strength & function

Immu Stay Immunity Health Supplement


Support a healthy immune system

Natural Energy


For a natural energy boost
Return to Xtend Life Ingredient List
Return to XtendHealthAsia.com Home Page from Xtend Life Ingredient L-Cysteine For Antioxidant Support

Back to Top